From May 1-31, NWHL teams can re-sign players from their 2016-17 roster and their draft picks during the restricted free agency period, and beginning on June 1 any unsigned players left will be free to sign with any team.
The third season of the NWHL will begin in October as the Buffalo Beauts defend their Isobel Cup championship, and with up to 12 players unable to participate in the league this season due to their selection for Team USA's 2018 Olympic team, this will be the most competitive season yet.
My colleague Dan Rice will keep THW readers up-to-date on New York and Connecticut's signings throughout the summer, while I post updates on Buffalo and Boston.
Bray K Returns to Rivs, Baribeau Back with Whale
Laing Signing Touches NWHL Heartstrings
Pride Look Dominant With Johnson & Weber
Buffalo's Familiar Faces
Midway through June the Buffalo Beauts have re-signed five more players that will be key in defending the Isobel Cup. The signings of Amanda Leveille, Sarah Casorso, Kayla Parsons, Hayley Scamurra and Jordyn Burns are proof that Beauts' co-coach and general manager Ric Seiling recognizes the need to keep the bulk of this past year's nucleus intact.
"These returning players will help guide our team with their leadership, experience and talent," Seiling said via an NWHL press release. "We are glad to have them return to the Blue and Black."
These particular signings solidify Buffalo's strength in their own end. Let's break the signings down from the net outward.
Leveille Between the Pipes
Leveille was credited with four of Buffalo's six wins last season and was the only Beauts netminder to post a winning record. She is also part of two-thirds of the "McLevman" trio (along with Kelsey Neumann) to return to the team. In nine games this past season Leveille went 4-2-0 while stopping 250 of the 281 shots she faced. Although her goals-against average was relatively high at 4.34, it does not paint an accurate picture. Leveille stopped a nice number of shots and finished the regular season out with a .890 save percentage.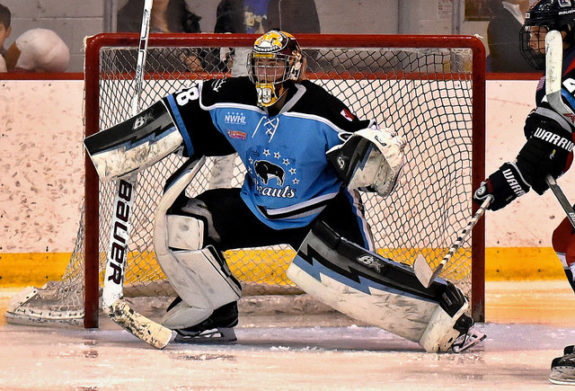 Where Leveille made the most dramatic difference was during Buffalo's opening round playoff victory against the Riveters. In the 4-2 win, Leveille was phenomenal. She stopped 34 of 36 shots and put forth an enormous .944 save percentage. Without her heroics between the pipes, the Beauts likely would not have made it into the Final.
With Leveille and Neumann in net for 2017-18, the Beauts have one heck of a tandem. It is boosted even further by the duo's camaraderie and support of one another.
A Trio of Blueliners
Burns, Casorso and Parsons are the first defenders to re-up with Buffalo this offseason. Again, it is reassuring to see some consistency in the Beauts backend. All three defenders are accustomed to having worked in front of Leveille and Neumann previously. They also did so quite effectively.
Casorso, who notched seven assists while playing in all but one regular season game, can log a lot of ice time for the Beauts. She stated the following via press release:
"It's exciting to know that I'll be back with so many of my teammates to take on the challenge of defending the Isobel Cup. With the Beauts, it's like being with family. I'm really happy to be in Buffalo for another season."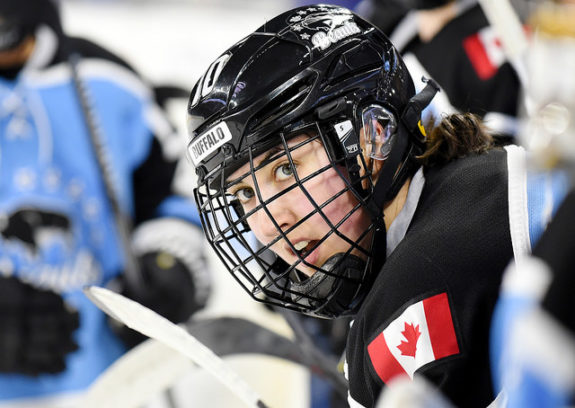 Look for Burns and Parsons to each play larger roles in the upcoming season. Burns picked up two assists in 15 games with the squad, while Parsons went pointless in 10 of her own. Though neither defender put much on net (three shots and one shot respectively) they both blocked a decent amount of shots. Burns helped steer aside nine pucks, while Parsons stepped in front of five.
One final note on the three defenders is that each is at least 5'7″ and strongly built. Opposing forwards will have difficulty getting by any of them.
 A Full Season With Scamurra
One of the more exciting facets of the Beauts of season three will be seeing what further offense Scamurra is going to orchestrate for the team. Joining the team at the tail end of last season, Scamurra seemed to be scoring left and right. The 5'8″ Northeastern graduate scored her first NWHL goal in her first and only regular season game.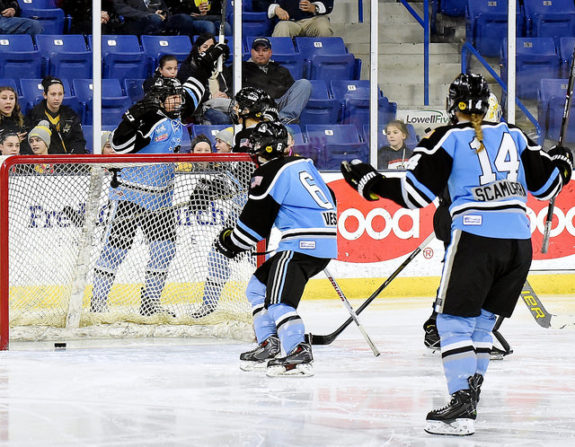 Accompanying the Beauts on their Cup run, Scamurra picked up a goal and three assists in both Beauts playoff games. Like Leveille, the play of the rangy forward was essential in Buffalo's eventual victory. Shades of things to come.
Scamurra has incredible reach, smooth skating, and is quite elusive for a taller player. There is no doubt that she will continue to score for Buffalo. The question is rather, "How MUCH more?" Rest assured, Beauts fans will not have to wait long to find out, and will not be disappointed either.
General Manager of the Buffalo Beauts (NWHL). Hockey history writer "The Hockey Writers". Credentialed media for the NHL Combine and 2018 IIHF World Junior Championships in Buffalo, NY, USA. Born and raised in Buffalo, NY. Lifelong hockey fan for over 40 years. Proponent of the women's game.