It's ironic, isn't it? On the night he was in contention for GM of the Year at the 2017 NHL Awards in Las Vegas, it was Pierre Dorion's mismanagement that cost his team.
Since the official announcement that the Vegas Golden Knights would join the fold for 2017-18, speculation around the league swirled as to who George McPhee would select in the expansion draft. For the Ottawa Senators, everything always seemed to circle back to Marc Methot – the odd man out in a D-corps that includes Erik Karlsson, Cody Ceci, and Dion Phaneuf.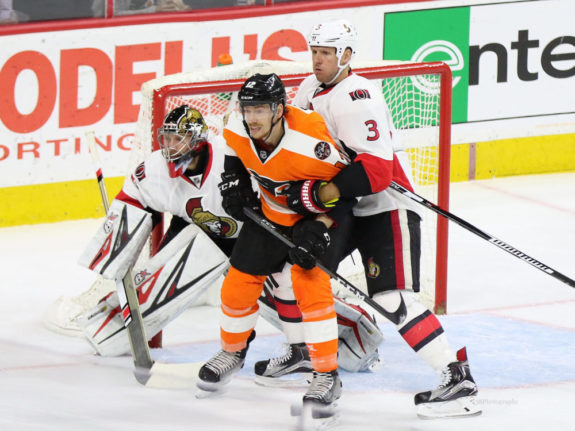 But a strong postseason, coming off an equally solid 2016-17 regular season, changed the minds of many and had fans begging for some last-minute negotiations from Dorion to steer McPhee and co. in another direction. But that didn't happen, and the Sens are now down a top-four defenceman – and, on a not-unrelated note, Karlsson's partner on the blue line – because of their GM's inaction.
Dorion's Poor Planning
As mentioned, teams have known about the expansion draft for over a year now, and therefore have had as much time to plan and strategize. It's unlikely the Sens ever considered protecting four defencemen, thus foregoing the security of the seven skater-three-defencemen-one-goalie format, so they had to know they would be leaving a good defenceman exposed.
And while Dorion may not have expected the kind of shutdown season Methot had, it's also unlikely he was on the original list of protected blueliners. If that was indeed the case, then Dorion should have been aggressively shopping Methot – if not at last March's trade deadline, then immediately following the Pittsburgh Penguins' Stanley Cup victory.
The thought of losing a top-four defenceman so integral to the team's success, even at a not-so-team-friendly $4.9 million cap hit, should have been enough to press Dorion into action. But he conceded, deciding Methot wasn't worth the rumoured price tag of Fredrik Claesson, whom the Golden Knights likely would have selected with Methot off the table, and a first-round pick that would have been included as protection assurance.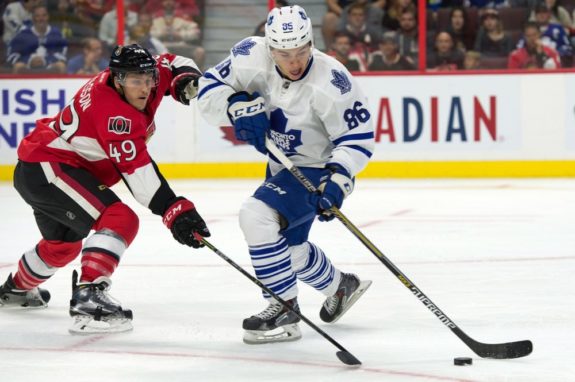 The debate over whether or not Methot is really worth a first-rounder and a prospect is a legitimate one, but the fact of the matter is there were ways to avoid this situation if Dorion felt the ask from McPhee was too high. Sens fans aren't so much upset at the loss of Methot – though there are a passionate few – as they are that he was lost for nothing, especially when there was undoubtedly a market for him.
Finding Methot's Replacement
There's little time to pout as the Sens are now tasked with finding a replacement on the top pairing, likely from within given their penny-pinching approach to transactions. Phaneuf is well-established, but in what little time he spent on the top pair with Karlsson last season he looked out of place and overmatched (not to mention, a big part of why he was brought to Ottawa in the first place was to play alongside Ceci).
Claesson could be due for a promotion, but first-pairing duties may be too much to ask from someone who has only 49 NHL games to his credit, even with how well he played in the 2017 playoffs. Also in the same boat is Ben Harpur, who was used sparingly in 2016-17 but played well when he did see the ice – though Claesson's 49 games make him look like a seasoned veteran compared to Harpur's 11.
The wild card who could find his way into the mix after a stellar season with the Saint John Sea Dogs, in which he posted 45 points in 34 games, is 20-year-old Thomas Chabot. Like many of his counterparts, he is significantly lacking in experience, but he played big minutes for the Sea Dogs and Canada's world junior team and made a clear statement that junior hockey isn't challenging enough for him.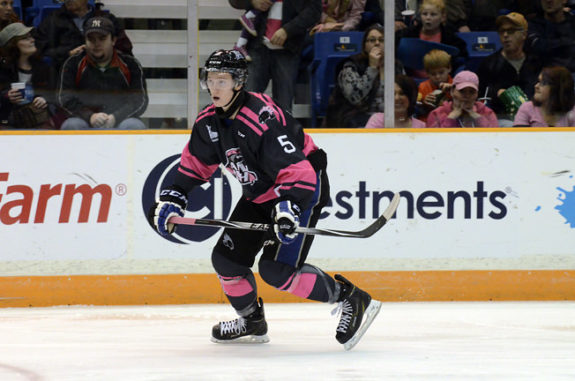 The Karlsson Factor
Not to be overlooked is the effect Methot's departure could have on Karlsson in the short- and long-term. The lay fan would take one glance at the Karlsson-Methot relationship and view it as one-sided – that is, when Methot gets the puck he immediately feeds it over to Karlsson and then gets the heck out of the way of the two-time Norris Trophy winner.
And though you would be right in thinking Karlsson gets more action on a nightly basis, Methot's oft unnoticed play had a major impact on Karlsson. The former's conservative, stay-at-home style allowed Karlsson to take risks and do things offensively he otherwise couldn't or wouldn't consider doing with a lesser partner for fear of getting burned on the defensive end.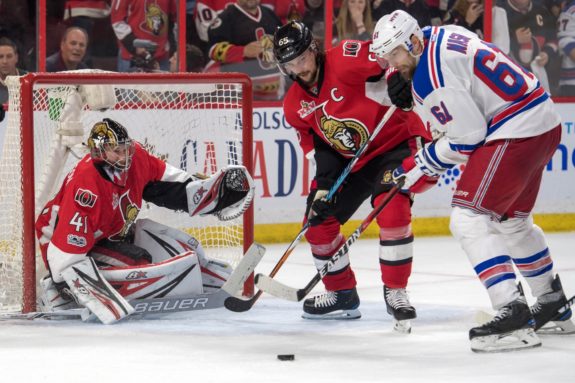 Another important consideration is how this affects Karlsson's relationship with Dorion and the Senators organization going forward, with his contract up for renewal in just two seasons. True, if Karlsson walks it will be because of a multitude of factors – such as poor playoff performances or lack of playoff appearances altogether – but Dorion's inability to keep Karlsson's friend and linemate in town could also factor into his decision, whatever that ultimately is.
The Sens can and will move on without Methot, that much there is no doubting. But that the Sens are even in this predicament is an indictment of Dorion and his staff's lack of foresight.
Andrew is a sports nerd extraordinaire. He holds an undergraduate degree in journalism, as well as a journalism diploma, and has been in the sports writing biz for the past four years (previously with Hooked on Hockey Magazine and SportsEh). He has experience covering junior hockey and the Women's World Hockey Championships in Ottawa. Feel free to reach him on Twitter @littelitaly93.