Sarah Casorso is among the handful of Buffalo Beauts who traversed one side of the continent to the other in order to find herself in Buffalo. Hailing from Kelowna, a city in the south of Canada's British Columbia province, Casorso described it for me.
"A lot of mountains. Warm winters, hot summers. I grew up on one of the oldest family farms in BC, so I was surrounded by a lot of heritage. That's part of what I love about living out here now (the eastern side of the continent). It's much older than the west; lots of history!"
Casorso is a superb skater from the backend. At 5'7″ and nearly 140lbs, the combination of her size and speed has made her one of the Beauts' defenders to be most respected by the opposition. Size is mainly a case of genetics; you either have size or you don't. But speed and skating ability are prominent in Casorso's game because she has worked at them since she was a toddler and had access to do so often.
"Basically from the time I could walk, I was skating. I remember being three or four years old, and telling my dad that I wanted to be just like him. From then on I identified myself as a farmer and a hockey player. He would build a backyard rink every winter that I would skate on relentlessly. When I was five I started playing hockey with the boys up until pee wee when the first girls rep team was being started in Kelowna. I transferred to girls and haven't looked back since."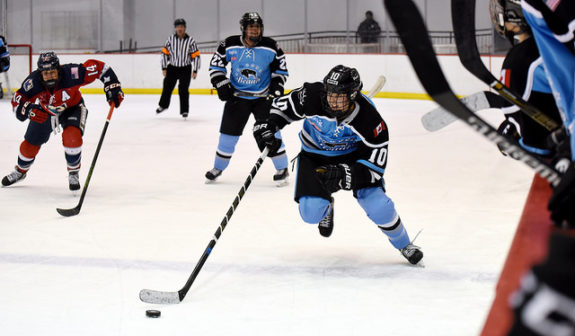 UBC Thunderbirds
She would elect to attend college in her home province and found herself playing for the University of British Columbia's Thunderbirds. UBC is the same alma mater for current New York Riveters player and former Beaut, Tatiana Rafter. In fact, Casorso and Rafter were teammates for all five of their seasons with the program. As Casorso tells me, significant changes for the better would happen for UBC throughout her time there.
"Coming out of my second season we were ranked the worst team in the country, recording only one win all season. A substantial amount of girls quit after that season, and I considered transferring myself. I vowed I would stick it out one more season because I loved the school and the girls. We got a new coach, Graham Thomas, who was formerly a Syracuse assistant coach, and he completely changed our culture, identity and work ethic. That third season we went on to win the Canada West Championship, and made our program's first appearance at the national championships in Toronto. It is, and probably always will be, my proudest hockey moment."
Taking 'pick up the back door' literally.. @BuffaloBeauts back in New Jersey! Check out the action at 4:30! pic.twitter.com/pwwxCJGwOF

— Sarah Casorso (@scasorso) February 4, 2017
In her five seasons with UBC, Casorso compiled 21 goals and 45 helpers for 66 points in 121 career regular season games, which also included 113 penalty minutes. Arguably though, Casorso was at her best statistically for the Thunderbirds when it came playoff time, averaging nearly a point per game (15 points in 16 career playoff games) and was a plus 13 in total in her postseason career.
"I was known at UBC to be highly competitive and I still take that everywhere I go. Doesn't always work in my favor, especially when playing board games. As I mentioned before, when I was a kid I practiced my skating a lot. I loved it, and I became an offensive defenseman because of it."
Sarah Casorso (@scasorso) has signed with the @BuffaloBeauts at Free Agent Camp @HARBORCTR https://t.co/U6z2Z7m63x pic.twitter.com/ENyFUVIrre

— NWHL (@NWHL) June 26, 2016
Sarah Casorso off to Austria
But when Casorso's time at UBC ended, she was not quite sure what to do next. Hockey was a must no matter what, and she still had (and has) many years left to play. The trouble was finding where to play and what opportunities existed for her. Quite surprisingly, one opportunity ended up being in Europe where Casorso would play a year with Austria's EHV Sabres Wien. Fellow NWHLers Janine Weber and Kiira Dosdall have also played for this club, while recently retired Buffalo Beaut Devon Skeats also spent time in the Austrian league.
"After I played my last university game I was in complete denial and completely lost. I couldn't come to terms with accepting that my hockey career was over. So I sat down with Graham and we went over my options. He said that he coached a girl in Alberta who went on to play for a team in Austria and had an amazing experience. So he reached out for me and got us the managers' contact information. I was lucky; they only had one import spot to fill and it was for a defenceman."
This is getting very, very, very real. #NWHLOpeningWeekend pic.twitter.com/eRknYEIasX

— Buffalo Beauts (@BuffaloBeauts) September 27, 2016
Coming To Buffalo
Making Casorso their lone import player ended up being a most wise decision for the Sabres, as she exploded for 14 goals and 19 assists in a mere 19 games for the club in the nation's capital of Vienna. With such a superb performance overseas and with further help from Coach Thomas, the next step would be for Casorso to return to North America to play professionally. She would join the Buffalo Beauts for the 2016-17 season after signing with them in June 2016.
"I knew I wanted to play in the NWHL, so moving out this far (from BC) was unavoidable. Graham, again, had a big influence when talking with Ric (Seiling, Beauts GM and co-coach) before camp. My good friend's family also lives here, and they took me in for a while. It meant I could work in Canada and still play in the US. It has been the perfect situation."
Obviously, Casorso's first NWHL season reached some incredibly high notes. The blueliner appeared in 16 of the Beauts 17 regular season games, plus both playoff games as Buffalo captured the Isobel Cup. She would end up tallying 7 assists on the year as her statistical contributions towards eventually raising the Cup over her head. But for Casorso, it was a series of smaller occasions that made her first NWHL season such a success.
Small Moments And Free Agency
"Well, scoring my first professional goal… oh wait, that didn't happen," she laughs. "Really, the season was an accumulation of a bunch of small special moments. Getting to know the girls, attending Buffalo Sabres games as a team, signing autographs for little future hopefuls. That is what I'll remember about this season."
Hey Buffalo, you ready for this Kelowna Duo?? @BuffaloBeauts @NWHL @DunkinDonuts @BuffaloSabres pic.twitter.com/fNcKffDM2r

— Sarah Casorso (@scasorso) August 8, 2016
A little more than 10 days into the NWHL's restricted free agency period, let us hope that Casorso is one of the players to re-up with the Beauts. With losing both Megan Bozek and captain Emily Pfalzer from their defense corps, Buffalo would definitely need a defender of Casorso's caliber to lead the charge from the backend if they are to repeat as Isobel Cup champions. An incredible skater, a Cup-winning hockey player, a farmer from BC – Sarah Casorso belongs in Buffalo.
General Manager of the Buffalo Beauts (NWHL). Hockey history writer "The Hockey Writers". Credentialed media for the NHL Combine and 2018 IIHF World Junior Championships in Buffalo, NY, USA. Born and raised in Buffalo, NY. Lifelong hockey fan for over 40 years. Proponent of the women's game.