From May 1-31, NWHL teams can re-sign players from their 2016-17 roster and their draft picks during the restricted free agency period, and beginning on June 1 any unsigned players left will be free to sign with any team.
The third season of the NWHL will begin in October as the Buffalo Beauts defend their Isobel Cup championship, and with up to 12 players unable to participate in the league this season due to their selection for Team USA's 2018 Olympic team, this will be the most competitive season yet.
My colleague Dan Rice will keep THW readers up-to-date on New York and Connecticut's signings throughout the summer, while I post updates on Buffalo and Boston.
Boston Pride Have Exciting Rookie in Savage
Consistency as Five More Beauts Return
Bray K Returns to Rivs, Baribeau Back with Whale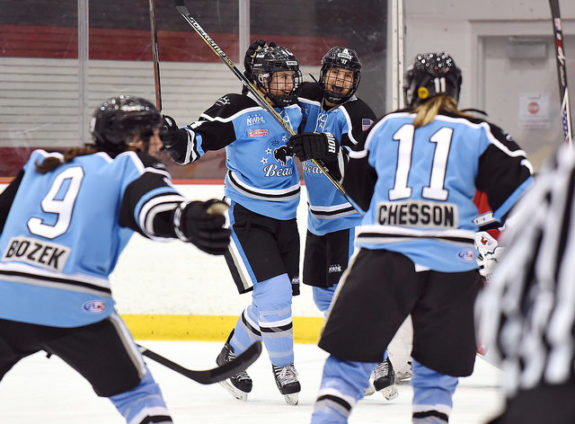 News came out after the Fourth of July holiday that the Buffalo Beauts made four new signings. Two are familiar faces. Buffalo fans will be most pleased to have them back. The other two players are rookies who had strong showings at the June 10/11 Beauts free-agent camp and have been tendered contracts.
Let's take a look at each of the four signings in depth.
Lisa Chesson
Buffalo's re-signing of Lisa Chesson will do wonders for their blueline. The former Olympian will be 31 years old in August and will provide a steadying veteran presence for the team. With three rookies already on the roster, and a large number of sophomore season players returning, Chesson's experience will be invaluable.
Chesson was a member of the United States' 2010 silver medal winning team at the Vancouver Olympics. Averaging a point a game, she would score two goals and three assists in her five Olympic games. That would include a goal and an assist in the first two preliminary games of the tournament—first against China, then against Russia.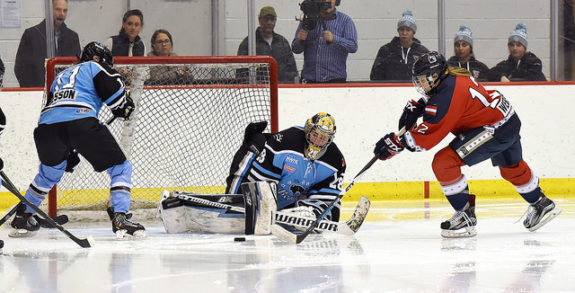 Chesson played seven regular season games for Buffalo last season and picked up three assists. She would add another assist in her lone playoff game against the Riveters during the Beaut's Cup-run.
In Chesson's 145 games played for Ohio State University, she recorded 27 goals, 62 assists and 89 points. Her finest season with the Buckeyes would be her junior year in which she scored 37 points in 37 games, including 13 goals.
Kourtney Kunichika
Only one Buffalo Beaut has played in every single game in franchise history. Kourtney Kunichika will be back for a third season and will keep her streak intact as Buffalo's iron woman. Regular season and playoffs combined, Kunichika has totaled 11 goals and 17 assists in 35 career games.
Kunichika's numbers dipped somewhat between the first and second seasons. Nine goals in 18 games in the first season became two goals in 17 games for the second season. Those numbers are deceiving, however. Kunichika capitalized on opportunities and did so when it counted the most.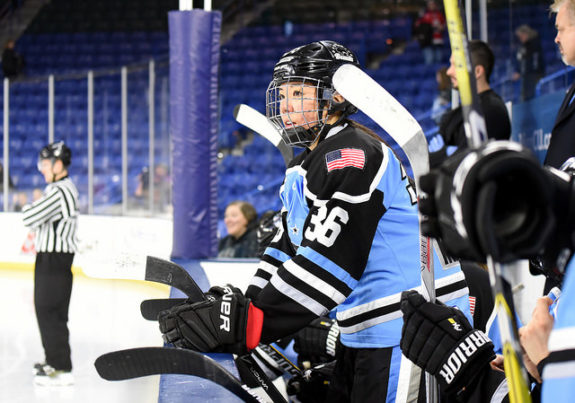 One of her two goals was a power-play tally. Kunichika had nine assists last year and four of them came on the power play. She was also one of only two Beauts to record a shorthanded assist. Part of the reason why Kunichika is so integral to the Beauts is her versatility and her ability to perform in any given situation.
Speaking on both Kunichika and Chesson, co-coach and general manager Ric Seiling stated via NWHL press release:
"With the talents and compete level of Chesson and Kunichika returning, they will no doubt bring the attitude that they have something to prove and that the Isobel Cup was no fluke." Seiling went on to say, "Their leadership and experience will benefit all of our new players."
Kathy Donohue
One of the new players Coach Seiling speaks of is forward Kathy Donohue. The native of Rochester, New York made a statement during the June free-agent camp which was noticed by her soon to be new teammates. Obviously, the coaches took note too.
Beauts goaltender Kelsey Neumann stated about Donohue at the time, "She played on the red team the first day, and then the white team on Sunday. She is really fast, good with the puck; she knows how to move it. Just a good two-way player."
Donohue, like last year's Beauts rookie sensation Emily Janiga, is a graduate of Merychurst University. Through her four years with the Lakers, Donohue played in 132 games and scored eight goals and 22 assists.
NEWS: Mercyhurst ➡️ Buffalo

We've signed Taylor Accursi and Kathy Donohue for the upcoming @NWHL season! #DefendTheCrown pic.twitter.com/ce2aKVZPu6

— Buffalo Beauts (@BuffaloBeauts) July 5, 2017
Taylor Accursi
The other newest Beaut is also a Mercyhurst graduate. Forward Taylor Accursi graduated from the university back in May and will likely add a scoring touch for Buffalo from the get go. While Accursi may have scored 15 career goals for the Lakers in 123 games, she is riding into the NWHL coming off of her most productive season. Her senior year saw the 5-foot-8 forward set career highs with nine goals and 14 assists for 23 points in 35 games.
Speaking more so to her overall dependability as a player, Accursi led the entire Mercyhurst roster in plus/minus with a plus-13 her senior campaign as well. She steered aside six shots that she blocked. The CHA named Accursi a Player of the Week in her fourth year too.
A native of Ancaster, Ontario, Accursi is presently one of three Canadian players on the Beauts' roster, the other two being goaltender Amanda Leveille and defender Sarah Casorso.
The Mercyhurst Connection
What might be a fun experiment would be to place the three Mercyhurst graduates on the same forward line together and see what sort of production could be woven by the trio as a unit.
Janiga had a phenomenal rookie season. She finished tied for second in team scoring with Kunichika during the regular season. She also led all Beauts in playoff goal scoring with three goals in the two games. Placing her on the same line as two of her college teammates might spark some interesting results.
Coach Seiling spoke of the Mercyhurst program in the same press release:
"Accursi and Donohue come to us from Mercyhurst – the same program that produced two great players for us in Kelley Steadman and Emily Janiga. Coach Michael Sisti does an outstanding job developing players, and we believe Taylor and Kathy will be immediate impact players for us."
From @HurstWHockey to #IsobelCupChamps! pic.twitter.com/RK36KREAHb

— Buffalo Beauts (@BuffaloBeauts) March 20, 2017
Steadman will not be returning to the Beauts this upcoming season. Rather, she returns to Mercyhurst as a full-time assistant coach. If last season was any indication, Janiga is primed to become a marquee player for Buffalo (if she isn't one already) Flanking her with Donohue and Accursi promotes familiarity and may provide a solid line with scoring punch for the Beauts.