This past weekend the Buffalo Beauts hosted a two-day free-agent camp. With some of the veteran Beauts partaking, the bulk of the skaters were actually new faces, many of whom were recent college graduates hoping to make the squad by showcasing their talents to Beauts co-coaches Ric Seiling and Craig Muni.
Free agent camp is this weekend!

Finished with your college career? Message us for invitation details! #DefendTheCrown pic.twitter.com/9CzQRSn6n2

— Buffalo Beauts (@BuffaloBeauts) June 7, 2017
Buffalo is a hockey nexus of sorts. Its geographical location made it so that players could attend the camp from across the states of New York, Pennsylvania, and Ohio, as well as the Canadian province of Ontario, each player converging with the hope of playing hockey professionally and at the highest level.
Veteran Support
One thing that was apparent from the get-go was that the veteran Beauts helped to make the newcomers feel welcome and more at ease. While Beauts of last season Sarah Casorso and Jacquie Greco participated in the Saturday session, and Kourtney Kunichika was at Sunday's high-intensity gathering, the Beauts' Kelsey Neumann and Haley Scamurra took part throughout the entire weekend.
Goaltender Neumann expressed the following advice for the young players, most of whom were participating in their first professional camp:
"I think it's most important for them to relax and play their game. Not get too stressed out or too nervous about what the coaches are thinking or anything like that. Focus (on) doing what you know how to do and stay calm out there."
Neumann recently re-signed with the Beauts herself and looks to take on a larger role in net this year for the team.
Free Agent Camp is underway! pic.twitter.com/MqWPu0Qflh

— Buffalo Beauts (@BuffaloBeauts) June 10, 2017
Scamurra demonstrated nearly all of the drills for the coaches during the camp. The 2016 third round draft selection reiterated Neumann's sentiments after the weekend had wrapped up.
"Just keep working hard. Play your game. Focus on your assets that you're good at. Don't try to do too much. Yesterday I thought some players looked a little nervous, but those that were nervous yesterday came in today and they were ready to go. Calm and collected."
Scrimmages And Drills
Both days of the camp we chock-full of drilling and scrimmages. Two separate teams were formed – one red and one white – out of the players in attendance. Sunday's work was particularly intense with a solid hour of four-on-four scrimmaging after a half hour of drills. There were also shootouts, figure eight skating drills, skate-and-shoots, and other work that allowed the athletes to test their merit.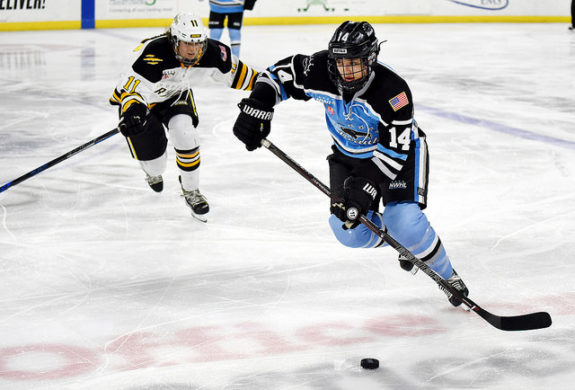 Both Neumann and Scamurra offered their thoughts on some of the participants and their efforts on the ice.
Neumann stated, "There were a few players who definitely stood out. Kathy Donohue. She played on the red team the first day, and then the white team on Sunday. She is really fast, good with the puck; she knows how to move it. Just a good two-way player."
"There were a few others out there who were rather impressive. Hannah McGowan and Hayley Williams both looked really good today and yesterday. Both Hannah and Hayley played in the league the first year, so they kind of know what to expect".
Scamurra added, "I think it was really interesting to see girls from different divisions that you don't normally see, and from the Canadian league. It was good hockey, it was fun. There were a few Canadians. I played in Canada in junior and recognized some of them. Kathy Donohue I played with in Rochester when we were 14. Kelly Seward I knew growing up."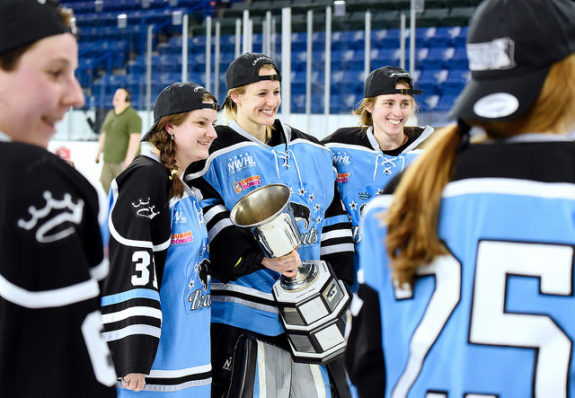 Jordan Ott
One of the youngsters who really stood out during the camp was recent Potsdam graduate Jordan Ott. A forward for the Bears, Ott felt that a successful Beauts' camp could afford her the chance to play elite hockey as a professional.
"I graduated Potsdam this past month and I wanted to continue playing hockey at a high level. I think this is a great way to do that. Having the experience as a kid that everyone wants to play in the NHL, and this is as close as we are going to get," she grinned.
Time At Potsdam
During her four years at Potsdam, Ott scored better than a point per game. With 61 career goals and 46 assists for 107 points in 101 games, she could provide a nice scoring touch that would fit in well with Buffalo's attack. But in Ott's eyes, she feels that she can contribute in other ways besides putting the puck in the net. That of a helping hand.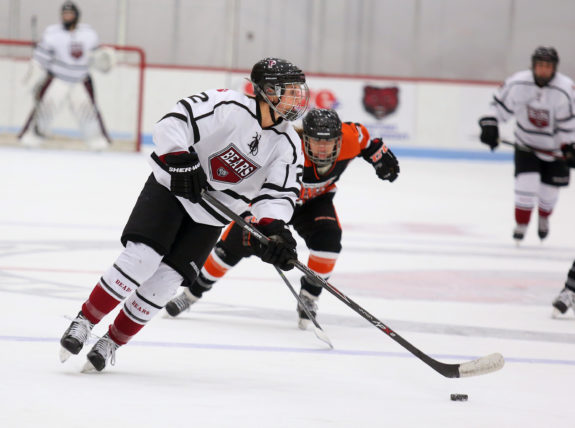 "My vision on the ice. Passing. I think that I can help get other people open; I am a good passer. I think that I am able to get some goals for others and get my assist totals up, and let other people get the glory."
Having excelled also for the Potsdam Bears softball team as a shortstop, Ott was an eight-time ECAC Rookie of the Week, an ECAC West Rookie of the Year, and the USCHO Rookie of the Year. These accolades of Ott's stemmed from the fact that she put up a total of 22 goals in 25 games in her freshman year on only 92 shots. This gave the forward a whopping .293 shooting percentage in her first campaign. Those are simply superb numbers for any player, but most especially for a rookie.
Ott Vying For a Spot
Asked what she liked best about the Beauts' camp, Ott stated:
"Meeting people from different areas. I played D-III. It was a mid-level D-III team. I am here playing against people who played at some high-level D-I schools. It's fun being able to play with people of different skill levels. Keeping up with those players, it's a different speed than what I'm used to. It challenged me to be capable of playing that speed."
BEARS IN ACTION: Jordan Ott follows through a shot in Feb. 2016 #PotsdamBears #PotsdamHockey pic.twitter.com/EiAz75AFBy

— Potsdam Athletics (@PotsdamBears) July 12, 2016
Having watched her participate both days, it would seem like a strong possibility that Ott will be offered a contract to join the Beauts. She more than held her own out on the ice, and her performance was noticed by some of the older players (more on that shortly), making it all the more likely that coaches Seiling and Muni took note as well.
"Try It"
Still, whether she makes the roster or not, Ott views the camp as an experience that will last a lifetime and one that she would encourage others to pursue as well.
"Try it. I came here and was fully not expecting to get some ice time. And now I have had a chance to play. It's going to be an experience that for the rest of my life; I'll be able to tell my friends and my family that I got to do it because I tried it. I think that's probably the biggest thing—just go for it. You never know."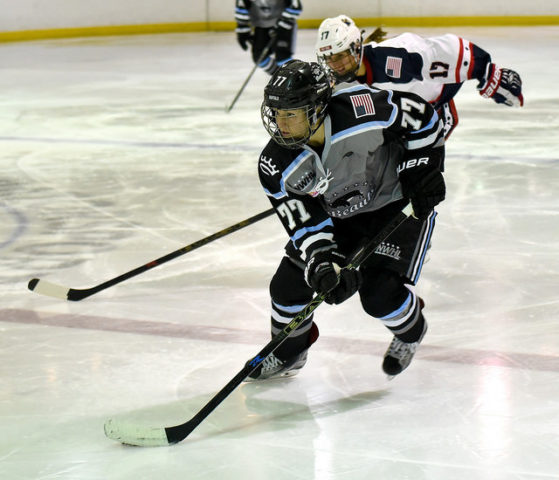 Williams Returns?
One of the veteran players to take notice of Ott's performance was original Beaut Hayley Williams. Having spent the 2016-17 season with the Brampton Thunder of the CWHL, Williams appears poised to return to Buffalo and is excited about the influx of new players.
"I don't know her name, but the girl from Potsdam. Tall, blonde-haired. She's pretty good. We raced and she beat me!" Definitely a good sign if someone of Williams' character takes notice of you.
Familiar Faces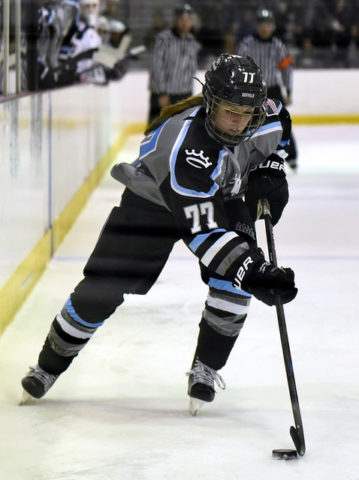 "It's always fun to get back out here with good talent and with the girls from Buffalo that I know. Familiar faces. Just fun to be able to skate with your friends," Williams said. "I was familiar with about half the girls. I played with a few. I played with Kourtney (Kunichika), Hannah (McGowan), Kelsey (Neumann). I knew some just from going to other camps or playing against them."
As a Beaut during the inaugural 2015-16 NWHL season, Williams was selected as a league All-Star and potted a goal and four assists in 17 games that year. Signing with the Thunder as a free agent last year, she appeared in 14 games with the team.
Williams' track record in college is proof enough that she can find the back of the net and that she may be able to add some offense for the 2017-18 Beauts. During her 2013-14 season at Robert Morris University, she recorded an astounding 34 goals and 39 assists for 73 points in a mere 35 games.
She would follow that up with a 2014-15 season at the University of Miami (Ohio) with 27 goals and 26 assists for 53 points in only 25 games.
Speaking to what skill set she could bring to the 2017-18 Beauts, Williams said, "My game has always been my speed. More determination and grit. Wanting it and never giving up." Look for Williams to make a return to the Beauts and take full advantage of a chance to re-up with the club.
Next Year's Look
A solid chunk of the Isobel Cup-winning Beauts will not be back with the team for 2017-18. For fans, it is always tough to see favorite players move on or retire. New fan favorites are just on the horizon though.
There are new players already eager to step in. The free-agent camp has made that very apparent. Holes in the roster are ready to be filled. The hull of the team could even be stronger once solidified. Neumann summed up next season's Beauts quite nicely.
Different But Ready
"It is going to be kind of a different team than last year. It's going to be a team that is ready to work from day one. Not that we weren't last year, but I think there's going to be a lot more participation in practice."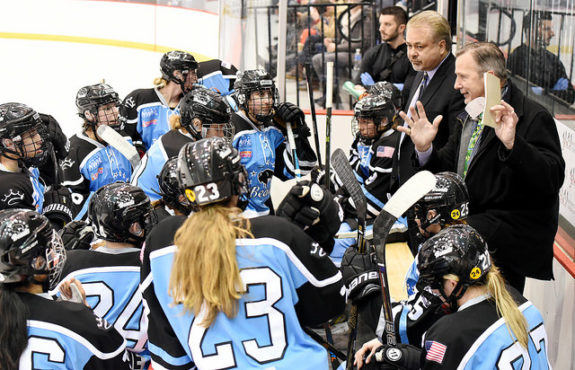 "We had lot of players that lived out of state last year, and it seems like this year we are trying to get a lot more that live closer to Buffalo who are willing to either commute or live in Buffalo for the year. I think right off the bat we are going to be able to connect better as a team."
A foundation was laid by the coaches during this camp that will trickle down into the players, new and veteran alike. The excitement of the Beauts faithful should indeed be piqued to meet their newest heroes. They will not disappoint.
General Manager of the Buffalo Beauts (NWHL). Hockey history writer "The Hockey Writers". Credentialed media for the NHL Combine and 2018 IIHF World Junior Championships in Buffalo, NY, USA. Born and raised in Buffalo, NY. Lifelong hockey fan for over 40 years. Proponent of the women's game.