The springtime sun came out in Buffalo today and it is shining much like Buffalo Beauts defender Jacquie Greco's smile whenever she talks about winning the Isobel Cup.
"It is pretty awesome, seeing as that we brought the first professional hockey championship to Buffalo. To be able to show people in the city that we are for real, that we are female athletes who get paid to play and can win, I think the people in Buffalo thrive off of that. This city loves teams that try hard, work hard, and are gritty. I think we put the perfect package together for the city of Buffalo and I think they are going to thrive off of us for the next several years." We are thriving already from Greco and the Beauts.
Promenading Isobel at the top of City Hall with Mayor Byron Brown, greeting fans at local Dunkin' Donuts shops, partaking in NHL action with their Sabre "brothers," and being visible throughout the city on a consistent basis. It is a wonder to behold. Jacquie Greco is very much at the heart of it all with her Beauts teammates, and it comes naturally to her. One could argue that at this point in time, the city is in the palm of her hand and it would not have it any other way.
I am proud to declare today '@BuffaloBeauts Day' in the City of Buffalo in recognition of their successful 2017 championship season. pic.twitter.com/tZghLmJiDy

— Byron W. Brown (@MayorByronBrown) April 3, 2017
Greco will turn 26 years old in May but began playing the game around the age of three or four.
"I started because of my brother. He is two years older than me and he played. I always wanted to put on the equipment and I was a bit jealous that he got to wear it," she laughs. "And that's how I got into playing hockey." Greco is a lifelong Sabres fan and her memories hearken back to the days of Michael Peca and Rob Ray. "The Beauts actually played against Peca's junior team this year in an exhibition game," she says. "I introduced myself to him after the game but it is funny now because I see him all the time at the HarborCenter (the home of the Beauts)."
Blossoming With The Bisons
While Greco is one of the Beauts' stalwart defenders, she initially began playing the game as a forward. "When kids are starting to play, I don't think that anyone thinks specifically that they want to be defense, or forward or goalie–it is kind of whatever you want," she says. "But I was mostly a forward growing up in the mite level, then into peewee and even into high school. Around my sophomore or junior year of high school, my club hockey coach Scott Welch threw me onto defense because someone had gotten hurt and he needed a defender. I played defense for those few years after that, and I ended up getting recruited for college as a defender".
A native Buffalonian, Jacquie Greco is a product of both the Nichols School (an elite preparatory school in the city) and the Buffalo Bisons youth hockey teams. In both instances, she played with the some of the best hockey programs in the region. The proof is in the pudding so to speak, as Greco was five times a state champion with the Bisons girls teams. "We had a very solid group of players all those five years," she says.
Thanks to @jgrecs15 from the Buffalo Beauts for joining @BrianWGR on the intermission report! pic.twitter.com/AeeBXuxByb

— WGR 550 (@WGR550) March 22, 2017
From her time with the Bisons up into college and eventually the professional level, Greco considers the tutelage she received with the program invaluable. She told me, "Scott Welch was awesome. He was my only girls' coach that I ever had and he definitely prepared us. (Welch) took us to every tournament any other good club went to. We were just as prepared as any other club in the country. I think having older girls on our team too definitely helped as they had gone through the recruiting process before my year did. We learned what it was like from them. When it was my year to be recruited it felt a bit easier and it definitely helped having had those older girls on our team."
Finding A Home With The Orange
When taking into consideration where she could possibly play an elite level of college hockey while also obtaining a strong education and keeping a closeness to family, Greco would look just two hours down the road from Buffalo to Syracuse University.
In college, I played 'D' my first two years. During my junior year, I was moved back up to forward. Then senior year was actually a bit of both.
The utilization of Greco during her college years mirrors her present role with the Beauts, as she is often transitioned between forward and defense even if she is technically listed as a defender. Depending on the situation, Greco takes a regular shift at forward but can easily move back to the blue line for penalty-killing or in case of injury. She is a most versatile player, which was a contributing factor in why I wished to interview her.
Regardless of how she was utilized, Syracuse was the right fit for Greco hands down. With the Orange, she would end up making an everlasting impression on their women's hockey program with some rare intangibles.
"I was fortunate enough that I could have played at either the Division-III or Division-I level. Ultimately though it came down to the school and hockey combo, and which school was best for me in that regard. Syracuse offered me the best of both worlds. It is an amazing university and playing at a Division-I level was what I ultimately wanted. The combination of athletics and academics was the perfect fit for me, and since it was two hours from home was nice because I knew my parents and family could come see me and attend all of our home games." A perfect hat trick of sorts: schooling, hockey, and perhaps most importantly, family.
From @NicholsVikings to Isobel Cup Champions. Homegrown dreams can come true! #Buffalove pic.twitter.com/nZXPzWi5fs

— Buffalo Beauts (@BuffaloBeauts) March 20, 2017
At Syracuse, Greco would have multiple honors, including being named to the CHA All-Academic Team, named an assistant captain during her junior campaign and eventually a co-captain her senior year. Greco even struck double-digits in goals during her final season. But it is what Greco meant (and still means) to the Orange's program that speaks to her character.
"Definitely to be honored as a captain starting my junior year was amazing. People are leaders in different ways. I wasn't a leader in points on the ice but I was a leader in other ways that my teammates and coaches recognized. I took on that role, and I felt that a lot of younger girls looked up to me."
"I still get text messages from people who are still there. They call me all the time and say that they miss me or they miss my leadership. I even have had my former coaches at Syracuse say that there has still not been someone with my type of leadership since I left. That says a lot about the program, and how I took care of it and kind of made it my own."
Opportunity Presents Itself
It most assuredly speaks true to Greco's character. This stays consistent with Greco's role in the Buffalo community with the Beauts, especially now that they have become Isobel Cup champions. She is involved in the team's off-ice functions and engaged with the public. Greco means something to those with whom she comes in contact.
After wrapping up her undergraduate studies, Greco stayed on at Syracuse for one more year and obtained her master's degree. Always knowing that hockey would forever be a part of her life, she continued to play intramural hockey at Syracuse with men's teams during that final year of study. Afterward, she would move to Rochester and stay active by playing in bar leagues simply for the love of the sport. But then, opportunity would present itself.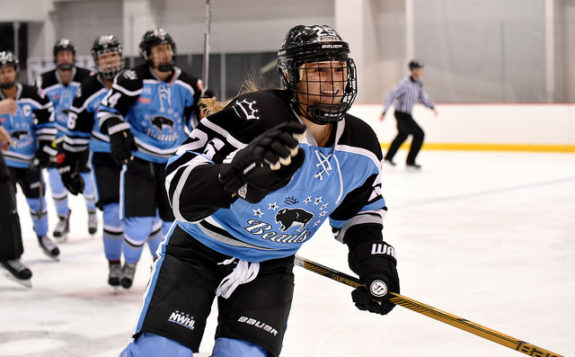 "I saw that there was a team coming to Buffalo. I wasn't really sure what it was going to be like. I was unsure of it and decided not to go to the tryout at that time even though I was asked to go. And because I was living in Rochester at the time, I was unsure of being able to commute. Needless to say, I saw the first year of the Beauts and the NWHL and knew that I wanted to be a part of it." Greco would opt for free agency and join the Beauts for the team's and the league's second season.
There is a transition for sure as a player goes from college hockey into playing professionally. For the NWHL, the jump between levels is no different than the NHL, and perhaps even more challenging considering the limited amount of roster spots available.
Greco explains to me what that jump was like for her and how her first season of play with the team developed. "It is a lot different. You do not think it is when you are in college and you are playing at that level, but it is. These girls in the NWHL are all amazing. They were all captains of their teams, and now they are all on one team. I never thought that I had a weak shot until I played in the NWHL because everyone here is just that good. It is a whole other level but it is awesome."
How many @DunkinBuffalo munchkins do you think can fit in the #IsobelCup? pic.twitter.com/gnko0Bk4Vi

— Buffalo Beauts (@BuffaloBeauts) March 29, 2017
Getting Her Hockey Legs Back
For the 2016-17 season, Greco played in 15 of the Beauts' 17 regular-season games and picked up a goal. Perhaps more importantly, she was integral in the Beauts' championship run appearing, in both playoff games and being a positive plus/minus player.
But from start to finish, Greco could feel how the season and how she personally progressed.
"From the beginning of the year until the end of the year, I felt like I was getting the hang of it more as the season went on," she looks back. "From playing in college, having two years off, and then coming to the professional level, you have to get up to speed with everything. I think getting my hockey legs built back up took time.
"Being in game shape is totally different than playing in a bar league. Hours that you put in outside of practice make a huge difference too. We are required to do two lifts and two practices a week. I try to put in at least five lifts a week, and I'll go shooting with some of the girls or on my own at the HaborCenter. Getting in those extra things definitely helps in getting up to speed to compete."
In the Isobel Cup Finals against the Boston Pride, the Beauts were, on paper, very much underdogs. The Pride lost only once all season (16-1-0) and had outscored the Beauts in seasonal tallies by the largest of margins; a league-leading 73 goals for versus Buffalo's last-place 44.
But the way Greco puts it, there was an underlying positive feeling that could not be denied.
"We had this vibe going that you just felt all weekend (of the Finals). You felt it on Thursday when we left for New York (an opening round showdown with the Riveters) that it was just good vibes going in. Everyone had this feeling. Nobody ever doubted ourselves. Nobody felt that we were going to lose. But, nobody ever said, 'oh, we're going to win' either. We all just had this good feeling in us. You could tell in our game on Friday (against the Riveters). And you could tell all day on Saturday. And you could tell all day on Sunday too."
The Beauts would shock the Pride in the Finals that Sunday evening by dethroning the defending champions 3-2.
"This consistent good feeling going on; I think it even started in our last game of the regular season. From the Sunday against Connecticut until the Sunday we won the Isobel Cup. Everybody was on the same page, we had two games left, and why the hell not, right?" You said it exactly, Jacquie!
Greco Is Right as Rain
"People always want to be a part of something good," Greco went on to say. "For us to become champions is going to make people want to follow us more and get to know us better. Eventually, wanting to be there and support us by coming to our games and buying our jerseys. It will just escalate from there."
Spoken with warm conviction in her voice, you feel right there along with her, and if you have any appreciation for hockey at all you can easily believe that Jacquie Greco is dead-on with her premonition of great things to come. The Beauts are touching people's hearts right now and they are capitalizing on it tenfold.
Perhaps the biggest impact can be seen upon young girls who are enthralled with hockey. Greco explains, "I think this past year has been pretty eye-opening to the fact of how many girls are playing hockey, and how many girls actually look up to us as role models. I guess I had never realized that or experienced that before. I had not been a coach, or previously had all these eyes on me from young girls, but that has been the most enjoyable, rewarding part of this year.
"These girls are there banging on the glass, wanting to shake our hands, wanting our autographs, wanting our autographs after every single game–the same girls. Picking my number as their next number on their club because they want to be like me or wearing their hair like mine. It is kind of surreal, but it is the most enjoyable part for me. Money aside, that is really why all of us play–because of these girls, growing the game. We are not making millions of dollars and that may not ever happen. But taking advantage of everything else besides the money is really important."
Greco gets it and she fosters it. If you have read this from start to finish, you do not need me to tell you why she was named a captain at Syracuse, or why they have not been able to replace her leadership ever since she graduated. You do not need me to tell you how with an apparent ease she has helped to capture an entire city–not just a trophy. And you certainly would not need me to explain any further that Jacquie Greco is right as rain when it comes to embodying the good of the NWHL and of women's hockey.
I am a player in the @NWHL and I #StandWithTheUSWNT #BeBoldForChange Join us in our support. pic.twitter.com/fvXRnqzetX

— Jacquie Greco (@jacquiegreco_) March 24, 2017
General Manager of the Buffalo Beauts (NWHL). Hockey history writer "The Hockey Writers". Credentialed media for the NHL Combine and 2018 IIHF World Junior Championships in Buffalo, NY, USA. Born and raised in Buffalo, NY. Lifelong hockey fan for over 40 years. Proponent of the women's game.