The success, or lack thereof, of a given NHL team does not boil down to the contributions of its individual players, but rather, the play of the squad as a whole.
It was, in fact, Aristotle who once voiced an opinion which, especially for the Toronto Maple Leafs, could not ring truer given the course of their 2016-17 campaign: "the whole is greater than the sum of its parts." Yes, Auston Matthews, Mitch Marner, and William Nylander have been imperative to the prosperity of the Leafs, however, it has been the wide-ranging contributions which Toronto has received from throughout their lineup which has ultimately propelled them into the 2017 Stanley Cup playoffs.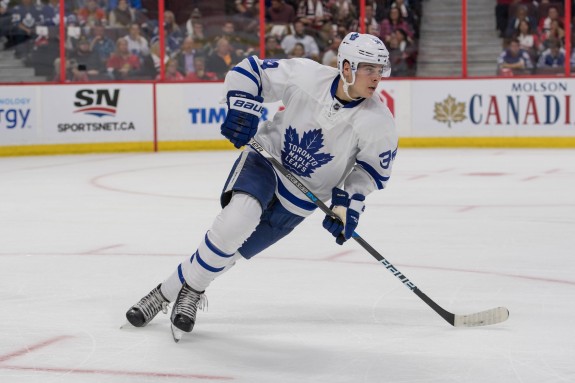 Despite all of the shattered team records and annihilated rookie bests, the Leafs would not be a legitimate contender without the substantial and, at times, surprising play of their less notable players. Boasting considerable depth despite their average age and experience level, Toronto has quickly developed into one of the NHL's most lethal offensive teams, and one whose persistence has afforded them both consistency and positive results in the early stages of their development.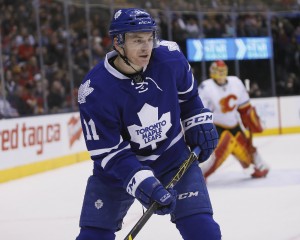 However, while it would be easy to simply list the surprising contributions of a number of Leafs players, it is undoubtedly more valuable to engage in greater discussion.
As mentioned, Toronto has a number of key contributors who have flown well under the radar in 2016-17, yet, is there one skater in particular who stands out amongst the rest? Or, moreover, is there a widely under-appreciated player who, minus his contributions, would see the Leafs run the risk of missing the postseason entirely?
To begin, let's take a closer look at two players in particular who meet this criteria, and then open this specific question up for discussion.
One Shooter, One Defender
The success of any given NHL franchise is based upon two incredibly simple principles. Firstly, put the puck in the opponent's net – if you can do this often, chances are your team will win the game. On the other hand, do you darndest to keep the puck out of your own cage – if you can't, well, you won't enjoy the outcome.
Fortunately for the Leafs, the two players in contention for the distinction as Toronto's most underrated player in 2016-17 combine to do both. On one hand, there is Connor Brown – a former sixth-round draft selection who has quietly pieced together one of the NHL's best rookie campaigns. Conversely, there is Jake Gardiner – a former first-round choice who, it would appear, has finally established himself as a sound NHL defenseman.
Connor Brown
Not a great deal of attention was paid to Toronto's selection of Brown in the 2012 NHL Entry Draft, however, his perception as a young player has since changed dramatically.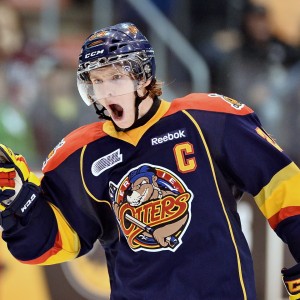 Playing for, at the time, the OHL's least successful franchise in the Erie Otters, Brown was chosen 156th overall by the Leafs after enjoying considerable success in his rookie campaign. Reaching the 25-goal plateau instantly illustrated Brown's raw offensive capabilities, however, his hideous plus/minus rating of -72 also indicated the need for improvement in Brown's all-around game.
Over the course of the next two years, Brown did exactly such. Individually, Brown's game progressed by leaps and bounds, as not only did he become a more lethal offensive threat, but also a player who could be relied upon to play a solid and consistent two-way game. Brown's persistence and innate leadership qualities ultimately led to him being named as team captain of the Otters – a position which he would grasp for two campaigns until graduating to the professional ranks in 2014.
As a sound all-around player who competes at an incredibly high level on a nightly basis, Brown adjusted to the AHL level with incredible ease. Not only was he named to the All-Rookie Team and All-Star game in 2014-15, but he also led the league in both assists and points by a rookie. As such, Brown's incredible rookie AHL campaign quickly illustrated that despite his late-round draft selection, the feisty native of Etobicoke had the drive, results, and skill necessary to garner playing time at hockey's highest level.
So, Brown's incredible success as an NHL rookie should, quite simply, come as little to no surprise. While many have questioned his size, skating, or other qualities over the years, Brown has simply persisted and in doing so was able to piece together an incredibly successful yet easily overlooked rookie campaign for the Leafs in 2016-17.
Connor Brown goes legend tonight. Unreal game.

— Bryan Hayes (@HayesTSN) March 31, 2017
However, just how critical has Brown's presence been to the Leafs' success?
Well, situated on the Leafs' third-line alongside Leo Komarov and Nazem Kadri, Brown has been the driving force behind not only a solid season from Komarov but a career-year for Kadri. A tireless forechecker who uses his speed and intelligence to disrupt opposing breakouts, Brown's work ethic is on display nightly and has become a staple of Toronto's high-flying offense.
KARMA!!! Connor Brown's forecheck has pretty much been the best non-Andersen thing going for the Leafs this period.

— Steve Dangle Glynn (@Steve_Dangle) March 31, 2017
In addition to improving the play of his teammates, Brown's versatility has also been critical to the success of the Leafs' special teams play. Averaging over two minutes of short-handed ice time per game, Brown's willingness to sacrifice his body in order to defend speaks to his willingness to do whatever is necessary to win. Further, seeing notable ice time on the power play, it should come as no surprise to learn that Brown averages greater playing time on a nightly basis than James van Riemsdyk.
Connor Brown finds the back of the net and then the Leafs fans in Buffalo. #TMLtalk pic.twitter.com/1Hoq4PKWsp

— Toronto Maple Leafs (@MapleLeafs) March 25, 2017
Despite the success of the Leafs' many rookies this season, perhaps none is as surprising as that of Brown. A long shot to simply reach the NHL, Brown has continuously shattered expectations and has quickly developed into a player key to Toronto's long-term prosperity. A hard-working, blue-collar player whose energy and determination are infectious, Brown's contributions to the Leafs in 2016-17 simply can not be overlooked, as Toronto would undoubtedly be a much different team in his absence.
Jake Gardiner
Selected in the first-round of the 2008 NHL Draft 17th overall by the Anaheim Ducks, Gardiner's development, unlike that of Brown's, was long watched with immense anticipation. A former standout at the University of Wisconsin where he was paired with current Pittsburgh Penguins defender Justin Schultz, Gardiner, at the time, appeared poised for a long and prosperous career with the Ducks.
However, after failing to sign with the team, Anaheim traded the highly promising defender as well as Joffrey Lupul to the Leafs in exchange for Francois Beauchemin.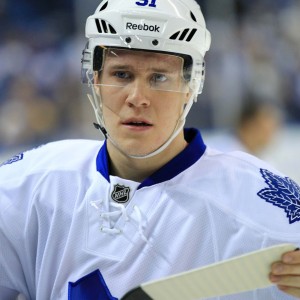 Inking a three-year entry-level contract with Toronto a short time later, Gardiner immediately entered the NHL and, one of the league's most passionate markets. Ultimately, the 2011-12 season was one defined by success for Gardiner, as his rookie campaign saw him net impressive offensive totals, log important minutes and play in an array of situations for the Leafs.
However, in Gardiner's second season with Toronto, the budding blueliner wound up missing the majority of the campaign due to injury. Unfortunately, upon his return, Gardiner began to struggle. Playing a weak defensive game as well as too loosely with the puck overall, Gardiner fell into uncharacteristic habits which ultimately had fans and pundits alike pondering a potential transition to the forward position.
Prioritizing offense while, at times, neglecting defense, major changes became abundantly necessary to Gardiner's game if he wished to reach the immense potential his skill-set demanded.
Determined to further develop Gardiner into an elite NHL defenseman, the Leafs made a clear commitment to the Minnetonka, Minnesota, native in the summer of 2014, signing the progressing albeit embattled defender to a five-year, $20.2 million contract.
Jake Gardiner on his new 5-year contract: 'It's positive for both myself and the Leafs.' http://t.co/yFErgmMq0X pic.twitter.com/k2CcZqFDEP

— theScore (@theScore) July 30, 2014
Perhaps it was his new contract or simply the confidence that the Leafs were committed to his long-term growth which spurred Gardiner in the right direction. As the 2015-16 campaign unfolded, Gardiner's play improved dramatically. Not only was he a consistent threat offensively, but he seemed capable of thinking the game at a higher pace while making intelligent decisions in the process. No longer making rash or impatient decisions with the puck, Gardiner's exposure defensively dissipated as he began to combine his play at both ends of the ice into a strong all-around game.
Having progressed at a slow yet steady pace, Gardiner has quietly developed into a highly underrated and under-appreciated defender on the Leafs' blueline. Now, in 2016-17, Gardiner's play has reached new heights, as he has not only set new career-highs offensively but, perhaps more importantly, recorded solid totals defensively.
Jake Gardiner is 3rd in the NHL in on ice Goals For in all situations behind Ryan Suter and Brent Burns.

— Jude MacDonald (@JudeMac_17) March 13, 2017
Emerging as an elite NHL defenseman, Gardiner has become one of head coach Mike Babcock's most reliable players. Logging well over 21 minutes of ice-time per game, Gardiner has also excelled in considerable time on the power play and has displayed the confidence to quarterback the team's first unit. In possession of a crisp shot and quick release, Gardiner's ability to put the puck on net through traffic – a highly overlooked quality – creates numerous offensive opportunities which his highly talented teammates are often quick to gobble up.
In addition to netting a significant number of power play points and his presence as an offensive catalyst, Gardiner's defensive game has grown remarkably. Prone to turnovers early in his career, Gardiner has emphasized making simple plays over complex ones – an approach which has improved his all-around game. Long a poor plus/minus player, Gardiner will set an impressive new career-high in 2016-17 and currently carries a rating well over +25.
#Leafs Morgan Rielly has a team-worst -25 rating this season, while Jake Gardiner has a team-best +25 rating.

— Sportsnet Stats (@SNstats) March 15, 2017
Not a fan of the stat? Well, Gardiner's advanced statistics further emphasize his incredibly improved defensive play. In terms of his CF%, Gardiner has achieved a mark well over 56%, a total which illustrates the fact that he creates a far greater number of scoring chances for than he allows against. Further, in relation to his teammates, Gardiner's CF%rel is also stunning, as it stands nearly 10% greater than his colleagues'.
Long a skilled offensive player who had yet to piece together a sound all-around game, Gardiner's development has been tumultuous yet ultimately prosperous. Now a sound defender in addition to his innate offensive skills, Gardiner has developed into a solid force on the Leafs' blueline and one that can be counted on in an array of situations.
Jake Gardiner scores OT winner, Matthews gets 3rd assist of the game and Leafs win 5-4. #TMLtalk #Leafs pic.twitter.com/vP0UE2AO79

— ⚠️Guy On The Couch⚠️ (@6SportsGod1) February 22, 2017
Often overlooked given the Leafs' many young stars, Gardiner's presence has been absolutely critical to Toronto's success in 2016-17. A minute muncher who can score and, now, defend without hesitation, Gardiner is an essential member of the Leafs' defense-core who will be a player of massive importance for years to come. Regardless of his developmental path, Gardiner is finally reaching his potential, and in doing so, becoming an elite NHL defenseman.
The Best of the Rest
Now, it goes without saying that while both Brown and Gardiner are two excellent options to be named the Leafs' most underrated player in 2016-17, they are by no means the only two choices. In fact, a number of other easily overlooked Toronto skaters have been impressive this season, if not critical to the Leafs' overall success.
Namely, there are Nikita Zaitsev and Zach Hyman.
In Zaitsev, the Leafs have landed somewhat of a hidden gem, as the undrafted defender has stepped into Toronto's lineup and skated top-pairing minutes in his rookie season. Further, he has added a considerable offensive punch alongside his sound defensive approach – one which could see him land a long-term contract with the team. A young defender who is still learning the NHL game, Zaitsev's presence added much-needed depth to the Leafs' blueline, which has been essential to Toronto's shocking success this season.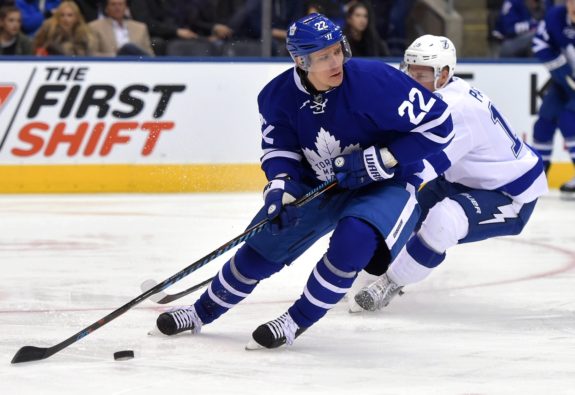 Secondly, there is Hyman. A former standout at the University of Michigan, the free agent has enjoyed considerable success in his first full NHL season – the majority of which has been played alongside Matthews and Nylander. A tireless forechecker who uses his size to cycle and protect the puck before ultimately setting up his uber-talented line mates, Hyman is a workhorse whose play is greatly admired by Babcock. Although he hasn't been a lethal offensive threat, Hyman's versatility and ability to succeed in various situations, such as the penalty kill, have made him a valuable yet easily overlooked asset in 2016-17.
Last Call
So, there you have it. While I believe the distinction clearly rests with either Brown or Gardiner, it is incredibly difficult to determine who the Leafs' most underrated player has been in 2016-17.
Of course, depending on your opinion, there are a number of other options to consider, however, I believe that these two budding stars, alongside Zaitsev and Hyman, have been not only overlooked but essential to the Leafs' success this season. Without Gardiner's skill and new-found poise on defense and Brown's versatility and work ethic as a rookie, it goes without saying that the Leafs would be a far less successful team and would have endured greater difficulty on the road to a potential playoff berth.
Brett Slawson is a four-year veteran of The Hockey Writers who covers the Toronto Maple Leafs, NHL prospects, and the OHL's Mississauga Steelheads.
Contact Brett on Twitter @brettslawson92, or by email at brett_slawson@hotmail.com.