April 3 will now be known as the day national pride and excitement were torn from the hands of hockey fans, as the National Hockey League released a statement confirming that they will not participate at the 2018 Olympics in Pyeongchang, South Korea. The decision came after months of speculation that the negotiations between the NHL and the International Ice Hockey Federation (IIHF) were not going anywhere.
The NHL will veto the Winter Olympics for the first time since 1994, and though some fans, media, and players will not believe it until the team hits the ice, it appears next to impossible that any NHL players will be on that ice surface. Well, unless some players leave their NHL clubs for two weeks.
While the NHL preaches worldwide growth for the game of hockey and exposure of their talented players, the participation in the 2018 Olympics didn't really seem like a top priority for the league. Nevertheless, it is a two-way street and the IIHF's stubbornness given the fact that the owners are the ones essentially providing all the product is ridiculous. It is understandable from an owner's point of view given they provide the product, their clubs risk players getting injured and they stop their schedule. The bottom line is, for the good of game going forward, this was a deal that absolutely needed to get done and it didn't.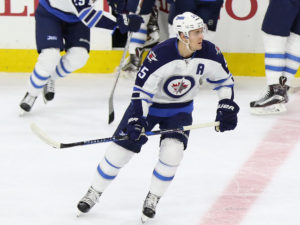 This is the time to grow the game. Out of the league's top 3o scorers, 17 have participated in the Olympics. There is the established product. Out of the remaining 13 players, 11 of them are 25 or under. There is the future. Just for the record, the two remaining players are a couple of top-five defenders in Brent Burns and Victor Hedman, who would be guaranteed a spot on Canada and Sweden's blue lines respectively.
One of the players 25 or under is Winnipeg Jets superstar Mark Scheifele, who would be a great addition as a transition player for a veteran Canadian squad. Canada is not the only nation missing out on the services of some talented Jets players.
Team Finland
While the days of Saku Koivu and Teemu Selanne seem like an eternity ago for Team Finland, they recently had a resurgence of offensive talent in the nation. We could have seen Finland ice a roster including Anze Kopitar-like center Aleksander Barkov, the dynamic Sebastian Aho, the emerging Mikael Granlund, and most importantly, the first Olympic games for Jets sniper Patrik Laine.
As much as Barkov's strength, Aho's hands, and Granlund's hockey IQ could boost Finland, an elite sniper that could break the game open at any minute is irreplaceable. While Laine and his fellow 1998-born, 2016 draftee, Jesse Puljujarvi, will be the faces of Finnish hockey for the next decade, the loss of NHL players is insurmountable at this juncture for Finland and will be devastating for a team that was looking to add the player with the rawest talent since Teemu Selanne in his prime.
FYI: Patrik Laine(36 goals) now has the 5th most goals by an 18 year old in NHL History. Behind Hawechuck(45),Yzerman/Crosby(39), Carson(37)

— Gino Reda (@GinoRedaTSN) April 5, 2017
Team USA
When USA hockey picked Brooks Orpik and Paul Martin over Dustin Byfuglien at the 2014 Sochi Olympics, most fans shook their heads. Well, USA hockey were not going to make that mistake again as Byfuglien was selected to represent Team USA for the first time internationally at the 2016 World Cup of Hockey. This did not go over very well. Between scratches and even the odd stint at forward, Byfuglien and Team USA shockingly didn't win a game at the tournament and all the Minnesota native had to say about his experience is "I didn't enjoy it."
While Byfuglien likely would not have joined USA's blueline again, a younger American-born Jets defender was making a case. Jacob Trouba has proved this season he is undeniably the future of Winnipeg's blue line, setting a career high in points in fewer games than any of his previous seasons.
Jets captain Blake Wheeler was included on the 2014 Olympic squad and the 2016 World Cup of Hockey roster for Team USA. His versatility, leadership and frankly, his wheels, are what make him so attractive to USA hockey's brass. Wheeler would have been a slam dunk to make the 2018 roster for Team USA and would have been one of their best forwards too, as he ranks second only to Patrick Kane in points by US-born players this season.
Team Canada
Team Canada is arguably the most dominant they have ever been as a nation. As the familiar names like Patrice Bergeron, Sidney Crosby, and Jonathan Toews would have still been included on the roster, I believe it was Canada's intention this season to transition some younger players in for some older legs. As Ryan Getzlaf, Joe Thornton, and Corey Perry remain Canadian hallmarks, the idea was to move these names along and bring in future talents like Scheifele, Connor McDavid, and Nathan MacKinnon. Over a point-per-game player, Scheifele's development has been incredible and to see the season he has put together given the Jets' placement in the NHL standings is rather remarkable.
Not seeing a player like Scheifele able to represent his country hurts, but it isn't only Jets fans that are in agony. Once the hype of the Stanley Cup Playoffs is over, we'll be seeing fans of the Toronto Maple Leafs, Pittsburgh Penguins and many others absolutely crushed that their stars will not be competing on the biggest stage in the world.