On Tuesday, San Jose Sharks head coach Peter DeBoer told the media Joe Thornton and Logan Couture were "day-to-day." In the vernacular, this means the availability of the injured stars for practice and games will be assessed daily. DeBoer later phrased and rephrased his comment, saying he expects either Couture or Thornton to be back for a playoff series. This is more akin to week-to-week. By the time he got to, "it could be Saturday or a month from Saturday," it was clear he wasn't sharing any answers, if he even had any to share.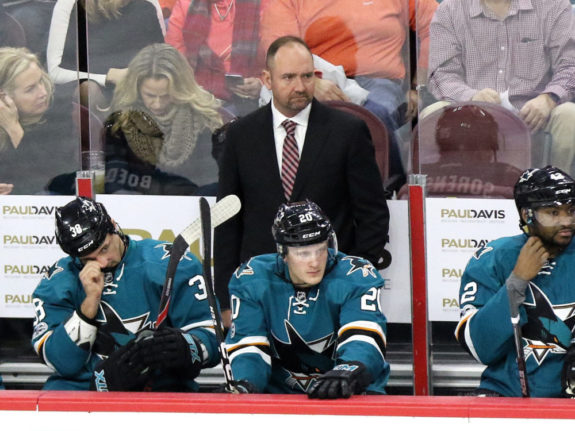 To review, Couture was hit in the face by a puck in a game against Nashville on March 25. Thornton's knee was injured on Sunday in a game against Vancouver.
Wednesday saw both Thornton and Couture skate at practice, though Thornton showed a limp and Couture was only out briefly. Thornton told the media "everything was fine" according to an MRI. Still, the Sharks have history with knee injuries, and getting it right has been an issue.
Sharks' Concerns
A knee injury is something to be concerned with and the recent Sharks history with knee injuries is only cause for greater concern. Two cases come to mind, and both are troubling.
Both cases involve players recovering from a knee injury who played when their knees were not healthy.
Raffi Torres suffered an ACL injury in a preseason game in September 2013. The Sharks put him back out in February 2014; he lasted a few games before sitting out again. The team put him out again in April for the infamous reverse sweep series against the Los Angeles Kings. After the series, Torres said he "was skating around pretty much on one leg." He missed the next season entirely, then attempted a return in September 2015 (a dirty hit in a preseason game earned him a half-season suspension). Torres, though, never returned to NHL form.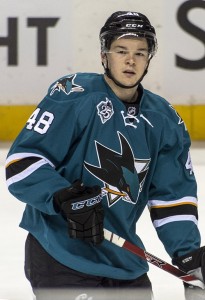 Tomas Hertl's knee injury (the usually less troublesome MCL and PCL) resulted from a Dustin Brown hit in December 2013. Like Torres, Hertl has had multiple surgeries and suffered several setbacks. The most recent setback came in November. Hertl's November re-injury came on rather ordinary contact in a game against the St. Louis Blues, suggesting the knee was compromised before the contact. Almost three full years after the initial injury, he was back in surgery.
Hertl's best known re-injury came in the June 2016 Stanley Cup Final against the Pittsburgh Penguins. For several days, the Sharks denied Hertl was done for the rest of the series. Hertl was indeed done for the series. The Sharks thought Hertl might play again in June. So surely he would be healthy by July. Or August. Or September. But he wasn't fully healthy and Hertl chose to skip September's World Cup of Hockey to give himself more recovery time. In the three years and few months since the original injury, there are continuing signs his knee is not right.
Jumbo Concerns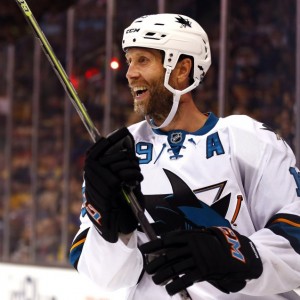 The Sharks' troubling medical track record creates added concern around Thornton's injury. There is no reason, given the Sharks' history with knee injuries, to expect the Sharks' medical team to get it right with Thornton. Given Thornton's age and size, playing on a compromised knee is likely to drastically reduce his effectiveness. And while it has been widely assumed Thornton will return to San Jose for more seasons after this one, his contract expires at the end of this season. How the injury plays out may impact the terms and perhaps even the commitment to the expected renewal.
The best hope is the injury is far less serious than it appeared, leaving little room for the medical staff to underperform. His return to skating on Wednesday is reason for optimism.
Couture's Challenge to Return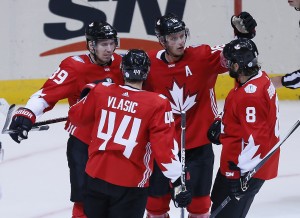 Couture is the second Sharks player to take a puck to the face and miss games this season; Marc-Edouard Vlasic was the first. Vlasic missed 10 days. His return game against Edmonton in early January was strong, but for the next month or so after, he was atypically inconsistent. He continues to wear an extended-length face shield, three months after returning to the ice, indicating the healing process is a long one.
On Tuesday, Couture spoke with the media about his teeth, saying "they were all shifted in my mouth." Most of his teeth will need to be removed after the season ends.
Being "well enough to play" is quite different from being "able to play well." Couture is facing a major challenge just to return and a second challenge to return and play effectively.
A Hole in Player Safety
I'll take a moment to segue into player safety. The NHL is facing an important issue, one seemingly ignored. Far too many players are suffering facial injuries.
Watch a baseball game. When a foul tip hits a catcher or umpire square in the face mask they take a moment to walk it off. A moment later, they are back and ready to go. There is zero injury, despite a hard object coming at their face at a speed of 90 mph. Better face protection exists in other sports and in other levels of hockey. NHL players deserve better face protection. Develop safer designs and have them implemented. The current helmet/visor combination is not good enough.
Couture's injury was entirely preventable. So was Vlasic's. So was the recent injury to Curtis McKenzie of the Dallas Stars (if one has the stomach for watching the video, it's in this linked article; the above photo shows his head in a bloody towel as he is helped off the ice). There is equipment available now which better protects players, but it is rarely used in the NHL.
There is a long history of serious facial injuries and visors have helped, but not enough. Players are constantly in shooting lanes where pucks get deflected. Some of these deflections will hit players in the face resulting in more frequent injuries.
If NHL players wore cages, these players probably wouldn't have even missed a shift, let alone miss games and let alone lose things like teeth and vision. There are safety issues that are genuinely difficult to remove from the game. Face protection is not one of them.
The Playoff Corner
The Sharks' playoff hopes ride with goaltending, defense and depth. The team's playoff chances do not entirely live and die with Thornton and Couture, but it's close. The Sharks' ability to win even one round will take a very large hit if either player cannot play or is significantly compromised. Significantly compromised is probably a best-case scenario.
In last season's playoff run to the Stanley Cup Final, the Sharks faced minimal adversity. This season, they face plenty, right from the start of the playoffs.
Perhaps the lone silver lining is the opportunity to play younger players these last few games and in the playoffs. Players including Marcus Sorensen, Ryan Carpenter and Timo Meier are part of the Sharks' future. The future has arrived, ready or not. If the Tuesday game against Vancouver is any indication, the future has yet to impress DeBoer. He benched Sorensen and Meier for most of the third period, while Carpenter remains with the Sharks' AHL Barracuda squad.
As the playoffs arrive for the Sharks, so has adversity.
Zeke's Notes
• Thornton and Couture are both alternate captains. In their absence, the alternate captain letters were worn by Vlasic and Patrick Marleau.
• The Sharks played Vancouver five times this season and won all five. The Canucks scored one goal in each game. There were only two final scores for all five games: 4-1 and 3-1.
ZEKE is a native of the DC area where he witnessed the birth of the Capitals franchise. After graduating from Cornell University, which had seen hockey glory before he arrived, he moved west to San Jose. There he witnessed the birth of the Sharks franchise. His wait to witness a Championship from any of these teams finally ended in 2018.