Two bits of Sharks news came out on Tuesday, November 3rd, prior to the Sharks 5-2 loss to Columbus. Melker Karlsson was at the San Jose Barracuda practice wearing a red 'no contact' jersey. And Ben Smith would miss the game against Columbus due to a head injury. These are innocent sounding stories, but they fit a troubling pattern. Both players are attempting to come back from an injury. Both have had setbacks.
Hockey injuries are often shrouded in mystery, using vague terms like 'lower body injury'. This is the case with Karlsson's injury, perhaps because it happened in the offseason with no one there to report on it.
Karlsson was cleared to play and managed two games for the Barracuda in mid-October. When I saw Karlsson play on October 23rd, he looked far from ready to return to the NHL. Turns out, he was headed backwards in his recovery.
Ben Smith took a puck to the head earlier this season and needed a number of stitches to close the cut. In his case, there is no mystery about when the injury happened. He missed a number of games, but returned to play both road games on the Sharks recent weekend road trip (Oct 31 and Nov 1), then was listed out for a head injury for the game on Tuesday.
In the case of both Karlsson and Smith, they appear to have attempted to come back and play before they were ready. Karlsson and Smith fit a recurring and troubling pattern of Sharks players that seem to have had problematic recoveries from injuries.
Dan Boyle and Raffi Torres
Two high-profile situations stand out: Dan Boyle and Raffi Torres.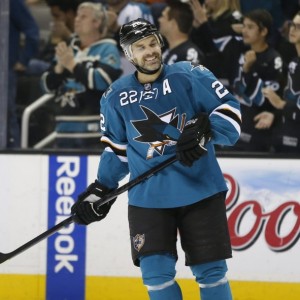 In Boyle's case, he suffered from a major concussion from a hit that left him unconscious for several minutes. He returned to the ice about two weeks later, though he later disclosed his concussion symptoms lasted for months. Boyle placed the blame on himself for returning too quickly, but surely medical specialists should be making those calls, not players. His issues make an interesting and important read and can be found in this link. In Boyle's case, it is likely that the hit was career changing, he has not been the same level player since.
Raffi Torres injured his knee in a collision in a preseason game in September 2013. Torres had major surgery (ACL) shortly thereafter. He returned to the ice for a few games beginning in late February 2014, a remarkably short recovery given the nature of ACL injuries. After a few games, it became clear that Torres still had significant knee issues. He missed another month before returning for round one of the playoffs in April. Torres later would say that he "was skating around pretty much on one leg" during the playoff games. In the offseason, it was clear that Torres had failed to recover properly. Over the next several months, Torres status remained in limbo, before there was a public admission that his first surgery had failed due to an infection. A second surgery occurred in February 2015. Torres was able to play, with limited ice time, during the Sharks 2015 preseason in September. In Torres' case, his recovery is now over 24 months long, even though the team had him playing just five months after the initial surgery. It was unlikely that Torres would have been ready for regular NHL action at the start of this season, a point made moot by his head hunting and subsequent suspension.
Wait, There's More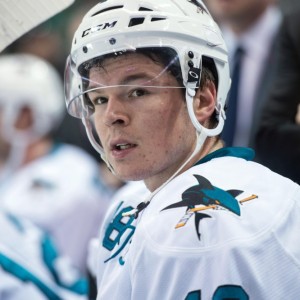 Tomas Hertl took a knee-on-knee hit in December 2013 and damaged ligaments in his knee. Fortunately, the ACL, the most problematic in terms of repair and recovery, was not damaged. At the time, Hertl was the leading candidate for the Calder award as the league's top rookie. Four months after the injury, Hertl managed a return to the Sharks. He played two games prior to the end of the regular season and into the playoffs in April 2014. Hertl was not as effective as he had been early in the year, though that was easily attributed to rust and the need to return to playing shape.
Though Hertl reportedly suffered a minor setback in an offseason tournament, he was proclaimed ready for the 2014-15 season. He played 82 games, but never looked like the player he was as a rookie. He was playing subpar hockey well over a year after the injury, long past the expected complete recovery time. Even though Hertl missed just four months of playing time, it took 22 months before he looked like the player he was to start his career, finally showing (with his play) that he is fully recovered in October 2015.
Marty Havlat might be the least popular player to have donned teal in some time. Havlat is another player who was constantly dealing with injuries. While most fans are loath to give Havlat any slack, it is still fair to ask if his health issues were complicated by a medical staff that struggled to figure out if he was genuinely healthy enough to play.
Brad Stuart struggled with injuries in the 2013-14 season and looked less than healthy for lengthy stretches that season. Was he on the ice when he shouldn't have been? That same season, Scott Hannan missed two weeks in early December with an injury, came back for one game on December 19, then missed another two weeks. Hannan played four games in early January, then missed another two weeks. In the 2014-15 season, Mike Brown was originally forecast to miss two months with a broken leg. Instead, he missed four months.
History Repeating
Melker Karlsson, Ben Smith, Tomas Hertl, Dan Boyle, Raffi Torres, Scott Hannan, Brad Stuart, Marty Havlat and Mike Brown. It is a long enough list to raise serious questions. Nine players whose recovery from injuries all fit a similar, troubling pattern. A pattern that has recurred twice this week.
I'm not a doctor and I won't pretend to play one here. But the number of problematic recoveries of Sharks players deserves its own examination. I noted this back in April, saying "I'm not feeling a lot of confidence in the Sharks medical team". Medicine is an inherent part of the sport and getting that part right matters a lot. To the players and to the organization.
ZEKE is a native of the DC area where he witnessed the birth of the Capitals franchise. After graduating from Cornell University, which had seen hockey glory before he arrived, he moved west to San Jose. There he witnessed the birth of the Sharks franchise. His wait to witness a Championship from any of these teams finally ended in 2018.