And we're checking in for the weekly look at the players whose fantasy ownership levels have risen and fallen the most.
This week has been defined by early-season success falling down to earth and injuries, injuries, injuries.
In my leagues, I'm feeling pretty good so far. In the three leagues I care most about I'm in first in one and second in the other two. (He humblebragged.)
I've regained the top spot in my "Fantasy Writers" roto league and that's allowing me, in a league with just five bench spots and no IR, to keep some injured players rostered.
I'm rolling the dice on Evander Kane. I'm keeping him on my roster and that's largely because I think the upside could be big. I'd probably feel more confident about that upside if this league scored hits. But being in first place makes me feel like there's some wiggle room to lose a guy for a bit knowing that if he comes back at full speed that he's a better midseason addition than anything I'm finding on waivers.
RISERS
It's not just the Connor McDavid injury that's driving Draisaitl's rise, but that in the three games since his call up from the AHL he has three goals and four assists along with 10 shots. The absence of McDavid may mean that Draisaitl is in line for more minutes and more responsibility. (And maybe more power play time?)
Even with the return of Jordan Eberle (shoulder) approaching, Draisaitl stands to gain the most from McDavid's absence in terms of fantasy production. It's a fragile situation, since he's so young. The leash will be short and it's easy to see how he gets dropped down the depth chart if he can't keep this up, but the opportunity is there.
While Demers has put together a nice run, there are two things happening here.
One, it's the classic situation where a guy outperforms expectations over a small sample size and that drives people to either believe that he's become a new player or that they can cash in on a hot streak. Demers is 27. He hasn't suddenly become Erik Karlsson. He's currently on pace for 52 points this season. That'd best his career-high by 18. It's not something that you bet on with defensemen.
The other end of this is that there is reason to believe that he could outperform his historical numbers by a bit. It's his first full season with Dallas, who is scoring the second most goals per game in the league. He'll be a beneficiary of that. Additionally, he's been moved into the team's second unit power play and if Tyler Seguin ever lets the second unit get on the ice, that could help increase Demers value over previous years.
I've been pumping Zucker's tires since January. He's got incredible speed and put up the league's second best even strength goal-scoring rate last season. (Only Rick Nash was better.)
He started a little slow, taking a lot of shots, but not finding the back of the net despite a boatload of shots. The goals are starting to come and he looks very good at both ends of the ice.
This is real and Zucker should be owned. He's currently not just the beneficiary of his own talent and the ice time to showcase it, but he's playing on one of the league's hottest lines. Even if you aren't hearing people talk about the Mikko Koivu line in Minnesota around the water cooler, there's no doubt that this line has been absolutely dominant and is worth the price of admission. They have the best CF% of any line in the NHL right now, giving credence to a reading that their production should keep on rolling in.
FALLERS: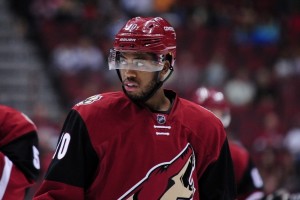 I talked about this in a previous installment of Fantasy Fluctuation, when Duclair and Martin Hanzal were atop the risers category. I said I didn't buy it then and this fall is the aftermath of Duclair's torrid pace to start the season.
In the first six games of the year, Duclair had five goals and two assists. In the five games since then? Nothing. In fact, he has just three shots in those five games and has seen his ice time drop from what he was seeing at the peak of the streak.
Duclair is going to be a great player. His chemistry with Max Domi dating back to juniors is well-documented and it's part of their hot start. But, generally, you can't bank on guys this young to keep up that pace. It's just not where they're at and it's not a team that can offer the offensive support and depth to help keep them going. I'm not touching Duclair when he hits waivers. This drop is bringing his ownership levels closer to where he should be.
Drouin's drop is a combination of a couple of things. He started the season pretty hot, which made everyone jump to the the conclusion that he'd arrived and would deliver on all the preseason Calder promises from the summer of 2014.
Then he cooled off. He's without a point in his last five games and in that time he's taken just two shots and has a minus-1 rating.
Add to the mix that he's been injured and hasn't played since October 27 and it's dropsville for Drouin. And that's fine with me. I think Drouin is worth keeping an eye on, but I don't think he's a must-roster for a depth position on your team. He plays on a team with a lot of offensive weapons that can help him jumpstart his production and that alone makes him worth keeping tabs on, but nothing more.
Yes. Three of four fallers play for the Arizona Coyotes. I'm dropping these two in here to drive home the point. Coyotes were a fine pick up early as long as you were ready to work the wire and grab someone else the moment that worm turns.
They're still finding ways to win, but the worm is, at a minimum, working hard to learn how to roll. The crazy amount of production coming from the line with Max Domi, Hanzal and Duclair has subsided and a big portion of this team is starting to show a better glimpse of the kind of production they're going to settle in at.
If you've got fantasy hockey questions you want addressed in a future column, drop a question in the comments section below.
RELATED: The 13 Best NHL Stats This Week
Dustin Nelson writes about news and the Minnesota Wild for The Hockey Writers.