Veteran forward Brian Gionta is off to slow start and, at age 36, regression was to be expected.  As opposed to last season, the Sabres are a younger and quicker team this year. Gionta is having a difficult time keeping up with the new pace and his production is suffering as a result. As the season goes on, how much production can the Sabres expect from Gionta?
Rapid Regression
Gionta missed the first 3 games of the season with a lower-body injury. The injury could be one of the reasons that the 14-year veteran has struggled so far this season. He started the year playing a top six role with Jack Eichel and Evander Kane, but after a few games it was evident that Gionta was having trouble keeping up with the speedy duo.  He always seemed one step behind the play and was unable to capitalize on the scoring opportunities created by his linemates. The eye test for Gionta so far has not been favorable.
When you look at the numbers, you can see the decline in Gionta's production.  At even strength in the 2012-13 season Gionta averaged 1.61 points per 60 minutes. Over the next three seasons the number went down from 1.35 in 13-14 to 1.25 last season and 0.47 so far this year. The points have declined as well, from 40 two seasons ago to 35 last season and a current pace of 18 points for this season. As mentioned before, a decline was expected, but it's the significant drop off that could begin to worry the coaching staff and team management.
Shifting Into a New Role
Throughout his career Gionta has been a top six forward, but this season may be the beginning of a transition into a lesser role. The Buffalo forward depth is significantly improved when the club is healthy. The former third round pick in 1998 may have to come to grips with being a role player and no longer receive the top six minutes. While some players may deny what is obvious to everyone else at the end of their career, don't expect that from Gionta, who is a team-first player and will do whatever his team needs in order to be successful.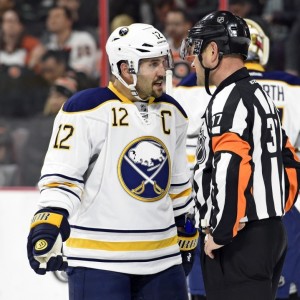 When Gionta was signed two summers ago the Sabres were not expecting to be getting the dynamic scoring threat he was earlier in his career. Rather, the Sabres were looking for a veteran leader. They were looking for someone who is a proven winner and will change the culture in the locker room. As the Captain of the Sabres, Gionta has been a great leader of the youth on the roster and holds players accountable. He leads by example on the ice and gives it all he has, which in turn he expects from his teammates.
It's not all bad news for the Sabres and Gionta. It's a matter of understanding the reality of the situation. Gionta may no longer be a big contributor on the scoresheet, but it's his leadership and experience that is valuable.
So, to answer the original question, is the slow start a concern? Not yet. If it's 20-30 games in and Gionta still has single digit points then they Sabres may be in a tough spot if his play continues to struggle. With that being said, the fiery forward brings so much to the table in intangibles and effort that he won't be in danger of being pulled out of the lineup. Gionta is the type of player who will find a way to make a contribution in another area if he can no longer be a productive scorer.
Chad DeDominicis was born and raised in Buffalo, NY. Chad is currently a Buffalo Sabres contributor for The Hockey Writers. He is an avid sports fan and is passionate about the game of hockey. Chad works hard to share creative and quality content with his readers.