After learning a bit about Kourtney Kunichika's hockey history, I am reminded of that scene from D2: The Mighty Ducks when the Ducks take their game to the schoolyard for some roller hockey. The Ducks end up getting schooled by Kenan Thompson's character, "Russ Tyler", and his band of warm-weather hockey miscreants. Kunichika may have made a name for herself playing college and professional hockey in Western New York, but her game originates from the northern parts of Orange County.
"California will always be home to me, but I am thankful for all of the opportunities and experiences Western New York has offered. I will always stay true to my roots: California roller hockey."
While the state of California has its trio of NHL teams in Los Angeles, San Jose, and Anaheim, there have been numerous professional roller hockey teams that have played throughout the Golden State over the years. Teams include colorful names such as the Anaheim Bullfrogs, San Diego Barracudas, Oakland Skates, and San Jose Rhinos, to name a few. A lack of ice never stopped Californians from being passionate about the game. Those roller hockey roots that Kunichika mentioned run very deep in her home state.
Elder Stateswoman
When the 2017-18 NWHL season commences, the faces of the Buffalo Beauts will look significantly different. Harrison Browne, Devon Skeats, Ashley Vesci and Brianne McLaughlin have all retired. Emily Pfazler and Megan Bozek will be joining the U.S. national team and will be unavailable to resume play with the Beauts this season. With the restricted free agency literally just hours underway (as of Monday, May 1), there will likely be many more significant changes in the Beauts roster to come.
Kunichika, as one of the Beauts' elder stateswomen on the club, will be relied upon for her veteran presence perhaps now more than ever before.
"Every team faces the same situation," she says. "The turnover between players who are retiring or not coming back for whatever reason. I think veteran players should come back in good shape and show positive work ethic. Being a good example will give new players an idea of what is expected. Also, I would say an important thing to establish is team bonding. The faster we can get everyone comfortable with one another, the faster we can build team chemistry that will transfer to the ice".
An Ironwoman
Kunichika would know better than most. She would have to; she's played the most games. Kunichika has the record for most career games played for her alma mater, the Rochester Institute of Technology (RIT). That is a span of 129 games of NCAA hockey, of which she scored better than a point per game. Compiling 54 goals and 82 assists for 136 points, Kunichika saw RIT's women's hockey program go from a Division III program to a Division I.
Additionally, Kunichika has played in every single Buffalo Beauts game since the NWHL's inception; both regular season and playoffs. That is another 35 games right there for 11 goals and 17 assists. Speaking to those accomplishments, Kunichika sums them up quite simply:
"I thank God for all of that."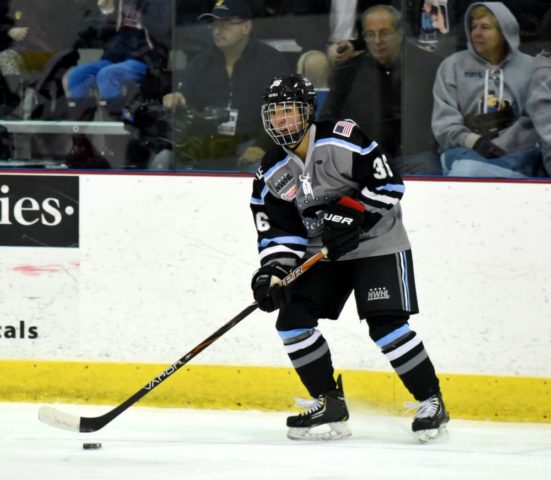 Most Proud
Suffice it to say that Kunichika has seen a lot already as a Beaut. Among the moments that she is most proud of, she states the following:
"When I think of proud moments, I think of our three game playoff series from the 2015-16 season when we came back against the (Connecticut) Whale. Another is knowing what it took to beat each team during this last season's last three games to win the Isobel Cup. However, recently we signed autographs with fans at the Buffalo Bisons baseball game. It was really nice seeing how proud and excited some of the fans were as they asked to touch the Cup. You could see their eyes light up as they got to hold it and take pictures with us. Their (the fans') support makes me very proud to be a Buffalo Beaut."
@DunkinDonuts pumpkin spiced iced coffee is my go-to for the fall season @GreatPumpkinWNY @BuffaloBeauts #thebest pic.twitter.com/OIKU4lL9Le

— Kourtney Kunichika (@kourtneykuni) October 1, 2016
Today is only May 1. There are 30 more days in the month to go. It is my sincere hope that on one of those remaining 30 days, Kunichika re-ups with the Beauts. I have always been a firm believer in the necessity of having a grizzled veteran on the roster; the one who has seen it all and still does not falter, hardly seeming fazed by adversity.
At 25 years of age, Kunichika outwardly does not appear very "grizzled" at all. On the contrary, she is a bright young woman with a beaming smile. But it is that ardent heart underneath, that is both battle-heartened and warmed with enthusiasm for hockey (not to mention a touch of California golden sun too!), that makes Kunichika so integral to Buffalo for season three.