Swiss Cheese. A bunch of pylons. Sluggish at best.
The Sabres defense was called a lot of things this past season. By the start of next season, it'll be called something else: improved.
First, look for Brendan Guhle and Victor Antipin to be added to the 2017 opening night lineup.
Guhle is Ready
Last season, Guhle, was called up by the Sabres on an emergency basis and played three games. Though the 19-year-old Alberta native did not factor into the score sheet, he impressed coaches and fans with poised puck handling, smooth skating and good positioning.
Per the NHL Collective Bargaining Agreement, he had to return his junior team, the Prince George Cougars, as soon as one of the Sabres defensemen returned to health. He later joined the Rochester Americans at the end of the season, recording a goal and an assist in six games.
Guhle was drafted by the Sabres in the second round (51st overall) in the 2015 NHL Entry Draft. He inked a three-year entry-level contract soon after.
Adding Some Russian Dressing
Russian defenseman, Victor Antipin, has been sought after by Buffalo, Calgary, Chicago, Columbus and Pittsburgh. Buffalo, in talks with his representatives since March, looks to have won his favor.
Per source Viktor Antipin terminated his contract with Magnitogorsk Metallurg to sign with Buffalo #Sabres

— Igor Eronko (@IgorEronko) May 1, 2017
According to a report from Russia's Sport-Express on Monday, the 24-year-old, left shot defensemen has terminated his contract with Magnitogorsk Metallurg of the Kontinental Hockey League, making Antipin free to sign with the Sabres. The fact that Tim Murray and Dan Blysma have been shown the door hasn't lessened his interest in joining the Sabres.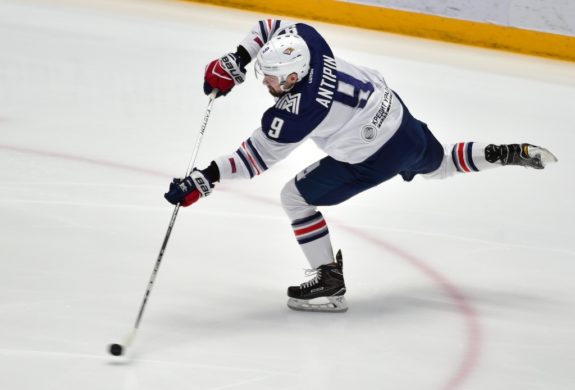 In 59 games with Magnitogorsk, Antipin lit the lamp six times and added 24 assists. He then added seven goals and three assists in 18 playoff games.
Though only 5-foot-11, 179 pounds, he's highly skilled and plays the game with a lot of snarl. His game has been compared to Anaheim Ducks' Sami Vatanen. He's thought to be NHL-ready and would be a welcome addition to the blue line, helping shore up the most obvious and pressing issue for the Sabres.
Antipin would help fill a big hole for productive defensemen, taking some heat off the minute-hogging Rasmus Ristolainen. He recorded six goals and 24 points in 59 games with Magnitogorsk, then led it into the Gagarin Cup finals with seven goals and 11 points in 18 playoff games.
Highlights of Antipin's season are available by clicking here.
http://www.dailymotion.com/video/x5evz78_9-viktor-antipin-season-2016-17-highlights_sport
The Sabres' left-handed shots on the blue line this season were Jake McCabe, Josh Gorges, Dmitry Kulikov and Justin Falk.
The Rest of the Blue Line
Adding Guhle and Antipin to the Sabres opening night roster is just a start. The team should also look at add another difference maker via trade or through the draft.
The Sabres blue line roster still includes:
Rasmus Ristolainen (5 years at $5.4M)
Jake McCabe (2 years at $1.6M)
Zach Bogosian (3 more years at $5.1M)
Josh Gorges (1 year at $3.9M)
Bogosian and Gorges are likely to be exposed at the expansion draft for Vegas. Their inflated salaries are tough to swallow, unless Vegas general manager George McPhee needs help reaching the salary cap floor.
Cody Franson, Dmitry Kulikov, and Taylor Fedun are all scheduled to become unrestricted free agents.
Others in the Pipeline
Other signed defensemen in the pipeline are: 20-year-old Brycen Martin, 24-year-old Casey Nelson and 20-year-old Devante Stephens. Brady Austin, a 23-year-old, is a restricted free agent. Though flush with offensive prospects, the blue line desperately needs restocking.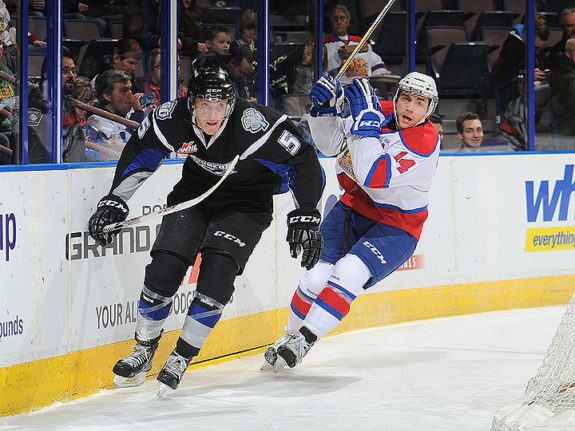 While playing strong at times, Nelson often looked like a boy playing a man's game. He needs to continue working on his game and being more consistent. In today's NHL, it's about what you do with the puck to break out of the zone and whether you can skate well enough to be in position to break up or move into defensive position against transition.
Adding a top-4 D-man
Though former general manager Tim Murray wanted to add another top-four defenseman, he never found the right partner to make it happen and it was ultimately a contributing factor that led to his dismissal. The Sabres defense was an albatross that held the team back all year, plagued by injuries, an inability to make the first pass, and slow footwork.
The asking price for a top-4 defenseman, considering what the Sabres have, was probably considered too steep which is what prevented the Ducks' Cam Fowler and Shea Theodore from wearing blue and gold this year. At the least, it'll take a top pick and a top-6 forward to land the coveted player.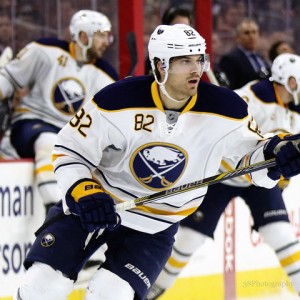 It seems likely that more "hockey" deals will happen once the expansion draft has concluded. That said, teams like Buffalo may be looking to acquire an asset instead of losing a player in the expansion draft for nothing. The Sabres could leverage restricted free agents Marcus Foligno and/or Zemgus Girgensons as trade bait. Also, the Sabres have two second round picks and two third round picks in 2017.
To help land its sought after defenseman, don't be surprised if Buffalo packages its 8th overall pick in the 2017 NHL Entry Draft with Justin Bailey, Nic Baptiste or Alexander Nylander as trade bait. Evander Kane's currency, at a low in the first few months of the season due to off-ice issues and injury, skyrocketed as he finished with 28 goals, all but three of them at even strength.
Time will tell.