As announced on Monday, the Canadiens signed free-agent Czech defenseman Jakub Jerabek to a one-year deal. Jerabek, 25, spent the 2016-17 season with Vityaz Moscow Region of the KHL. He's not the first player to an NHL team, as recently the Toronto Maple Leafs signed forward Miro Aaltonen.
Canadiens agree to terms on a one-year contract with free agent Jakub Jerabek. DETAILS -> https://t.co/jqnSNpKfvT.

— Canadiens Montréal (@CanadiensMTL) May 1, 2017
A New Challenge for Jerabek
The signing was finalized after a few weeks of rumours. As reported by Pierre LeBrun, the deal will have a cap hit of $925,000 for the Habs.
"Jakub has thought over the offer for a long time," Jerabek's agent Michal Sivek told hokej.cz. "He preferred to chase his dream of playing in the NHL over a lucrative offer from Russia, and he deserves respect for that. Montreal was interested in signing him and they offered the maximum sum they could for an entry-level contract."
Jerabek, who stands at 5'11", 194 lbs. according to his profile on the KHL official site, is an offensive defenseman with an excellent vision of the ice and demonstrated powerplay abilities. His thirty-four points in the regular season were good for the fifth overall among defensemen and the first among the under-25 blue-liners in the league.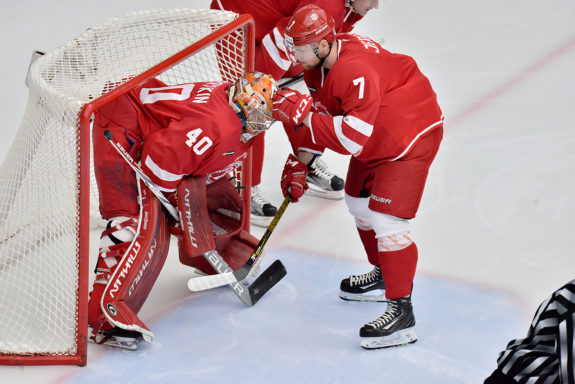 His debut season in the KHL was very good, and he was a key player for Vityaz, who reached the playoffs for the first time since the KHL was born in 2008. "I always try to play an offensive style," Jerabek said in an interview with championat.ru earlier in the season. "I always played like that, since my childhood."
However, it won't be that easy for him overseas, as the more demanding North American game will need him to made faster decisions, and that may not be too much of a problem, but he will also have to deal with a much more physical environment. This may limit his usefulness if he fails to adapt fast to the new game.
"Jakub showed a strong game in the KHL since the start of the season," Sivek went on. "It was then when he was noted by NHL scouts. By the middle of the season, we understood that there was a concrete interest from overseas teams, and we had then four offers from the NHL now." It wasn't disclosed what other teams were interested in him.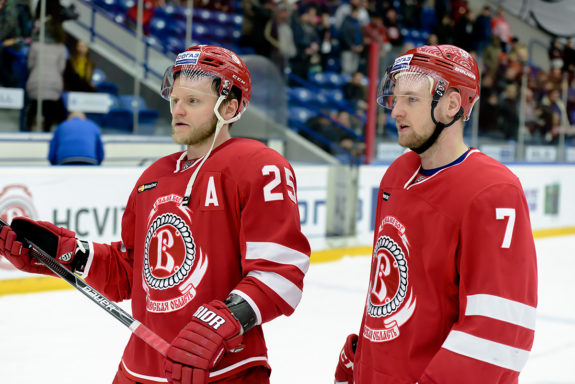 "He knows that the NHL decided not to allow its players to the Olympics, but this is a once in a lifetime opportunity," Sivek noted. "Moreover, for a player of his age, many scenarios may happen. Of course, the ideal situation would be to get a spot on the roster right away. But many times, a player must pass through the farm team. Jakub perfectly knows that, and he is ready to fight for his chance. He knows that it's up to him and he's ready to work."
Move to the NHL
Jerabek has all the offensive tools to make it to the NHL. His vision of the ice is at a very high level, so is his passing abilities and general puck skills. Like many European offensive defensemen, though, he lacks physical play and positioning.
On the international scene, Jerabek represented his native Czech Republic at the 2016 IIHF WC in Russia, where he scored five points in eight games. Earlier, he played for the national team at U20 and U18 level. He was the team captain at the 2011 WJC in Buffalo, New York, where he led his team with eight points in six games, but it was a disappointing tournament for team Czech Republic as they had to take part in the relegation game. Jerabek will also represent Czech Republic at the upcoming IIHF WC in France and Germany.