With the Edmonton Oilers concluding development camp this week, one of the more interesting media availabilities was with Kailer Yamamoto. The Oilers' 2017 first round pick might stand at just 5'8″ and 153 pounds, but he exudes confidence. That confidence is a major reason he led the WHL's Spokane Chiefs in scoring with 99 points and finished sixth in league scoring in 2016-17.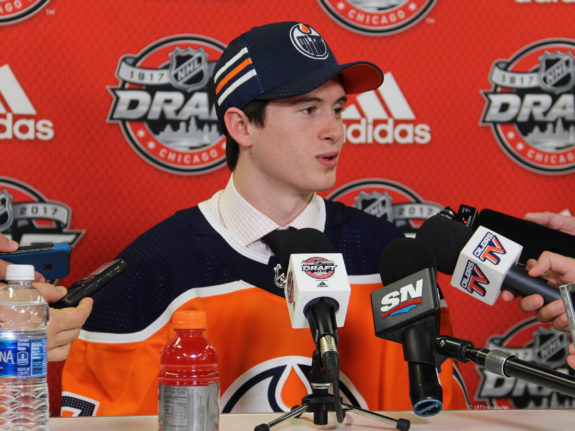 When it comes to the 2017-18 season, the 18-year-old has some career goals that might not be as lofty as you think. It's entirely possible that Yamamoto might just become the best player in the WHL next season. Then again Allan Mitchell (LoweTide) believes that, if the cards fall in his favor, the youngster could be an Oiler next fall.
Yamamoto: Best Player in the WHL?
In every media availability with a prospect, there's the canned mumbo-jumbo stereotypical "excited to be here" stuff. Despite his naysayers, Yamamoto's goal is to make the Oilers out of his first training camp. It's not an overly surprising statement to hear enthusiasm from a first round pick, but he has support within Edmonton. It's likely not to be foreseen with how the Oilers depth chart currently looks, but that's why we have training camp.
[miptheme_quote author="Kailer Yamamoto, Oilers prospect" style="text-center"]My big goal is to make the Edmonton Oilers, but if I end up being back my goal is to be the best player in the WHL, or one of the best. As a team I obviously want to make it to the Memorial Cup. That's definitely my team goal and hopefully one for everyone else on my team.[/miptheme_quote]
For what it's worth, Chiarelli admitted the Oilers looked into moving up on draft day to acquire the young man. Bob Stauffer (Oilers Now) added that he believed Edmonton knew they wanted Yamamoto for months leading up to the draft. The confidence just oozes from this kid. He believes that if it wasn't for the injuries, Spokane went through late last season that they could've been a playoff team. By then maybe he will be the biggest star in the WHL?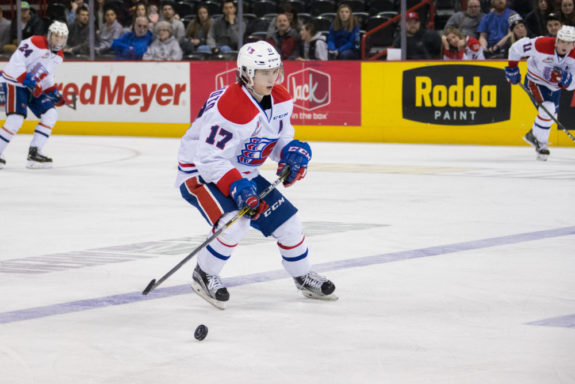 The Chiefs finished the season with 66 points and 14 shy of the final wildcard spot in the WHL's Western Conference. If they had made the playoffs, Yamamoto probably would've had more eyes on him to showcase his talents. So would he have still been available to Edmonton at 22nd?
For what it's worth, Spokane is a younger team that could surprise next season. The Chiefs also have forwards Jaret Anderson-Dolan (Los Angeles Kings), Hudson Elyniuk (Carolina Hurricanes) and defenseman Ty Smith (projected 2018 first round pick). If they can just get some goaltending, Yamamoto will surely be playing a marquee role next spring.
Yamamoto Understands Size Disadvantage
In his scouting reports, the frequent comparisons came back to Patrick Kane, Johnny Gaudreau, and Tyler Johnson. Ironically enough Yamamoto has a connection with Johnson, who's also from the Spokane area. Johnson's mother, Debbie, used to be Yamamoto's skating instructor growing up. With the shift in the league towards speed and skill, there's been a path paved for smaller guys like Yamamoto.
[miptheme_quote author="Kailer Yamamoto" style="text-center"]I know I've got to put on some weight. I'm a little bit skinnier right now, but the biggest thing is confidence. If you're not having confidence then it's not going to be good for you, you're always going to have that fear of going to the puck or those dirty areas where you score goals.[/miptheme_quote]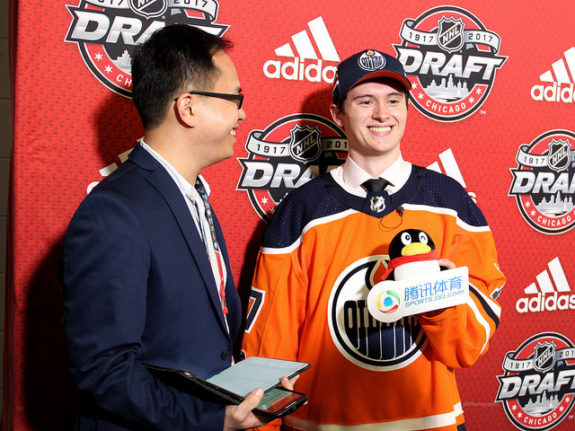 Having Johnson's ear has proven to give Yamamoto some confidence, even at the WHL level where he scored 42 goals and 99 points in his draft year. Johnson, who plays a similar game to Yamamoto and who might be the best comparable, is 5'8″ and 183 pounds.
Yamamoto Could Be Edmonton's Tyler Johnson
Johnson also played for the Chiefs and led them to a Memorial Cup win in 2008. Despite being named tournament MVP, Johnson would go undrafted but eventually have two 20-goal seasons. He's twice eclipsed the 50-point plateau. Even if Yamamoto becomes a consistent 50-60 point scorer, that's a valuable addition to the Oilers top six.
The other smaller guys who are style comparables like Kane (5'11, 177 pounds) and Gaudreau (5'9, 157 pounds) have both been prolific scorers despite their size disadvantage. So to those who say Yamamoto is in tough to make it as a pro, they likely haven't bought into the NHL's shift to emphasizing speed and skill.
When it comes to training camp, Yamamoto is going to impress some people who don't know how talented this kid really is. He's a dynamic player that skates fast, is elusive, and hard to defend against. He's just as smart as a playmaker as he is with picking his opportunities to shoot. Match Yamamoto with a creative playmaker in Edmonton's top six and he'll flourish.
Last season Yamamoto was cut from Team USA for the 2017 World Junior Championship. This time around expect him to be a starring member of the 2018 team. In the long term forecast, he's a year or two away from joining the main club. Regardless, he's got a helluva future with the Oilers.