A major factor in how the St. Louis Blues were able to select Klim Kostin with the 31st overall pick in the 2017 NHL Entry Draft was the uncertainty surrounding the 18-year-old forward. Questions regarding his ability to terminate his KHL contract with Dynamo Moscow and injury concerns led to his slide to the end of round one.
On July 4, the KHL Disciplinary Committee declared that every player contract had been annulled and all 42 players, including Kostin, were named unrestricted free agents. The Blues wasted little time and signed Kostin on July 5 to a three-year, entry-level deal.
https://twitter.com/klimkostin24/status/882743866654429184
The Steal of the Draft
The Blues were the winners of this year's entry draft as they walked away with two first round picks and made two massive trades during the first round.
St. Louis desperately needed scoring help after struggling to get on the scoreboard down the stretch in the postseason. They addressed their need by adding 25-year-old power play machine Brayden Schenn from the Philadelphia Flyers and in the process rid themselves of Jori Lehtera's atrocious contract that would have cost the Blues $4.7 million towards the cap this season.
After drafting Robert Thomas with the 20th overall pick, and acquiring Schenn the Blues traded their enforcer and longest-tenured Blue Ryan Reaves to the Pittsburgh Penguins. In return, the Blues received Oskar Sundqvist and the 31st overall pick.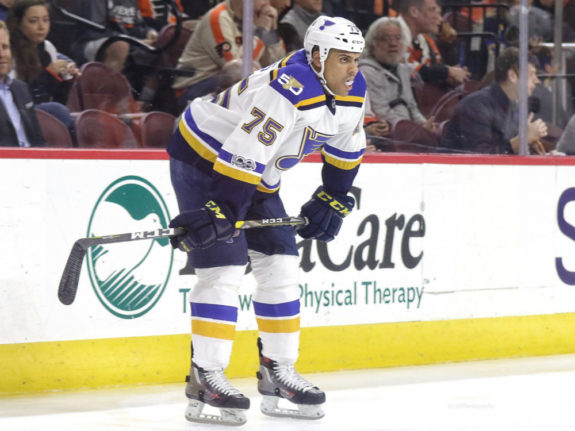 The Blues will miss the man that Penguins general manager Jim Rutherford called the best enforcer in the NHL. However, what Blues general manager Doug Armstrong got in return for Reaves makes this deal a no-brainer for the Blues. With the 31st overall pick, the Blues selected Kostin, solidifying St. Louis's major haul on night one of the draft.
It's quite possible that no other team besides the reigning two-time Stanley Cup Champions would be willing to give up a promising prospect and first-round draft choice in order to get Reaves. The Penguins felt that their star players (Sidney Crosby and Evgeni Malkin) had been treated unfairly in the past and that teams got physical with Pittsburgh to throw them off of their game. They hope that with their own bruiser they can combat that strategy head on.
Many believed the 18-year-old would be off the board at that stage in the draft and in fact, Kostin was the lone prospect remaining in the green room in Chicago when he was selected.
The Blues were ecstatic to see him at 31 and without hesitation executed their master plan that may have been in place since prior to the NHL Expansion Draft when they protected Reaves over veteran David Perron.
Armstrong compared Kostin to fellow Russian Vladimir Tarasenko and the uncertainty surrounding him coming out of the KHL following the Draft. While it is premature to put Kostin in Tarasenko's category, he was NHL Central Scouting's number one ranked European prospect and was already labeled NHL-ready by numerous scouting agencies. The potential return on Kostin alone is worth trading Reaves and if Kostin lives up to the hype, it may go down as one of the greatest trades in Blues history.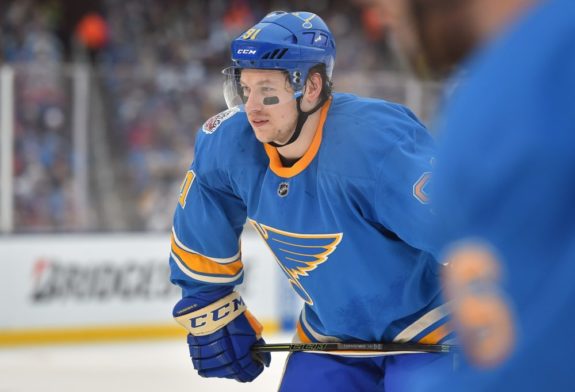 Promising Future
The other major factor in Kostin's unpredicted slide to the end of round one was the fact that he underwent shoulder surgery after an injury got progressively worse throughout his first and only eight games for Dynamo Moscow last year. He has not played in a game since December 2016 and for a guy who uses his body and plays a quote, "heavy game" it may have scared off the other 30 teams.
Kostin took part in the Blues annual prospect camp from June 28-July 1. He was unable to scrimmage as he is still not cleared for full contact, but he did participate in individual drills throughout the camp. He was one of the most impressive players that participated and according to prospect camp attendee Joey Palazzola of Respect The Note he may "out class" the AHL this season and expects Kostin to play in the NHL before all of the other Blues prospects.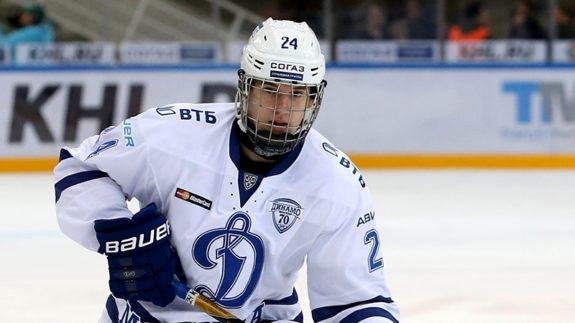 The Blues are equally impressed after watching Kostin during camp. Director of Amateur Scouting Bill Armstrong called him a "strong, strong man" and told the St. Louis Post-Dispatch that he has a skill package and has really good potential.
"He's a big man, he can skate, he's got a real good physical package. But I don't like to get too over-hyped in the summer. We're excited to have him, I think it was a good pick by our staff, where they were able to acquire him. I'm looking forward to seeing him in Traverse City," Doug Armstrong said.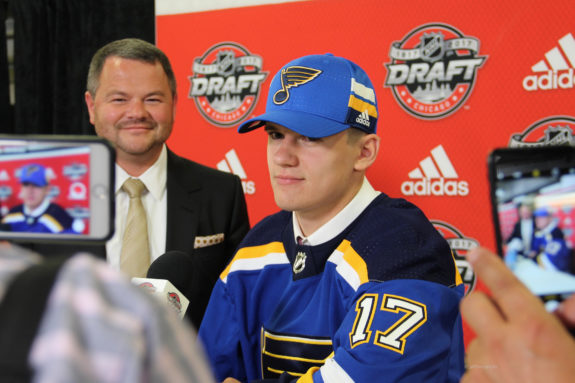 Traverse City, Michigan could be the first North American city to see Kostin play as he has set his sights on playing for the Blues in the 2017 NHL Prospects Tournament. The tournament gets underway Sept. 8 but it wasn't until July 4 when Kostin was released from his KHL contract that his future with the Blues was certain. Armstrong signed Kostin on July 5 to a three-year entry level deal.
Just as his agent, Dan Milstein announced following the draft, Kostin will only play in North America next season, meaning it will either be with the Blues' current AHL partner in Chicago or with the NHL club. The Blues will ensure that wherever Kostin plays it will put him in a position to succeed.
We don't know how soon we will see the 6'3″, 196-pound forward play in a blue-note sweater but if Kostin skates in Traverse City on Sept. 8 we should have a better idea.
You may recognize me as "The Coach" from The Coach and Cole Show on Blog Talk Radio. After starting my college career with concentrations in journalism I decided that I wanted to be a part of the headlines instead of writing about them. I am now less than a year away from obtaining my bachelor's in Physical Education, but I have recently rediscovered my passion for writing. I grew up as a goaltender and have been a lifelong hockey fan. I will be covering the St. Louis Blues. You can find me on twitter @CoachO37.