The St. Louis Blues had already confirmed that they would go by way of the 7-3-1 protection method for June 21's NHL Expansion Draft, which will get under way during the NHL Awards Ceremony at Las Vegas's T-Mobile Arena at 7:00 p.m.
General manager Doug Armstrong and the Blues weren't in as tough of a situation as teams like the Minnesota Wild, Montreal Canadiens or Tampa Bay Lightning but they had some decisions to make nonetheless.
"We were really very, very similar on all except maybe one or two players for one spot, so it wasn't as complicated," Armstrong said. "The goalies seemed to be evident, the defense seemed to be evident. There was just a little difference on forwards and we talked through it."
For Armstrong and company, the process of narrowing down the final forward for protection was not an overnight decision. "It's been a process we've gone through for the whole year, something we knew was going to happen," Armstrong said in an exclusive interview with stlouisblues.com last week. "We're going to lose a player we don't want to lose, but that's the price for having an additional team in the NHL."
The Debate is Over
After a few months of debates among beat writers, columnists, and Blues fans on who the final protected forward would be for St. Louis, we now know that the controversial number seven is Ryan Reaves.
Some still surprised that Reaves was protected even though we've been indicating this for weeks. The Blues don't have a replacement for him.

— Jeremy Rutherford (@jprutherford) June 18, 2017
Reports earlier this year claimed that the Blues would be protecting Finnish center Jori Lehtera but a highly disappointing season and almost non-existent postseason gave the Blues reason to change their mind. Lehtera had a breakout campaign in 2014-15 scoring 14 goals, dishing 30 helpers for 44 points. His natural chemistry with generational sniper Vladimir Tarasenko made a three-year extension worth $14.1 million a no-brainer. However, his production has decreased each season since signing on the dotted line. His $4.7 million hit against 2017's cap has Blues fans hoping the Golden Knights decide to take a chance on the once-promising center.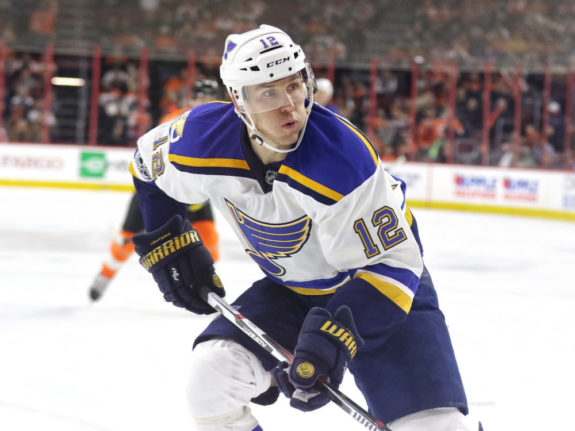 The other guy that may have been worth protecting was David Perron. The 29-year-old started his career with the Blues before a few brief stints with Edmonton, Pittsburgh, and Anaheim. He made his return to St. Louis last season signing a two-year deal worth $7.5 million. In his comeback season, Perron scored 46 points, his highest point total since 2013-14 with Edmonton. Had St. Louis missed the Stanley Cup Playoffs he would have almost been guaranteed protection, but the Blues made the playoffs, defeated Minnesota and played a total of 11 games. In those 11 games, Perron only mustered one assist and finished minus one in the plus-minus category. His lack of postseason contribution may lead up to Perron playing for a fifth NHL city in 2017-18.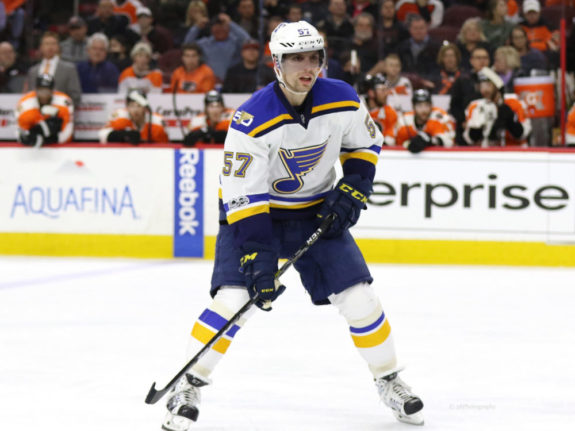 Enforcers Need Love Too
Guys like Ryan Reaves are a dying breed in the modern NHL. Yes, every team has a down and dirty forth liner who likes to mix it up, but not every team has a Ryan Reaves. The 6'1″, 230-pound bulldog is not only a throwback to the goons of yesteryear but is a player that possesses a skill set that allows him to contribute in other ways.
The Blues are a team that is rich with enforcer history. Players like Tony Twist, Kelly Chase, Reed Low and Bob Gassoff go back to practically the beginning of the Blues franchise.
Good enforcers are hard to come by in this day and age and the Blues are not willing to part with theirs. What separates Reaves from your standard enforcer is the fact that he does possess a comparable offensive skill set. Blues fans have witnessed an unmatched will and determination throughout his six-year career. Armstrong and the rest of the brass had to appreciate the fact that instead of becoming complacent or frustrated after being benched for new assistant coach Steve Ott in the 2015-16 playoffs, Reaves worked hard to improve his speed and stick handling over the offseason.
His hard work translated to a career-high 13 points in 2016-17. Considering that Reaves is not relied upon to score goals it is nice to know that if the opportunity presents itself he is able to light the lamp.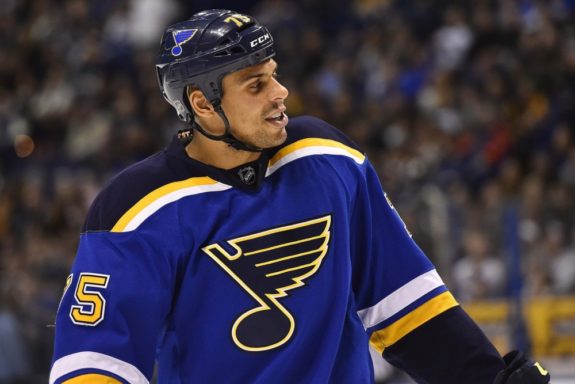 Reaves is a major presence in the locker room and was credited for helping the Blues weather the storm during times of low morale when the Blues went through a slump before head coach Ken Hitchcock was fired last February. Reaves was hardly seeing ten minutes of ice time until current bench boss Mike Yeo took over. Reaves role increased and it was evident that Yeo appreciated what the fourth liner brought to the table.
Above all else, the decision to protect Reaves is a cost-effective strategy as he is set to make just $1.12 million next season. If Perron or Lehtera are chosen by Las Vegas this could free up needed salary for the Blues. Along with the recent $2 million increase to the NHL salary cap, the Blues could wind up with around $10 million to spend. Whether that be a blockbuster trade to acquire Ilya Kovalchuk from New Jersey, Derek Stepan from the New York Rangers or even John Tavares from the New York Islanders, the Blues will be in the market to improve their scoring. Armstong will most likely take some chances this offseason but parting ways with the enforcer will not be one of them.
Blues Protected List
Forwards
Paul Stastny
Alexander Steen
Vladimir Tarasenko
Jaden Schwartz
Patrik Berglund
Vladimir Sobotka
Ryan Reaves
Defensemen
Alex Pietrangelo
Jay Bouwmeester
Joel Edmundson
Goaltender
Jake Allen
Exempt List
Ivan Barbashev, Robby Fabbri, Colton Parayko, Zach Sanford, Jordan Schmaltz
Prospect Exempt List
Samuel Blais, Conner Bleackley, Vince Dunn, Evan Fitzpatrick, Ville Husso, Jordan Kyrou, MacKenzie MacEachern, Wade Megan, Adam Musil, Luke Opilka, Justin Selman, Dmitrii Sergeev, Tage Thompson, Thomas Vannelli, Jake Walman
Unprotected
Kenny Agostino, Andrew Agozzino, Kyle Brodziak, Jordan Caron, Jacob Doty, Landon Ferraro, Alex Friese, Evgeny Grachev, Dmitrij Jaskin, Jori Lehtera, Brad Malone, Magnus Paajarvi, David Perron, Ty Rattie, Scottie Upshall, Nail Yakupov, Robert Bortuzzo, Chris Butler, Morgan Ellis, Carl Gunnarson, Jani Hakanpaa, Petteri Lindbohm, Reid McNeill, Jordan Binnington, Carter Hutton
You may recognize me as "The Coach" from The Coach and Cole Show on Blog Talk Radio. After starting my college career with concentrations in journalism I decided that I wanted to be a part of the headlines instead of writing about them. I am now less than a year away from obtaining my bachelor's in Physical Education, but I have recently rediscovered my passion for writing. I grew up as a goaltender and have been a lifelong hockey fan. I will be covering the St. Louis Blues. You can find me on twitter @CoachO37.