The 2016-17 Columbus Blue Jackets reached new heights for the franchise in a historic season.
New regular season heights, that is.
Columbus won 50 games, tallied 108 points and went on a remarkable 16-game winning streak. But when the postseason arrived, things went about the same as the team's first two playoff appearances, ending in the first round. We'll have to wait until next spring to see if the Blue Jackets can finally advance past the first round of the Stanley Cup Playoffs. To do so, they'll have to buck a different trend and reach the playoffs in consecutive seasons.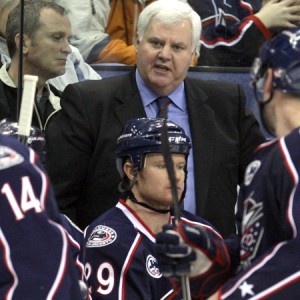 Following their first postseason appearance in 2008-09, the Blue Jackets won five of their first six games in 2009-10, only to have things come tumbling down as Columbus finished the campaign 27th in the NHL. In 2013-14, the Jackets won their first playoff games and appeared to be on the right track, but the following season Columbus suffered early nine- and six-game losing streaks, all but extinguishing any hope of a return playoff trip before the end of November.
So what happened? When a team fails to match the success of a previous season, a wide range of reasons can be given to explain a drop-off. The coach's message became stale. Players got complacent. The goalie stood on his head for 60 games and isn't doing so again. They just got lucky.
As for those Columbus teams, extended losing streaks didn't help — the 2009-10 Jackets hit their own nine-game skid while going 2-9-5 in December. Goalie Steve Mason won the Calder Trophy for his stellar play in 2008-09 but could not match his impressive rookie stat line during his sophomore season. Injuries are often cited as cause for the 2014-15 team's struggles, and for good reason — Columbus lost 508 man games due to injury that season. That's absurd, but that's hockey.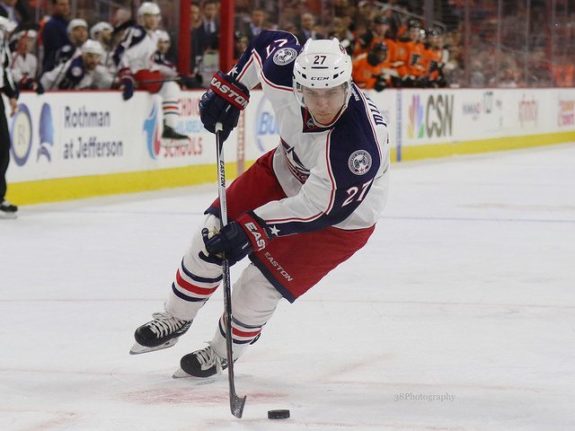 One tangible item available to compare different editions of the Blue Jackets is the team's roster. While Columbus did not undergo major personnel overhauls following their first two playoff seasons, some of the departures and additions could provide some insight into why the Blue Jackets were unable to sustain their limited success.
For the sake of this analysis, we will consider "departures" players who appeared in the postseason for Columbus and were not on the roster the following season. "Additions" were not with the Blue Jackets at all during a playoff season and played at least 30 games the next.
2008-09 to 2009-10
Departures: Manny Malhotra, Michael Peca, Jason Williams, Aaron Rome
In terms of scoring, the biggest loss was Williams, who was acquired in mid-January 2009 and scored 29 points in 39 regular season games with Columbus (Malhotra technically scored more for the Blue Jackets that season, but his 35 points came over 77 games). Williams scored nearly .75 points per game during that stretch run, which is nothing to sneeze at, but he was clearly a rental for the last half of that campaign. Malhotra and Peca, however, played for the Blue Jackets in five and two seasons, respectively, and were mainstays in the middle.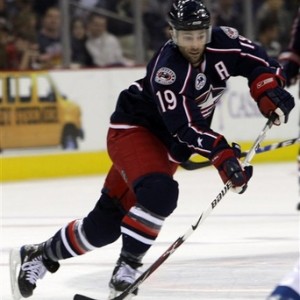 Malhotra ranked fifth among Blue Jacket forwards, playing 18:00 per game in 2008-09. He also took more faceoffs than any of his teammates, winning an impressive 58 percent of them. Malhotra and Peca both served as key penalty killers, averaging 2:49 and 2:36 of shorthanded ice time per game, respectively.
Both centers also brought experience to the table, particularly Peca in what was his final NHL season. He entered 2008-09 with 93 playoff games under his belt, including trips to the Stanley Cup Final in 1999 and 2006, was a two-time Selke Trophy winner and won an Olympic gold medal.
Rome is included on this list because of our criteria but played just one playoff game and eight regular season contests.
Additions: Sammy Pahlsson, Anton Stralman, Mathieu Roy, Mike Blunden, Mathieu Garon
The offseason signing of center Sammy Pahlsson helped offset the loss of Malhotra and Peca. While he did not contribute much offensively(16 points), Pahlsson was known for his defensive play and led Columbus forwards in shorthanded ice time in 2009-10. He also brought loads of experience to the table, having won a Stanley Cup with the Ducks in 2007 and an Olympic gold medal with Sweden in 2006.
On defense, Columbus acquired Stralman in late September, less than a week before the start of the season. He played 73 games for the Blue Jackets and led the team's defensemen in scoring while playing 20:29 per game. Stralman was, however, still early in his career, and his minus-17 rating suggests as much.
Roy was signed in the offseason and split time between the Blue Jackets and AHL before being traded in March. He played 31 games for Columbus that season, nearly half of the 66 NHL contests he played over the course of his career. Blunden played 40 games for the Blue Jackets in 2009-10 but averaged just 8:06 of ice time per contest, while Garon was signed in the offseason to back up Mason.
What Changed
On paper, it may not seem like personnel changes contributed to the Blue Jackets' 2009-10 playoff absence. The losses weren't among the team's leading scorers. The addition of Pahlsson helped fill the void left by Malhotra and Peca at center (as did a healthy Derick Brassard, who played just 31 games in 2008-09). What's harder to quantify and replace, cliché as it may sound, is what they brought to the room.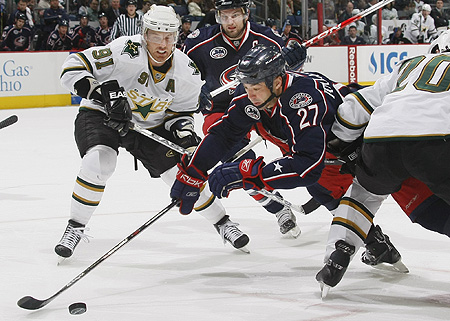 Peca played just two seasons in Columbus but was invested enough to sign one-year contracts with the team each of his final two NHL seasons. By the time he left the Blue Jackets, Malhotra was a mainstay in Columbus after playing there for most of five seasons. He didn't fill up the stat sheet (his 35 points in 08-09 were a career-high), but he was a versatile center who played in all situations. The Blue Jackets may have filled the holes left in their lineup by Peca and Malhotra, but it's hard to truly replace players like that and what they bring to a team.
Stralman played a relatively large role on defense considering he was acquired so close to the start of the season. Still, he likely would not have been thrust into such a role if Columbus's blue line had stayed healthier. While he has now developed a reputation as a reliable defenseman, that didn't really happen until after his two seasons with the Blue Jackets. This isn't to say that his addition to the team was a bad one — it wasn't — but Columbus was getting a young defenseman in his third NHL season, not the veteran we know him as now.
2013-14 to 2014-15
Departures: R.J. Umberger, Derek MacKenzie, Blake Comeau, Nikita Nikitin, Nick Schultz
We'll start with Umberger, who played his sixth and final season with Columbus in 2013-14. After scoring 40 or more points in his first four seasons with the Jackets (twice breaking the 50-point plateau), he tallied just 34 in 74 games before being dealt back to the Philadelphia Flyers in the offseason. MacKenzie and Comeau both played depth forward roles, neither contributing much offense, though MacKenzie played significant minutes on the penalty kill. Similarly, Nikitin was a depth defenseman, ranking sixth among Columbus blueliners in minutes played. Schultz is included here because he played in two playoff games, but was not a significant loss as he saw minimal ice time in the playoffs and regular season after being acquired in March.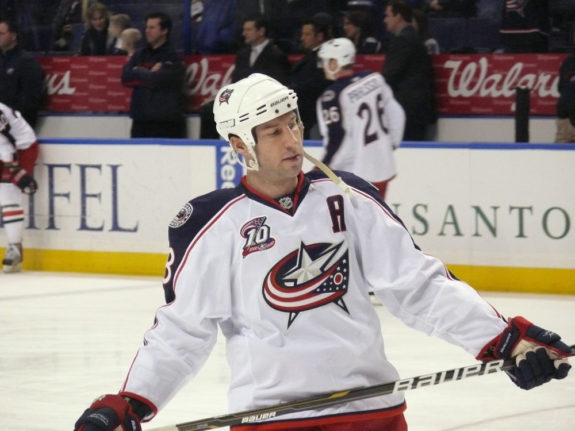 Additions: Scott Hartnell, Alexander Wennberg, Marko Dano, Kevin Connauton
The most significant addition for 2014-15 came in Hartnell, who was acquired from Philadelphia for Umberger and a fourth-round draft pick. He made an immediate impact by scoring 60 points in his first season with Columbus, good for third in team scoring. Both 2013 first-round draft picks, Wennberg and Dano made their respective NHL debuts in the 2014-15 campaign. Connauton started the season in Dallas but played 54 games for the Blue Jackets after they claimed him off waivers in November. That move came in handy, particularly considering Ryan Murray played just 12 games in 2014-15.
What Changed
If you're looking for a change that hurt the team in 2014-15, it wasn't the Umberger-Hartnell trade. Hartnell enjoyed one of the best offensive seasons of his career, and his 60 points were more than Umberger ever scored for the Blue Jackets. After leaving Columbus, Umberger played two more NHL seasons for the Flyers before they bought out the final year of his contract. Hartnell is still a Blue Jacket and contributing to the team, albeit in a smaller role than when he first joined the franchise.
The loss of Nikitin and addition of Connauton essentially even out — neither played a top-four role but both were significant depth defenders. It's fair to say the biggest loss from 2013-14 may have been MacKenzie, despite his limited role (11:15 of ice time per game). He spent seven seasons with the Blue Jackets organization, working his way up from AHL-scorer-and-occasional-NHL-callup to a full-time Blue Jacket. Again, he wasn't a big scorer for Columbus but developed into a reliable depth forward and penalty killer. It's also clear that MacKenzie possesses some of those valued hockey intangibles discussed so often, considering that he was named the Florida Panthers' captain last season. Comeau was a similar loss but less significant, considering he spent a little more than one season with the Blue Jackets.
The additions of Wennberg and Dano were important for the organization in the long-term but may have hurt the team in the short-term. Wennberg spent the majority of the season in the NHL, playing 68 games for Columbus and six for AHL Springfield, but scored just 20 points for the Blue Jackets. His production and play have improved greatly in the two seasons since then but it clearly took him some time to adjust, as one would expect. Dano played 35 games for Columbus and 39 for Springfield in 2014-15 before being dealt to Chicago as part of the Brandon Saad trade.
The Verdict
Is roster turnover the biggest culprit in the Blue Jackets' failing to make back-to-back playoff appearances? No. The roster losses did not include any top-four defensemen or scorers(in the case of Hartnell, the Blue Jackets gained a new major contributor). Other factors like injuries, long losing streaks and drop-offs in performance hurt the Blue Jackets' attempts at repeat playoff appearances, arguably more than any of the roster changes we discussed. Still, it's not far-fetched to say they also played a part.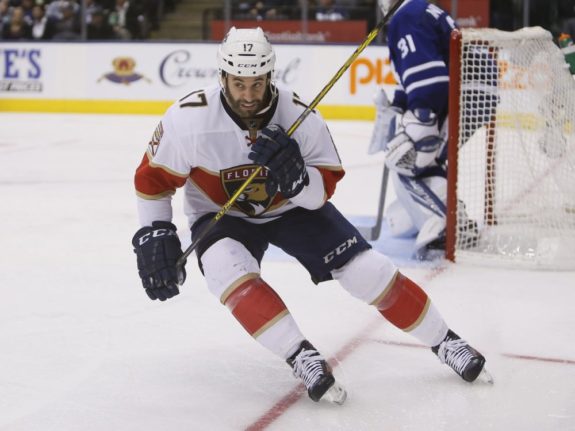 In both cases, the Blue Jackets' biggest roster losses were experienced depth forwards, some of whom had become mainstays in the Columbus lineup for years. Malhotra was far from a superstar, but he was a very versatile player for the Blue Jackets. Peca was not the player he once was, considering his time in Columbus came at the end of his career, but that was part of his value — a player with his experience knows what it takes to succeed in the NHL.
MacKenzie is not a top-six NHL forward but is the type of role player any team can use and probably would not have been very expensive to keep in Columbus. According to CapFriendly.com, he carried a cap hit of $1.3 million for the three-year deal he signed with Florida before the 2014-15 season after making $1 million per season in his last Columbus contract. That's not much for a guy who has become an NHL captain.
Can the Blue Jackets learn from this? Possibly. The problem is that it's impossible to entirely avoid roster changes from one year to the next. Sometimes the numbers don't work with the salary cap or room must be made in the lineup for younger players. Still, we hear a lot of talk about leadership and experience in hockey, especially when it comes to reaching and succeeding in the postseason. Keeping someone around simply for his experience or to avoid upsetting chemistry in the locker room may sound corny or ill-advised, but it's worth considering.
Jeff is a college hockey and Columbus Blue Jackets contributor for The Hockey Writers. He is a former TV sports reporter who has covered, broadcasted, coached and played hockey at various levels. You can follow him on Twitter @jeff_schaffer13