This past weekend all 30 NHL teams released their list of protected players for the 2017 NHL Expansion Draft. Some teams will be scrambling over the next few days to try to work out deals with the Vegas Golden Knights so that they can keep a specific player. The Toronto Maple Leafs won't be one of those teams.
Compared to the other teams in the NHL, the Leafs are in the best place going into Wednesday's expansion draft. The Leafs three most important players in Auston Matthews, William Nylander and Mitch Marner are exempt from the draft. With those three safe from the draft, it means the Leafs can spend their protection spots on players lower in the lineup.
For the Leafs it makes sense to go the route of protecting seven forwards, three defensemen and one goalie. So who did they protect?
#Leafs protected list: Bozak, Kadri, van Riemsdyk, Brown, Komarov, Leivo, Martin, Rielly, Gardiner, Carrick, Andersen

— Kristen Shilton (@kristen_shilton) June 18, 2017
Who Did the Maple Leafs Protect?
Forwards
The Leafs forward choices make sense, there are no big surprises there. Tyler Bozak, James van Riemsdyk, Connor Brown and Leo Komarov were expected to be protected. The only two there that will generate any surprise are Matt Martin and Josh Leivo.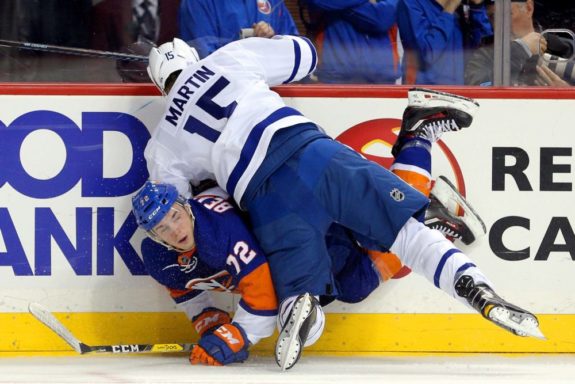 There has been lots of talk about why the Leafs shouldn't protect Martin. That it makes no sense to protect a fourth-liner, that there are better players in the AHL to protect and that Vegas probably wouldn't take Martin anyways because of his $2.5 million contract for three more years.
And all that may be true. But if he's a player that has been a role model for the rookies and has been part of the new team culture, then he's worth the spot. Despite his flaws, the Leafs can't afford to lose the physicality that Martin brings in his game.
Leivo was the other surprise on this list. After spending most of the season in the press box while having 10 points in 13 games for the Leafs it seemed like he was on his way out. With no major injuries on the team, it was impossible for him to get any playing time. Nikita Soshnikov and Kasperi Kapanen were able to secure spots because of their ability on the penalty kill, which is what coach Mike Babcock needed.
By protecting Leivo it might mean that they intend to use him next season or at least think he can crack the lineup in training camp.
Defense and Goaltending
The Leafs three protected defensemen are exactly who everyone thought would be protected: Morgan Rielly, Jake Gardiner and Connor Carrick. The Leafs never needed to make a choice since Nikita Zaitsev is exempt since this is his first season in the NHL.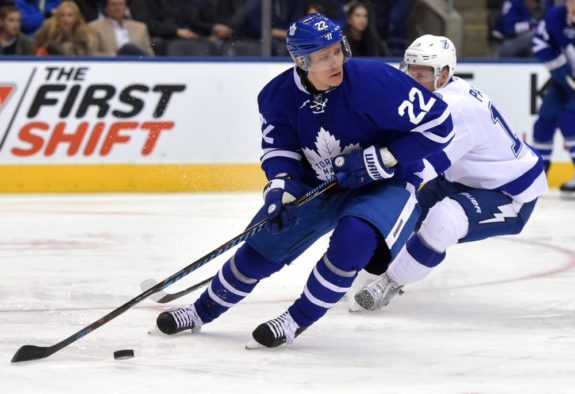 Carrick makes sense as the third protected defenseman. He's still young at 23 years old and should continue to improve. Compared to the Leafs unprotected defense it makes sense that Carrick was chosen.
And in net Frederik Andersen was protected. No need to explain why the starting goalie was protected.
Who Will Golden Knights Pick?
When it comes down to the expansion draft it means losing just one player to Vegas. That's it. So of the Leafs exposed players, whose likely to get picked?
Forwards
With the Leafs protecting Martin and Leivo it means that Brendan Leipsic, Kerby Rychel and Seth Griffith are possible choices. All three have put up terrific numbers with the Toronto Marlies this season, so it would be a shame to lose any one of them. But when that potential loss is compared to a team that is going to lose a core part of their NHL team, well then it doesn't seem like as big of a loss when it's an AHL player.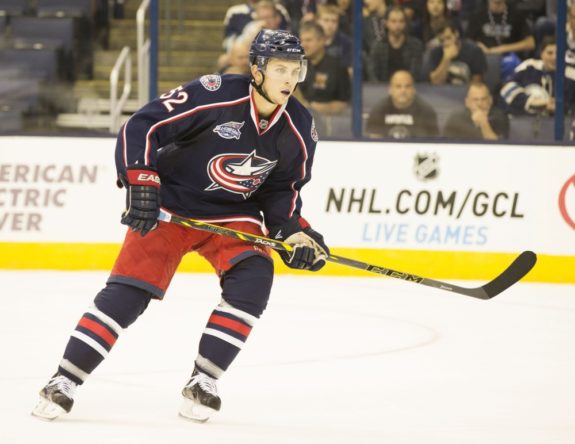 There are other forwards left exposed besides those three: Joffrey Lupul, Ben Smith, Colin Greening, Brooks Laich, Brian Boyle, Eric Fehr and Milan Michalek. It's extremely unlikely that Vegas takes any of those players besides Boyle. Since Boyle is an unrestricted free agent (UFA) it means that Vegas can try and sign him during their early free agency window. If they do then that counts as their pick from the Leafs.
So from the forwards, the most likely choice is either Leipsic or Rychel. They've both been great in the AHL so Vegas may want to give them a chance in the NHL next season.
Defense and Goaltending
On defense, the exposed players are Andrew Campbell, Roman Polak, Matt Hunwick, Alexey Marchenko, Martin Marincin and Steve Oleksy. Polak and Hunwick are in the same situation as Boyle since they are UFA's. So the only choices on defense would be Marchenko or Marincin.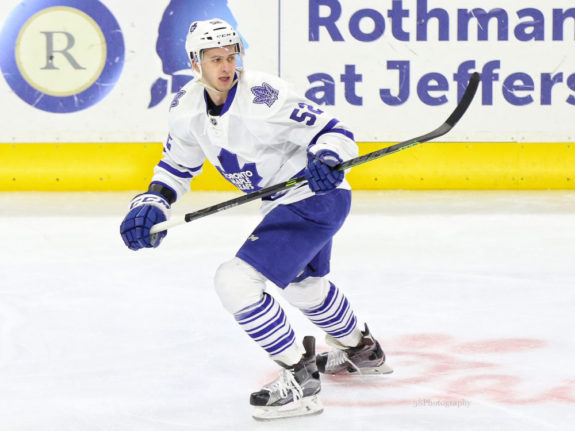 The problem with taking either of those two is that they aren't worth the choice. With Vegas getting their pick of the NHL it's unlikely that there aren't six available defensemen that are better than Marincin and Marchenko.
The same can be said about goaltending. Vegas has to pick 14 forwards, nine defensemen and three goalies. With goalies like Marc-Andre Fleury and Antti Raanta available why would they take Curtis McElhinney, Garret Sparks or Antoine Bibeau?
Brendan Leipsic or Kerby Rychel
Based on the number of players that Vegas needs to pick of each position and the number of quality players left exposed, it makes the most sense for Vegas to take one of Leipsic or Rychel.
For the Leafs this won't be a major loss. They already have far too many wingers in the organization with no spots in the NHL and more players coming into the AHL next season. A player like Leipsic is great and has been a point-per-game player in the AHL, but the Leafs already have other players that can replace him.
And even if he stayed with the Leafs where would he go? Could he make the NHL and would he even be able to crack the Leafs top six? This is a question only time will tell. Hopefully, the Leafs don't come to regret this decision, but based on everything we know now it's an acceptable loss.
Toronto Maple Leafs contributor for The Hockey Writers.
I've been a fan of the Toronto Maple Leafs since I was a kid and have always had an interest in writing. At The Hockey Writers, I get to enjoy both of my passions as well as writing about small convoluted details in player contracts and stats.