By now (even though it's been less than 24 hours), the eight-year contract extension given to Connor McDavid is old news. McDavid is going to be $100 million richer and the Oilers will have their captain locked up and playing with the team for the next nine seasons. It's a relief for the franchise, a relief for the fans and it's difficult to argue this isn't great news for everyone involved.
That said, this is a lot of money for a single person and the Oilers had to handle this delicately.
No matter how good McDavid is, or how many other teams would have lined up to give him that money, the Edmonton Oilers will be paying $12.5 million per season over eight seasons to keep the megastar in town. They are investing massive amounts of the future in one player and they're betting he truly is the next NHL superstar, ready to lead the team into repeated playoff appearances, and eventually a Stanley Cup.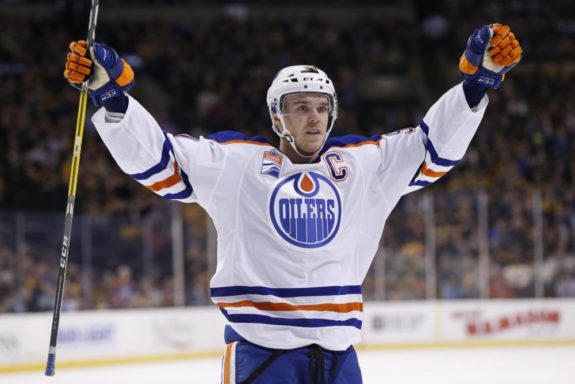 If you're going to pay big money to someone, McDavid is your guy. In one and a half short seasons, he's been more than most would have expected. He's the youngest captain in NHL history, he came off a 100-point season and he's a triple-crown winner at the most recent NHL Awards. In short, he has the makings of outperforming this contract, especially if the salary cap increases. But, sometimes, even the best players in the NHL need to have someone justify spending that kind of money.
Here's how the Edmonton Oilers did it.
Playing the Rumor Mill
The potential McDavid extension was a hot-topic issue for the last week and even though many eyes were on NHL Free Agency and the NHL Entry Draft, McDavid's deal was always there. What was signing McDavid going to cost? What did it mean for the Oilers moving forward? How would it affect Leon Draisaitl's next contract? There were so many aspects of the deal that could have caused a ripple effect within the Oilers' organization and potentially the NHL, it was hard to ignore.
So, when rumors started to circulate that general manager Peter Chiarelli was about to give McDavid an eight-year contract at $13.25 million per season, everyone had an opinion.
Some believed that no matter how it affected your team, you give McDavid what he wants. No amount of money was too much money and when you have the best player in the NHL, nothing else matters. Others argued that handing out $13.25 million per season would hamper the club's ability to make moves and stay competitive.
The fact is, the Oilers were likely ok with the rumored number being $13.25 million.
Letting that number circulate for a few days meant that people had a chance to digest the magnitude of the deal. If there were enough people supporting the deal (which there were) and outsiders started to accept the massive salary (which they did) the Oilers would have had supporters.
Since the final number was below $13.25 million per year ($750K per year lower), it was seen as a victory for the Oilers. When it became public that McDavid was the one who insisted it be lower, McDavid became a hero — one willing to sacrifice his own income for the betterment of the team.
Let's not forget, not a few short months ago, the deal was suggested to be as low as $9.7 million per season. It's not good business for your franchise captain to be viewed as a player who took too much money. Flipping the script let McDavid come out of this better off than he did before he went in.
Leon Draisaitl's Deal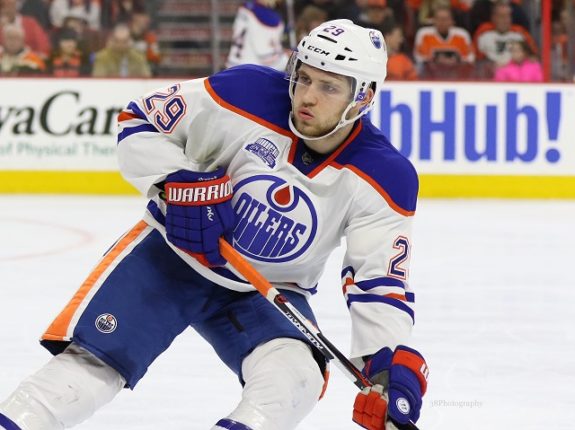 While McDavid was the priority, Draisaitl is at the top of the Oilers list in terms of immediate to-do items. He's a restricted free agent whose contract needs renewal and he was coming off a career year, likely set to earn somewhere in the neighborhood of $6.5 million to $10 million per year. One of the things that would decide whether or not the Oilers might have to shell out closer to the $10 million was McDavid's new deal.
Draisailt could argue that he's worth $10 million. He produced 77 percent of McDavid's offense, but a $6.5 – $7 million dollar extension would have been 56 percent of what McDavid was going to be paid. The two numbers don't really add up.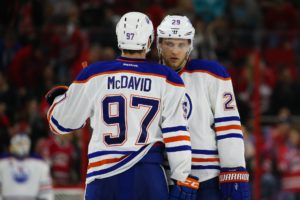 Draisaitl is a dynamic player in his own right and on a vast majority of other NHL teams, a top-line center. But, paying Draisaitl $10 million per season isn't something the Oilers want to do. If public appearance is that McDavid took a pay cut (a contract the Oilers intentionally completed first), Draisaitl may be more prone to take a pay cut. The theory would go, when the best player in the game "discounts" his services, the second-best player on the team should. When the two best players do, the rest of the team takes notice.
Whether the apparent plan works or not, remains to be seen. If it does, the Oilers again will look strong, even if Draisaitl's deal comes in around $8.5 million. It's probably more than most are comfortable paying, but his combined salary with McDavid's makes the cap manageable.
The Oilers will be paying a huge amount of money for two players. When all is said and done, in the eyes of many, the Oilers will have looked to have gotten a discount. That, in and of itself, is amazing.