It was a busy weekend in the NHL to begin the offseason. The Edmonton Oilers made seven picks in the draft highlighted by the selection of right winger Kailer Yamamoto at 22nd. According to NHL.com, Yamamoto is listed at 5'7″ and 146 pounds and was the smallest player selected in the first round since New Jersey drafted Jean-Francois Damphousse in 1997. What he lacks in size, he makes up for with speed and skill. He headlines a reasonably talented Oilers draft class.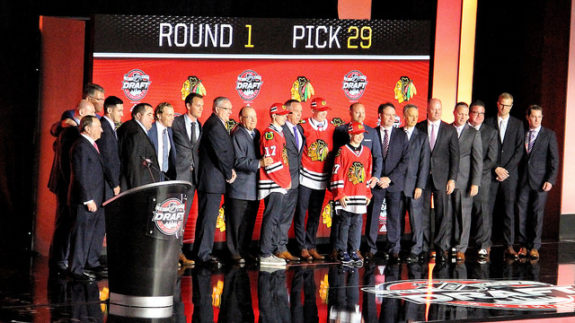 As projected, the Oilers were heavy on selecting forwards. The organization's offensive depth among prospects has diminished thanks to the graduation of several players to the main club. Where it really hits the Oilers is on the wing. Edmonton's AHL affiliate, the Bakersfield Condors, had one of the most anemic offenses in the minor league and if that's foreshadowing, the Oilers will need to find more high-end offensive players, and they added four in this draft.
The rest of the draft class included one goaltender and two defensemen. The recent additions of Dylan Wells, Nick Ellis, and Shane Starrett give the Oilers some depth behind Cam Talbot and Laurent Brossoit. You can add Stuart Skinner to that list now too.
The Oilers' biggest organizational strength is on defense. There's a lot of talk about how exciting Edmonton's future on the backend is with Ethan Bear, Caleb Jones and Ziyat Paigin in the system. Dmitri Samorukov and Philip Kemp add to that organizational depth as well.
So what do we know about this draft class so far?
Kailer Yamamoto (RW)
1st Round | 22nd Overall
HT: 5'7″ WT: 146 pounds | Amateur Club: Spokane Chiefs (WHL)
After dealing away a top-six forward in Jordan Eberle, the Oilers had to add some scoring and got their guy in Kailer Yamamoto. Despite being ranked 17th by NHL Central Scouting, many believe he's a steal for the Oilers. Interestingly, in 2008, Edmonton selected Eberle with the same pick. There's plenty of style comparisons for Yamamoto, with Johnny Gaudreau, Patrick Kane and Mats Zuccarello.
A more fitting comparison might be Tyler Johnson. Another interesting fact, Johnson's mother used to be Yamamoto's skating instructor. For Edmonton, they're adding a dynamic forward that skates well, is quite elusive and hard to defend against. He's just as smart as a playmaker as he is with picking his opportunities to shoot. He led his team in scoring with 99 points in 65 games and finished sixth in WHL scoring in 2016-17.
Yamamoto was cut from Team USA for the 2017 World Junior Championship, but expect him to be a member of next year's team as a top-six forward. He's a year or two away from joining the main club, but regardless, he's got a helluva future.
Stuart Skinner (G)
3rd Round | 78th  Overall
HT: 6'3″ WT: 200 pounds | Amateur Club: Lethbridge Hurricanes (WHL)
The Oilers liked Stuart Skinner so much that they packaged the picks they got from the St. Louis Blues (82nd) and Vancouver Canucks (126th) to move up four spots in a trade with the Arizona Coyotes. Those are the picks Edmonton got in exchange for Nail Yakupov and Philip Larsen. That's not a bad haul when you consider that Skinner has the potential to become the Oilers' future starting goaltender.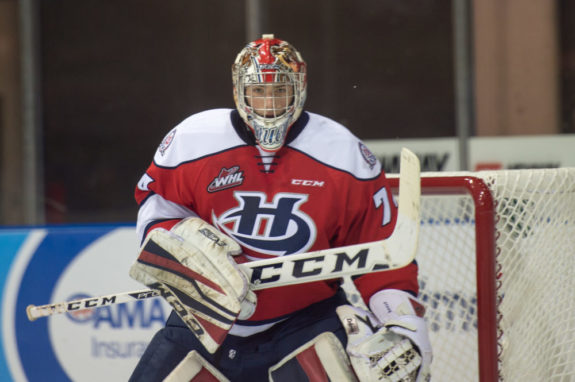 The hometown kid was the fifth-ranked North American goaltender by NHL Central Scouting despite having his numbers slip from last season. In 60 regular season games, Skinner posted a 3.26 goals-against average, and a 0.905 save percentage. The numbers don't tell the whole story however because Lethbridge had massive holes on defense this year that hurt Skinner. He bounced back in the WHL playoffs with a 0.916 save percentage and helped the Hurricanes to the WHL Eastern Conference Final.
Skinner also represented Canada at the U-18 Ivan Hlinka tournament this season. He's got tremendous size and an ideal frame for an NHL goaltender. Along with Dylan Wells, the two have promising futures within the Oilers organization. There's a reason only four other goaltenders were taken ahead of him, and with this being a considerably deep draft for netminders, this pick bodes well for Edmonton.
Dmitri Samorukov (D)
3rd Round | 84th  Overall
HT: 6'2″ WT: 185 pounds | Amateur Club: Guelph Storm (OHL)
In a few years, this could be the best value pick of the draft for Edmonton. He was the 69th ranked North American skater by NHL Central Scouting, and if his skating can improve you could be looking at a stud for Edmonton. Samorukov came over from Russia for his draft year and scored 20 points in 67 games with the OHL's Guelph Storm. He is a sleeper pick but has some significant upside potential.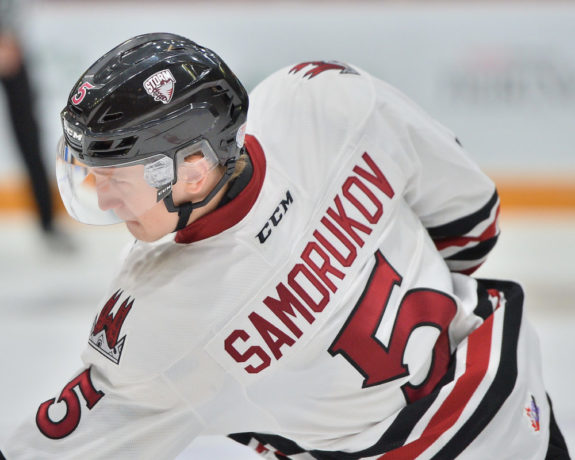 The former second overall pick in the 2016 CHL Import Draft could develop into a valuable second-pairing shutdown defenseman for the Oilers. Don't let him be typecast though because a lot of scouts believe there's more to Samorukov's offensive game that hasn't shone through. He's got a cannon of a point shot, loves the big open ice hit, and isn't afraid to join the rush or shoot the puck.
Samorukov's already represented Russia four times internationally and seeing him contend for a spot on their 2018 World Junior Championship team isn't far fetched. He's a top three defenseman on a loaded Guelph defense that also features their undrafted captain Garrett McFadden and one of next year's top prospects Ryan Merkley. He's several seasons away from making an impact in Edmonton, but is an interesting pick nonetheless.
Ostap Safin (RW)
4th Round | 115th  Overall
HT: 6'5″ WT: 192 pounds | Amateur Club: Sparta Jr. (Czech Rep Jr.)
After being ranked 14th by NHL Central Skating for European Skaters, Safin fell all the way to 115th. Most scouts had him being off the board between 40th-70th and looking at his stats, his offensive upside poses questions. At 6'5 and 192 pounds, he's a very versatile forward. He can play center or on the wing and plays a power or finesse game.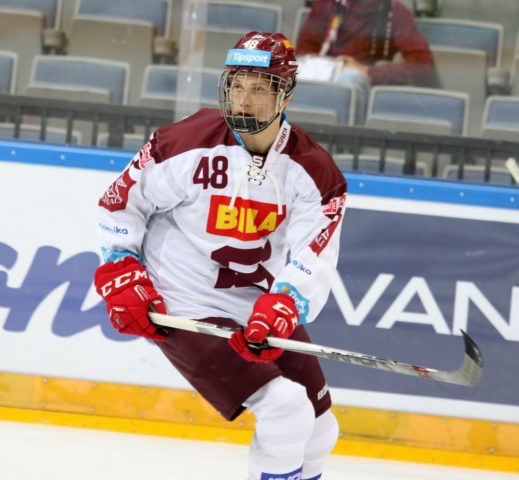 He's a great skater and handles the puck well, but he doesn't shoot as much as you'd like from a player with his shot. Defensively, he plays a solid 200-foot game and is responsible with or without the puck. Some draft prognosticators project he'll become a valuable top-six forward, but it might be more fitting to look at him as an offensive third-line forward.
If you watch the draft, you'll hear some of the comparisons to Patrick Maroon or Anton Slepyshev. Safin has represented the Czech Republic a few times internationally, and he could crack their 2018 WJC team. Next season he'll play for HC Sparta Praha in the Czech Republic.
Kirill Maksimov (RW)
5th Round | 146th  Overall
HT: 6'2″ WT: 192 pounds | Amateur Club: Niagara Ice Dogs (OHL)
A Russian born player who grew up playing in the Toronto Jr. Canadiens program. He was the 38th overall pick in the 2015 OHL Draft and has made steady improvements in the last two seasons. After scoring six goals and 21 points in 54 games during his rookie season, Maksimov put up 21 goals and 38 points in 66 games in 2016-17.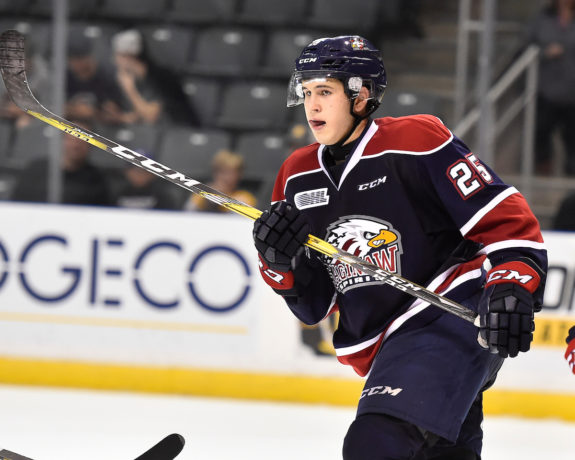 He was traded halfway through the year from the Saginaw Spirit to the Niagara IceDogs. It was with Niagara that he scored 15 goals in the final 29 games of the OHL season. Over a full season, that's 35 goals if he had played at that pace all season. His slow start dropped his ranking to 185th by NHL Central Scouting, but he rebounded to 66th by the final rankings.
He is an underrated playmaker but looks more and more like a goal scoring power forward. It'll be interesting to see what he does with a full year in Niagara where he could potentially score 35-40 goals next season. He's a project, but there's a lot to like in Maksimov. He could suit up for Russia at the WJC next season after representing them twice internationally at the U-18's.
Skyler Brind'Amour (C)
6th Round | 177th  Overall
HT: 6'2″ WT: 170 pounds | Amateur Club: Selects Academy U-18 (USMAAAE)
We get it, Skyler is Rod Brind'Amour's son. You'll hear that in every draft conversation. Skyler was the 157th ranked North American skater by NHL Central Scouting and will leave the USA Development Program and join the BCHL's Chilliwack Chiefs next season. He's also committed to Michigan State University for 2019-20. Suffice it to say, like Graham McPhee, John Marino, Zach Nagelvoort and Tyler Vesel before him; it'll be a long road before he's playing pro.
He's a growing body at  6'2″ and 170 pounds and reading into McKeen Hockey's Brendan Ross' analysis, Brind'Amour, like his father, projects as a two-way checking forward. Skyler has incredible hockey sense and he often makes quick, smart plays with the puck. There's not a whole lot of offensive upside with this pick though.
As mentioned Brind'Amour's going through the BCHL and NCAA, but he has other options if he changes his mind. His OHL rights belong to the Hamilton Bulldogs, and his USHL rights belong to the Bloomington Thunder.
Philip Kemp (D)
7th Round | 208th  Overall
HT: 6'3″ WT: 202 pounds | Amateur Club: USA U-18 (NTDP)
The Oilers used four of their picks to restock the shelves on forwards. They used the other two picks before this one on a defenseman and a  goalie. So it was only right that they'd grab one more blueliner, and they selected Philip Kemp. He's been a member of the US National Development Program and has committed to Yale University for 2017-18. His CHL rights belong to the QMJHL's Rimouski Oceanic.
He's a right shot defenseman and has twice represented the Americans internationally and won a gold medal at the U-18's this year. He's got the right size for a promising NHL defenseman at 6'3″ and 202 pounds and is described as a steady blueliner.
He scored five goals and 13 points in 64 games with the US National Development team last year and recorded two assists at the WJC-18 tournament. Kemp will be a long-term project, and the Oilers will keep tabs on him through his college years.