In the eyes of most, the Edmonton Oilers knocked it out of the park when they decided to use their first-round pick to take the diminutive and highly-skilled Kailer Yamamoto of the Spokane Chiefs. With no second round at their disposal, it was a foregone conclusion that Peter Chiarelli and company would be drafting from a standpoint of organizational need with their remaining picks in the 2017 Entry Draft.
Goaltending Depth Was a Concern
For anyone paying attention, the most pressing needs revolved around adding as many skilled forwards as possible and goaltending depth. With that being the case, it was no real surprise to see Edmonton package third and fifth round picks (via St. Louis and Vancouver) to move up four slots and grab Lethbridge Hurricanes netminder Stuart Skinner with pick No .78.  While some took issue with the club using a relatively early pick on a goalie, there is something to be said for going out and getting the kid they wanted.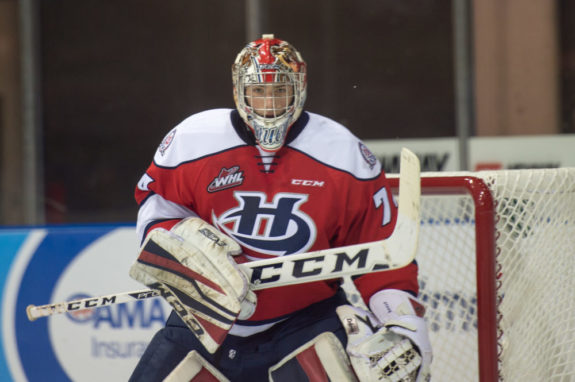 As a general rule of thumb, there are no more than a couple of goaltenders taken inside the first two rounds and this year was no exception. With four netminders already off the table and a rumour making the rounds that would have seen the Philadelphia Flyers use their third round pick at No. 20, the Oilers jumped in and ensured they got who they wanted. In the minds of most, Skinner looked as though he was a lock to be drafted somewhere in the third round and that is exactly how things played out.
Despite coming off what could only be described as a disappointing campaign in 2016-17, the towering goalie did manage to elevate his play during the playoffs. After posting a rather ordinary .905 SV% and 3.26 GAA in his 60 regular season appearances, Skinner saw his save percentage climb to .916 in 20 games and played a big part in helping lead the Hurricanes to a pair of Game Seven victories, before bowing out in six games to the Regina Pats in the WHL Eastern Conference Final.
A nice bounce back to be sure but as is the case with any player selected outside of the first round, the Edmonton native is by no means a sure thing. At 6′ 4″ and 205 pounds, his size certainly works in his favour but his positioning and overall mobility has left some scouts wondering if the kid has what it takes to be a starting goaltender at the NHL level. Another concern is Skinner has shown the tendency to take himself out of position with far too great a frequency after making the first save…not exactly a good sign for a guy who is considered to be a butterfly goalie.
Skinner Does Have His Warts
However, when the young man is on his game and playing well, he isn't much fun to face. Like most big netminders, the 18-year old takes up a lot of the net when his positioning is good and Skinner is among the most aggressive goaltenders you will see when it comes to a one-on-one showdown against opposing shooters. His body of work has earned him an invite to Hockey Canada's Summer Showcase and will be one of four goalies looking to secure a spot on the team for the 2018 World Junior Championships in Buffalo starting in late December.
A good sign to be sure but one cannot lose sight of the fact that trying to predict what direction a goaltender will go on the development front is next to impossible. There is a reason why it takes the vast majority of netminders a number of years before getting their first shot at the big. It is an evolving process and it can change at a moments notice. Take a look at the Oilers current backup Laurent Brossoit, who was selected by the Calgary Flames in the sixth round of the 2011 draft and is just now getting his first real chance at making the jump to the NHL.
Oilers GM Peter Chiarelli mentioned "addressing needs" with picks today. Stuart Skinner should add much needed goaltending depth

— Bob Stauffer (@Bob_Stauffer) June 24, 2017
In other words, for anyone expecting Stuart Skinner to step in and automatically develop into the Edmonton Oilers goaltender of the future, you may want to curb those expectations just a tad. After all, there is a difference between adding organizational depth at a position and a so-called can't miss prospect. Though as previously mentioned, when it comes to goalies there are no guarantees and unfortunately there is no way around that hurdle.