Expansion Draft: check. NHL Entry Draft: check. Next up on the offseason menu is the free agent frenzy. So who should Montreal Canadiens GM Marc Bergevin be looking at heading into July 1? Well, the simple answer is nobody. Montreal's needs are painfully obvious, as they lack a true number one center and a top-four, left-shooting defenseman, and neither of those can be had in this year's free agent pool.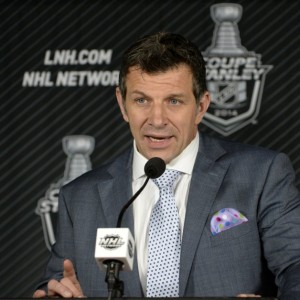 As it stands, the Canadiens have approximately $21 million in cap space before re-signing Alexander Radulov, Alex Galchenyuk and Andrei Markov. These three players should make up approximately $17 million ($5 million per season for Galchenyuk, $7 million per season for Radulov, and $5 million per season for Markov) which would leave the team with around $4 million in cap space on July 1.
Although they will not be able to add a critical component to their lineup, there are still some relatively impactful players available that may be able to help the Canadiens in the short term. Let's take a look at the top three available players at both center and defense.
Center
Joe Thornton
Thornton turns 38 the day after free agency opens and had a 32-point dropoff from 2015-16 to this past season, scoring only seven goals and 50 points. Fifty points is not a bad season but considering his age and productivity in seasons past, there are a number of red flags here. His point totals were the lowest, besides the lockout-shortened season, since 2005-06 when he was with the Boston Bruins, and his 18:04 of ice-time was the lowest of his career.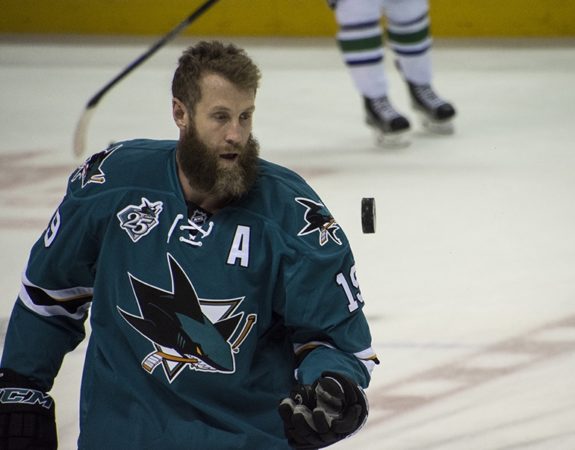 Ignoring his diminishing on-ice production for a minute, the intangibles he would bring are virtually invaluable; after multiple playoff runs with the San Jose Sharks, Thornton would act as a mentor to the Habs' young players. He could also help Galchenyuk finally develop into the centerman the Canadiens expected him to be when they drafted him.
Adding Thornton would bring an enormous influx of leadership to Montreal's forward group and could help them take the next step in the playoffs, but it is unlikely he would fit under Montreal's cap if they are only left with $4 million.
Sam Gagner
Gagner, coming off a career year with the Columbus Blue Jackets, is an interesting option. He only made $650k last season and is due for a big raise after netting 18 goals and 50 points. The Habs should be wary of Gagner though, as he has been considerably inconsistent throughout his career. It is not uncommon for Gagner to go three or four games without registering a point; he went pointless for at least three straight games seven times in 2016-17 including a stretch of nine games between Feb. 2 and Feb 19.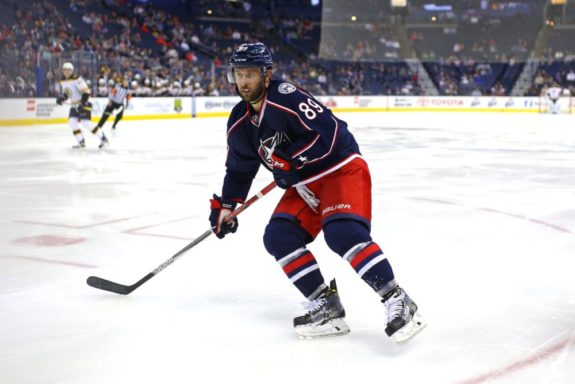 Those numbers aren't necessarily terrible, and Gagner will be a very good option for a team needing secondary scoring. The Canadiens, however, need a bona fide, consistent top-line center and he simply doesn't fit that mold.
Martin Hanzal
Hanzal, who stands at 6'6″ and weighs in around 225 pounds, may be the best option for the Canadiens if they are unable to add a center via trade. He uses his big frame and long reach to protect the puck and likes to drive the net. Although he only had 39 points on the season, he still managed to score 20 goals. He is also very strong in the faceoff dot, winning over 55% of his draws in each of the last three seasons.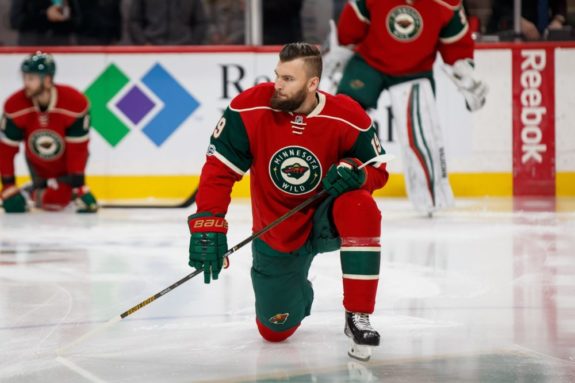 He, like Gagner, is more suited to a second-line center role but he may be able to be had for cheap after an underwhelming playoff run with the Minnesota Wild. At 30 years of age, if the Canadiens can get him for three years or less at around $4 million, that should be something they consider if they strike out in the trade market.
Defense
Kevin Shattenkirk
I know, Kevin Shattenkirk is a right-hand shot, but if a power play quarterback of his caliber becomes available it is worth it to at least explore the possibility of bringing him in. That being said, it is extremely unlikely that Shattenkirk signs with Montreal for a number of reasons. First off, the aforementioned right-shot conundrum. The Canadiens already have Shea Weber and Jeff Petry on the right side. It wouldn't make sense to pair Shattenkirk with either of them and playing Petry on the third pairing isn't feasible given his $5.5 million cap hit.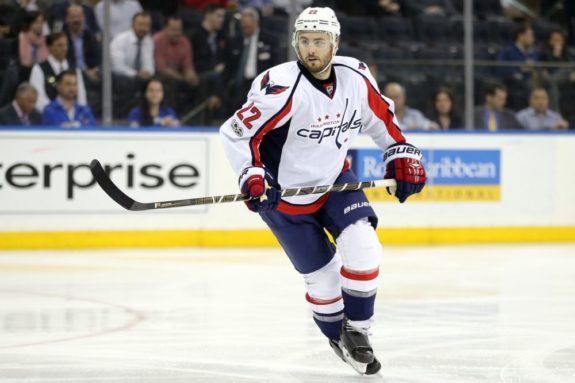 Additionally, Shattenkirk is rumored to have expressed interest in playing for the New York Rangers. Now that they've cleared some cap space by moving Derek Stepan, the door is open for Shattenkirk to end up in Manhattan. It is also expected that he could sign for upwards of $7 million per season over 7 years, which would be too rich for GMMB anyway.
Michael Del Zotto
Del Zotto may not be the most offensive defenseman in the NHL, but he had a solid campaign with the Philadelphia Flyers last season notching 18 points in 51 games. That works out to 29 points over the course of an 82-game season, which would have placed him third amongst Habs defenders behind only Shea Weber and Markov last season. He was able to accomplish that while playing an average of 19:30 per night. That number would increase significantly should he slot into Montreal's top four and either power play unit.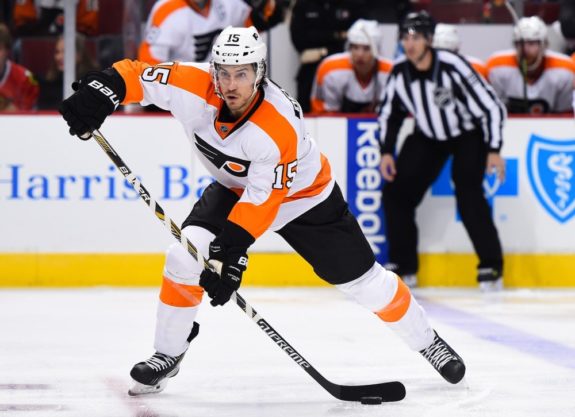 Del Zotto saw an average of 57 seconds of power play time with the Flyers last season, less than players like Jordie Benn, Jake McCabe and Francois Beauchemin. If healthy and given the opportunity, it is possible that he could increase his offensive output, since he has done so in the past. He put up 32 points in 64 games in 2014-15, 41 points in 77 games in 2011-12 and 37 points in 80 games during his rookie season in 2009-10.
While those numbers are not staggering, the Habs could use all the help they can get from the back end and, at 27 years of age, it is likely that Del Zotto still has some good hockey in him. Given his injury history, however, it would be unwise to present him with a contract offer any longer than one year.
Andrei Markov
The fact that Montreal's own defenseman makes this list shows you how slim the pickings are at the position this year. Despite still being relatively productive when healthy, it is his health that is a major concern. At 38 years young, Markov has already lost a step or two in his stride and missed 20 games last season with a groin injury. It doesn't take a doctor to know that that isn't a very good formula for professional hockey players.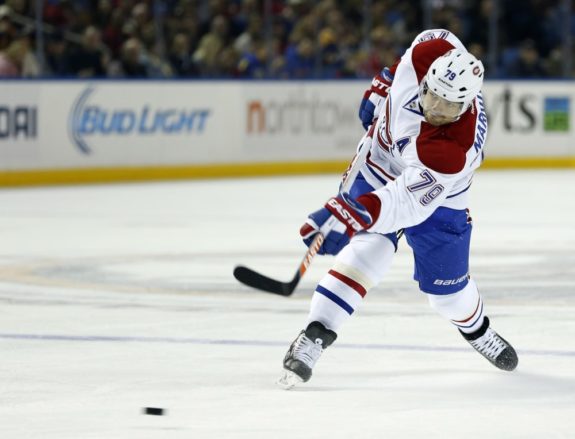 Though his productivity is worth taking a chance on, handing him a two-year deal like he is reportedly seeking is a disaster waiting to happen, considering it is unlikely he takes too much of a pay cut from the $5.75 million he was making the last three seasons. In order for Markov to be productive and stay healthy, it is imperative that head coach Claude Julien keeps his minutes to a minimum, so he should be used as a power play quarterback and a second-pairing guy in order to stay away from tough matchups.
Potential for Depth
Considering the facts presented above, it is absolutely not in Montreal's best interest to make a big splash in free agency. It makes more sense for the Habs to explore trade options to fulfill their needs, with players like Matt Duchene and Artem Anisimov both available. They also possess the rights to one of the top UFAs in this year's pool in Radulov, and the Canadiens would be wise to do whatever they can to bring him back.
It may not be a bad idea to dip a toe in to fill out the bottom six forward group with players like Philadelphia's Jordan Weal (if he hits the open market), Ottawa's Tommy Wingels or Edmonton's Tyler Pitlick, but the Habs simply will not be able to fill their biggest holes with this year's free agency class.