The New York Rangers have traded center Derek Stepan and goaltender Antti Raanta to the Arizona Coyotes in exchange for the seventh-overall pick in the 2017 NHL Entry Draft and defenseman Anthony DeAngelo. The Rangers were rumored to be in the market to move Stepan and Raanta and the Coyotes have been looking for a No. 1 center and goaltender. Additionally, the Rangers get an inexpensive defenseman in DeAngelo as well as a top-10 pick in this draft – a good haul for both teams who are in different stages in their own respective developments.
Sounds like another big Arizona trade is in works. Raanta and Stepan likely to Coyotes. 7th overall could be part of it and DeAngelo.

— Darren Dreger (@DarrenDreger) June 23, 2017
Stepan joins the Coyotes with four years remaining on a contract that pays him $6.5 million per season. At 27 years old, Stepan is still very much in the prime of his career and joins a young Coyotes team looking for veteran experience. The 51st-overall selection from the 2008 NHL Entry Daft has been a regular in the Rangers lineup since the 2010-11 season. Scoring at least 45 points in each full season he's played in (as well as 44 in the 48-game lockout-shortened season in 2012-13), Stepan has been as consistent a player as a team would hope for on the scoresheet. Additionally, he's been a solid leader and big character guy on the Rangers for years and a very clear fan-favorite. As such, there's no doubt he'll be warmly received in Arizona.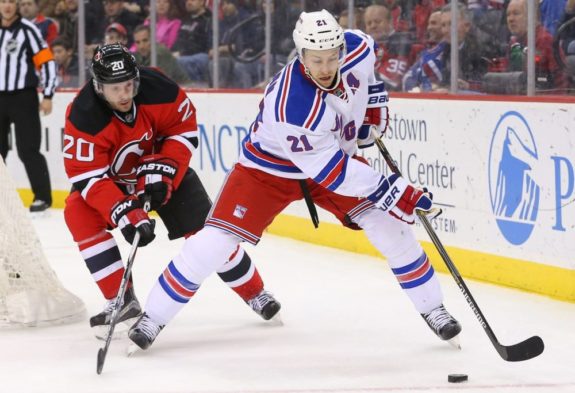 Raanta joins the Coyotes with one year remaining on a deal that is paying him $1 million. A very affordable deal, Raanta now has the ability to start for the Coyotes as he is only in competition with Louis Domingue on the Coyotes roster. The former Blackhawks goaltender has posted tremendous numbers in each of the last three seasons, including a 7-4-1 record with a 1.89 goals against average and a .936 save percentage and two shutouts in his final year as a Blackhawks. In his first season as a Ranger, Raanta went 11-6-2 with one shutout, a 2.25 goals against average and a .919 save percentage. This past season, Raanta continued to impress, compiling a 16-8-2 record with a 2.27 goals against average, a .922 save percentage and a career-high four shutouts. At 28 years old, Raanta is ready to become a starter in the NHL. His numbers suggest he'll be more than capable.
DeAngelo to the Rangers
Anthony DeAngelo is on his way to New York, and he is a very underrated defenseman in his own right. Stil just 21 years old, the 19th overall selection from the 2014 NHL Entry Draft has made a name for himself as a very capable puck-moving, offensive defenseman in the OHL. If it weren't for character concerns in his draft year, DeAngelo likely would have been taken much higher than 19th. Still, the Lightning took a gamble on DeAngelo before packaging him in a deal to Arizona. In 39 games with the Coyotes this past season, DeAngelo scored five goals and 14 points in 39 games. With an established Rangers team, DeAngelo has the potential to be a breakout candidate for the 2017-18 season if used correctly.
Brandon Share-Cohen has covered the NHL and various professional sports for seven years. Working with The Hockey Writers, Brandon works extensively on covering the Boston Bruins in addition to his role as the News Team Lead.