After posting career numbers in the NHL last season, Derek Ryan will be back with the Carolina Hurricanes. Monday he signed a one-way, one-year contract worth a reported $1.425 million.
Ryan has spent parts of two seasons with the Hurricanes. In 2015-16, he appeared in six games, posting two goals and no assists. In 2016-17, he appeared in 67 games, scoring 11 goals and 18 assists for 29 points. Perhaps his crowning achievement thus far is that Ryan was also nominated for the Masterson Trophy and this summer likely would have garnered interest from some teams looking for a right-shot, depth center.
Executive Vice President and General Manager Ron Francis said of the deal, "Derek proved he belonged in the NHL last season," "He brings skill and versatility to our lineup and sets an example for our younger players with his character and determination off the ice."
[NEWS] #Canes Agree to Terms with @DerekAllenRyan: https://t.co/GfYEOz4OXy

Ryan set NHL career highs in goals, assists & points in 2016-17.

— Carolina Hurricanes (@NHLCanes) June 26, 2017
Derek Ryan's Struggle
Ryan wasn't always certain he'd be in the NHL. Just one summer ago, Ryan was contemplating moving back to Europe to play hockey, not getting the looks in the NHL he was hoping for. In the summer of 2016, he was extremely close to making a jump to the European leagues to play.
As THW's very own Dean Plunkett discussed back in June of 2016, Ryan was almost gone before one more shot with the Hurricanes — a shot he made good on:
Ryan and his agent, according to the Expressen report, have been in communications with a number of Swedish hockey teams, and have even received an offer from Frolunda, but the 29-year-old forward prefers to focus on the opportunities in Switzerland. "I prefer Switzerland if I'm going back to Europe. I have not played there, I have heard very good things about it and the money is a little better," he told the newspaper.
Ryan re-signed with the Hurricane organization, got an opportunity and never looked back. He's earned every bit of the contract extension he's signed for the 2017-18 season.
Where Ryan Fits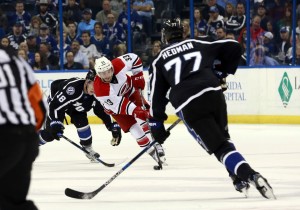 The key to Ryan's success will not be over slotting him. As a depth center on the fourth line, he'll have an opportunity to be successful. Even in a third-line limited role, he'll be effective, but signing Ryan likely means the Hurricanes have their bottom center depth set and will roll with other centers in a more prominent position.
Jordan Staal, Elias Lindholm, and Victor Rask all slot higher, but Ryan adds another forward who can take faceoffs (he was 55.3% in 707 attempts last season) and a locker room presence that the team clearly likes.
If there's a knock on Ryan, it's that he doesn't add much in the way of size or a physical presence. That may be something the team needs to address since they only have two players on the team who ranked in the top-100 in hits in the NHL last season. Joakim Nordstrom had the most hits with 148.
In Other News
The team also came to terms with defenseman Trevor Carrick on a one-year, two-way contract. The deal will pay Carrick $670,000 on the NHL level or $77,500 on the American Hockey League (AHL) level in 2017-18.