One of the biggest surprises of the draft was the second-round pick spent on 20-year-old Alexander Volkov by the Tampa Bay Lightning. The native of Moscow, Russia, didn't have much exposure last year because of an injury but he also played very well in the Canada-Russia series last November.
In this translated interview, originally appearing on the popular Russian website Sport-Express.ru, the Lightning prospect confirmed that he's going to move to North America next year and explained that the Lightning were the team that sought after him most actively leading up to the NHL Entry Draft.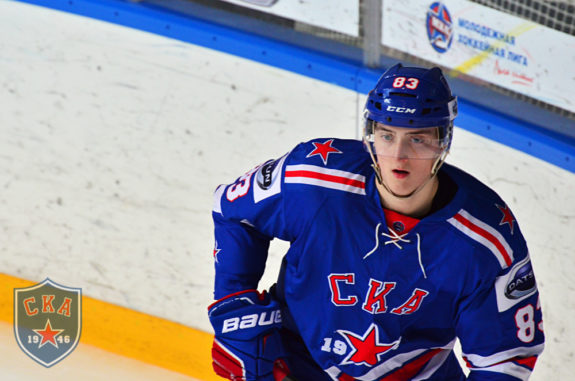 "I haven't watched the draft myself, my agent told me about [the Lightning picking me]," Volkov told Sport-Express.ru. "My agent was in Chicago. I should have attended the ceremony, but I got the visa only on Monday.
* You can enjoy the original Sport Express article by Evgeny Belousov, in the Russian language, here *
Evgeny Belousov: You have yet to play in the KHL. How do you think you can impress the Lightning?
Alexander Volkov: I think that I could play for SKA's senior team, although the board had different plans. The [senior] team was very oriented towards the results. I haven't played much pro hockey so far and I haven't shown all my potential, so I need to showcase more of myself. As a young player, I can bring speed, pressure, forechecking. I'm trying to become better and better every year. They'll be surprised when they see me at the training camp.
Volkov has no KHL Contract
EB: Your contract with SKA run out?
AV: Yes. The team wanted to retain [the KHL] rights [on me], and because of that, I've been offered a qualifying contract but I haven't signed it.
EB: If things go the way they should, are you ready to cross the Atlantic?
AV: Everything will be decided this summer. If all is good, I'll fight for a spot in the Lightning lineup.
EB: Did Tampa invite you to their rookie camp?
AV: Yes, they have already called me. I'll fly there as soon as I get my visa and passport.
EB: Did you already know about the interest from the Lightning?
AV: Yes, the team's representatives visited me three times, before and after my injury. At the end of the season, I was told that they would draft me if they had a chance.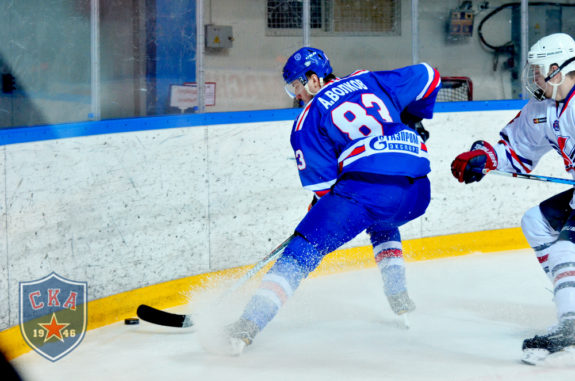 EB: You were drafted surprisingly high.
AV: I think because I have played a lot with the junior national team, even in the Canada-Russia Super Series. Probably it's there where the scouts noticed me.
NHL Attention
EB: Did other teams have interest in you?
AV: I have talked with other teams, but not as actively as with the Bolts.
EB: Did you follow Tampa Bay during the season?
AV: Yes, I did, just like other teams with Russian players. I didn't have any true preference.
EB: At the recent IIHF World Championship, Team Canada was coached by current Lightning head coach Jon Cooper. Did you find any interesting traits in his team?
AV: He had a powerful team, very aggressive. I liked their team, but frankly speaking, I didn't find anything very surprising. It was your typical Canadian team.
With the 48th pick, we have selected forward Alexander Volkov from St. Petersburg, RUS. #NHLDraft

— Tampa Bay Lightning (@TBLightning) June 24, 2017
EB: The Lightning have a lot of free spots at your role, right wing. Are you ready to fight for a spot in the lineup?
AV: I'll do my best. I'll try to get familiar with how things work during the rookie camp. I'll also try to show my coaches my worth so that they'll get to know me better. I'm ready for everything.