From May 1-31, NWHL teams can re-sign players from their 2016-17 roster and their draft picks during the restricted free agency period, and beginning on June 1 any unsigned players left will be free to sign with any team.
The third season of the NWHL will begin in October as the Buffalo Beauts defend their Isobel Cup championship, and with up to 12 players unable to participate in the league this season due to their selection for Team USA's 2018 Olympic team, this will be the most competitive season yet.
My colleague Dan Rice will keep THW readers up-to-date on New York and Connecticut's signings throughout the summer, while I post updates on Buffalo and Boston.
Consistency as Five More Beauts Return
Bray K Returns to Rivs, Baribeau Back with Whale
Laing Signing Touches NWHL Heartstrings
Another Boston Pride Signing
Throughout the summer, the Boston Pride have been building a formidable roster by bringing back their top-end veterans—players like Jordan Smelker, Jillian Dempsey, Lexi Bender, and others. The team has also pursued and acquired talent in former rivals from other NWHL teams like Janine Weber and Kaliya Johnson. The main components of the team are now likely in place. The interesting part becomes Boston's assembling of some accouterments to further bolster their roster. One of those additions accentuating the team will be a recently-graduated youngster.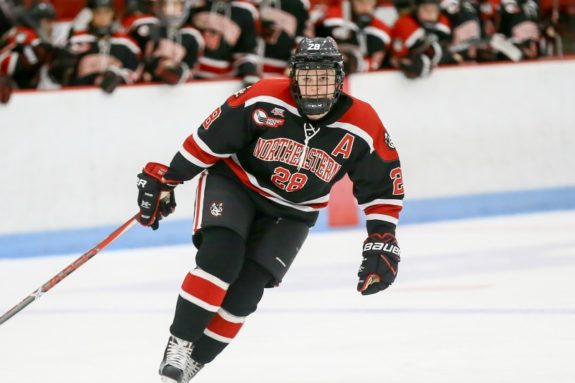 A Home in Boston for Savage
Add into the fold another fresh face in Paige Savage from Northeastern University.  Savage was the 15th overall selection in the 2016 NWHL, and was initially chosen by the Connecticut Whale. Though the Whale selected her, she has instead chosen to sign with Boston. Savage said via an NWHL press release:
"After my time in Northeastern, Boston has become my home. I definitely am not ready to give up hockey, and the NWHL gives me a chance to pursue my dream. I also want to search for coaching opportunities in the area."
A Solid Five Years at Northeastern
Savage, originally from the state of Georgia, had a potent offensive career while at Northeastern. Across five seasons with the Huskies, Savage compiled 37 goals and 69 assists for 106 points in 149 games. During her sophomore season (2013-14), Savage led the team in points and assists, and tied for the team lead in penalty minutes and plus/minus.
.@GoNUwhockey alumna Paige Savage signs pro contract with NWHL's Boston Pride #GoNU https://t.co/dAlUdXMtSu

— Northeastern Huskies (@GoNUathletics) June 19, 2017
Twice during Savage's college career she recorded four-point games. A goal and three assists versus Clarkson in January of her freshman season (2012-13) came first. She would repeat the exact feat during her senior season in October of 2016 against Boston University—further proof that she was productive during all portions of her time at Northeastern. When she suits up for the Pride, Savage should have little trouble putting the puck into the back of the net.
Savage Is a Power Forward
One of Savage's most noticeable attributes is her size. At 5 feet 8 inches and 150 pounds, Savage is a robust forward who can make her presence known in front of the net. She has no problem getting into dangerous scoring positions and can finish once she is there.
The fact that she averaged nearly a penalty minute a game during her college career (140 PIMs in 149 games) correlates to her ability to play a physical game and to use her size to her advantage.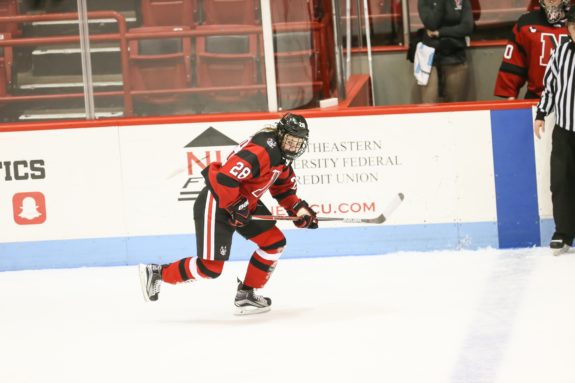 Success on the International Stage
Not surprisingly, Savage has shown success in international hockey in addition to her accolades at Northeastern. Representing the United States at the 2012 IIHF Women's U18 World Championships in the cities of Zlin and Prerov in the Czech Republic, Savage finished in a three-way tie for fourth overall in tournament scoring.
Savage's two goals and six assists in five games helped she and Team USA capture a silver medal. She would also score early and often in the tournament. As the U.S. handed Russia an 8-0 drubbing in the first game of the preliminary round, Savage picked up a goal and two assists. Three assists would be tacked on by her in the second prelim game, this time against Sweden. The final prelim affair of the tournament, a 13-1 win over the Czech Republic, would be another goal and an assists added by Savage.
#NWHL FREE AGENCY NEWS:

Three D1 college grads sign their first pro contracts.

MORE: https://t.co/7kWCpbwIXI pic.twitter.com/YIcLPvRbyL

— NWHL (@NWHL) June 19, 2017
A Chemistry Already Present
What is an interesting underlying factor in Savage's signing with the Pride is that there is likely some chemistry already in place. At that same 2012 U18 tournament, two of Savage's teammates will be teammates of hers again in Boston. Both defender Kaliya Johnson and soon-to-be fellow Pride rookie goaltender Brianna Laing represented the U.S. with Savage on that silver medal squad.
Familiarity and comfort always count in hockey, especially when a rookie like Savage begins to find her place and make a name for herself. Given her style of play and ability to produce, it is a likelihood that Paige Savage will become a Boston Pride fan favorite rather quickly. Furthermore, the 2017-18 season should see her become one of the NWHL's most exciting and most admired rookies.
General Manager of the Buffalo Beauts (NWHL). Hockey history writer "The Hockey Writers". Credentialed media for the NHL Combine and 2018 IIHF World Junior Championships in Buffalo, NY, USA. Born and raised in Buffalo, NY. Lifelong hockey fan for over 40 years. Proponent of the women's game.