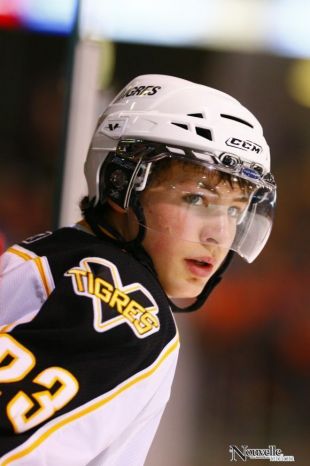 Some players like Steven Stamkos or Brayden Point jump straight from Major Junior to the National Hockey League and some take a couple years of grooming in the American Hockey League to make it to the NHL. There are also the guys who never make the NHL. However, there is yet another group of guys who take a little more time to marinate and grow before making their way to the NHL. Yanni Gourde fits into this last category.
The diminutive winger (5' 9", 172 lbs.) from St. Narcisse, Quebec, is still only 25 years old (he'll turn 26 on Dec. 15) but he has already taken a longer road than most NHLers. He played his junior hockey with the Quebec Major Junior Hockey League's Victoriaville Tigres, and since turning pro in 2012 he's played in Worcester, MA, San Francisco, CA, Kalamazoo, MI, Syracuse, NY, and, of course, Tampa, FL. To top things off, two of the teams he's played with, the Worcester Sharks and the San Francisco Bulls, do not even exist anymore.
Impressing the Lightning in Kalamazoo & Worcester
After finishing his first pro contract (a two-year deal with the Worcester Sharks), Gourde started the 2013-14 season on an ECHL contract with the Kalamazoo Wings. He proved to be unstoppable at that level, posting 34 points in 30 games before he was signed to a PTO by Worcester on Jan. 6. His offensive game didn't skip a beat as he posted 24 points in 25 games. The Sharks released him from his PTO on March 8. The Lightning wasted no time and signed Gourde to an AHL contract on March 10 to finish the season as well as an entry level contract that would kick in the next season.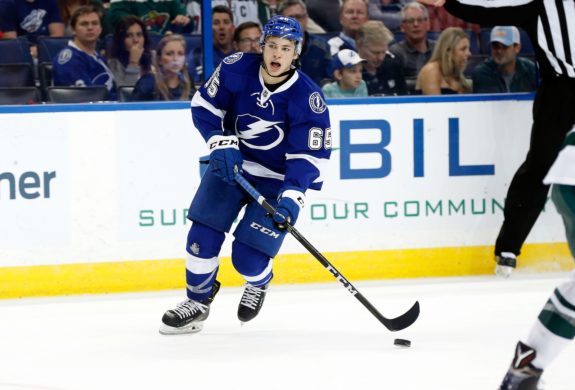 After joining the Crunch, Gourde appeared in 18 games and only had eight points but the Lightning were still confident they had made a smart decision signing Gourde. In 2014-15, he didn't let the organization down. He was the Crunch's second leading scorer with 57 points in 76 games during the regular season and tied for the scoring lead in the team's brief playoff appearance.
The next season, 2015-16, again saw Gourde's name high on the Crunch's list of leading scorers as he tied for third with 44 points in 65 games. While that season was a rough year for the Crunch overall, it was a personal success for Gourde. On his 24th birthday, Gourde made his NHL debut and scored his first NHL point with an assist on a third period goal in a Lightning win over the Toronto Maple Leafs.
Gourde's Biggest Goal Is Becoming an NHL Regular
Gourde would only play one more game in the NHL in 2015-16 but he got more of an extended stay in 2016-17. Once again, Gourde's name was near the top of the scoring leaders for the Crunch with 48 points in only 56 games. He likely could have, and would have led, the team in scoring if he had not played only 20 games with the Lightning. During that time, he scored his first NHL goal on March 11 of this year. He went on to score five more goals in the last month of the season to go along with two assists.
#tblightning Yzerman on Yanni Gourde: "He had a fantastic season. He's improved every year in every aspect."

— Joe Smith (@JoeSmithTB) June 26, 2017
Gourde's first NHL goal is a perfect example of his determination to do anything to help his team and improve as an overall player. The Lightning were in a late season push in an attempt to make the playoffs and they were down 2-1 to in-state rivals the Florida Panthers. Gourde, playing in his fifth NHL game of the season (and third of his second callup of the season), was playing aggressively on the penalty kill and forced a turnover. He rewarded himself by collecting the puck, skating the length of the ice, fights off a couple slashes from Vincent Trocheck, and firing the puck under James Reimer's left leg. Even if he hadn't scored, he would have drawn a penalty on Trocheck.
After the Lightning missed out on the playoffs, Gourde returned to Syracuse for the Calder Cup playoffs and was second on the Crunch in scoring with 27 points and led the team in assists with 18 in 22 games as the Lightning's AHL affiliate made the league final for the third time in six years.
Gourde was re-signed to a two-year, one-way deal worth $1 million per season on June 26 after impressing the organization on his one-year "show us what you got" type deal last season. The Lightning's two-year commitment to Gourde along with his skill, track record, and willingness to do anything for the team lead one to believe that the NHL is about to get even more familiar with Yanni Gourde.
Geoff Nichols is a 29-year-old lover of all things hockey in non-traditional markets. He is a former front office member for a minor league team in Florida and has worked in or covered hockey in Texas and the southeast United States. Be sure to follow him on Twitter or Like his Facebook page.