Auston Matthews was not only incredibly impressive in his rookie NHL season – he was borderline unstoppable.
The first overall selection in the 2016 NHL Draft, Matthews quickly lived up to the massive expectations placed upon him by both the Toronto Maple Leafs and their devoted fan base in 2017-18. Following a sensational first game against the Ottawa Senators in which he netted four goals, Matthews embarked upon a blistering campaign which saw him land the Calder Memorial Trophy.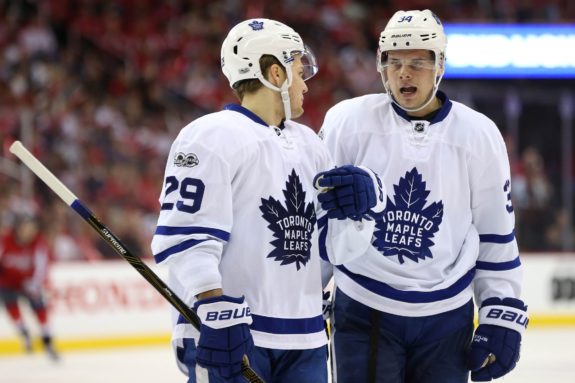 As the first Leafs player to nab the distinction since Brit Selby did so in 1965-66, Matthews' rookie of the year honours established him as a legitimate NHL talent with the ability to dominate the league – all over the course of a mere season.
Now, while it goes without saying that Matthews is a tantalizing talent who will surely lead Toronto to the playoffs with startling regularity, is he already one of the NHL's best players?
Well, according to The Hockey News' 2017 Yearbook, Matthews is the eighth best player in the league. As a result, Matthews is ranked higher than a number of notable elite talents and places a whopping nine spots higher than John Tavares – the soon to be free agent and native of Mississauga, Ontario.
So, is Matthews already better than Tavares?
A Tale of Two Talents
Despite their differences, Matthews and Tavares are two incredibly similar players.
Both first overall selections in their respective NHL Drafts, Matthews and Tavares are truly exceptional talents who possess the skills and determination to change the outcome of a given game in a split second. Of incredible strength and composure, each young star is more than capable of leading their team's offensive attack and are remarkably consistent in doing so.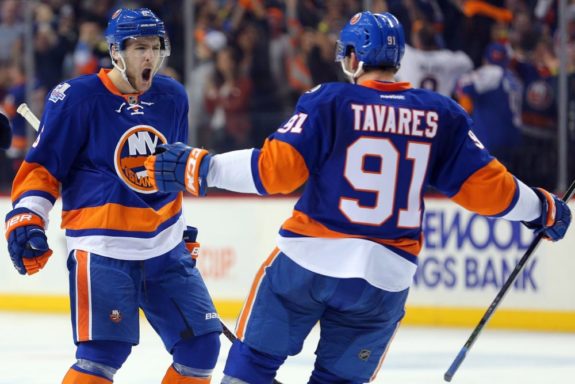 Heading into the 2017-18 campaign, Tavares had totaled 235 goals and 537 points in 587 games played. With a slightly greater total of assists than goals scored, Tavares' ability to create plays as well as finish them off speaks to the influence of his comprehensive game on the ice. Further, Tavares has the ability to remain calm under pressure with relative ease and, as such, is no stranger to thriving in the moments when his team needs him the most.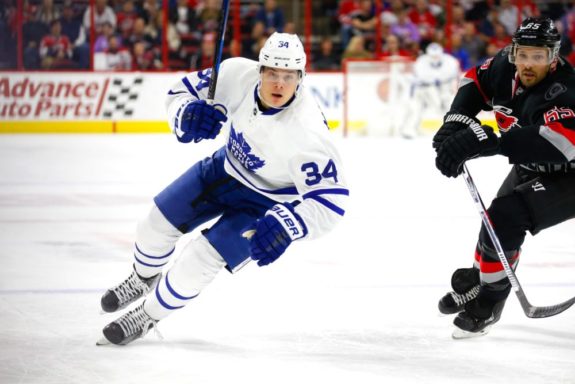 Conversely, Matthews' career to date has been relatively short. With 82 regular season games under his belt, Matthews' offensive production thus far presents a drastically smaller sample size than Tavares which, in turn, makes it extremely difficult to draw comparisons. With an impressive 40-goal season in hand, Matthews certainly has immense potential and should develop into the Leafs' franchise centre-ice man.
However, given his meager experience when compared to Tavares, it is extremely difficult to make an accurate and informed decision as to who the better player is.
The Case for Matthews
2016-17 season: 82 games played – 40 goals, 29 assists, 69 points
THN's Top 50 Player Ranking: 8th
Let's begin by making the case that Matthews is a superior player to Tavares right now.
In THN's 2017 Yearbook, Matthews is ranked as the NHL's eighth best player while Tavares trails behind at 17th overall. How Matthews is also already a better player than the likes of Victor Hedman, Jamie Benn, and Brent Burns amazes me as well, however, that is a topic for another article entirely.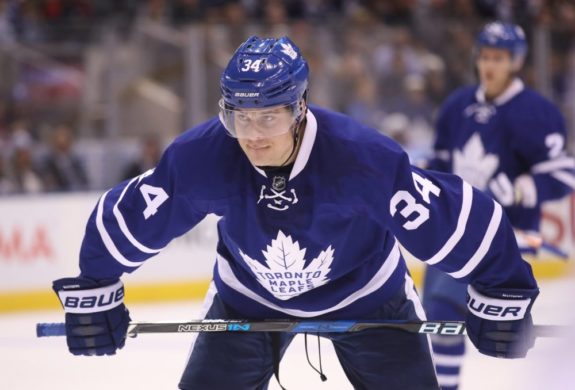 In terms of THN's justification, Matthews places within the top-10 largely due to his massive potential to grow – which is certainly true. However, we're debating who the best players in the NHL are today, not seasons from now. So, while Matthews will surely become one of the league's most dominating players, a mere season of play is simply too small of a sample size to base such a decision upon.
So, what edges does Matthews hold over Tavares at the moment, you ask?
Well, the most notable of which is surely Matthews' size. While Tavares is also a terrific puck protector, Matthews' sturdy frame despite his young age allows him to fend off his opposition as well as battle more effectively for contested pucks. As a result, Matthews notched 76 takeaways last season – the third most in the NHL – while Tavares followed somewhat closely behind with 63.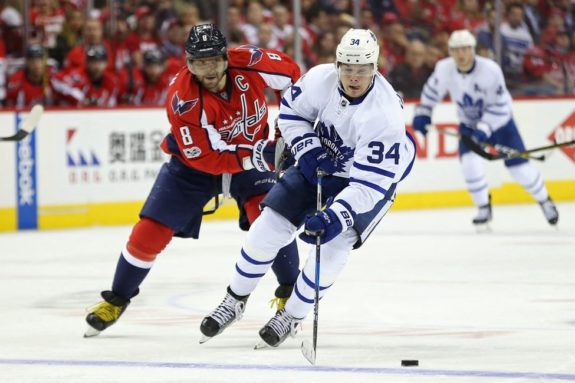 Further, there is Matthews' ability to drive hard to the greasy areas of the ice in search of loose pucks. With the majority of his goals coming from within the home plate last year, Matthews' willingness to battle for and claim loose pucks supplemented his goal total with great frequency. Now, this isn't to say that Tavares is unwilling to fight for the possession of contested pucks, only that Matthews had considerably greater success in doing so throughout the 2017-18 campaign.
The Case for Tavares
2016-17 season: 77 games played – 28 goals, 38 assists, 66 points
THN Top 50 Player Ranking: 17th
Having presented a case for Matthews, let's now take a closer look at Tavares and, in doing so, attempt to understand his shockingly low ranking.
The main justification which THN presents for Tavares' low placement within their rankings is his point total which has, in fact, decreased in recent years. After recording a career-high 86 points in 2014-15, Tavares has since fallen to 70 points in 2015-16 and, most recently, 66 points in 2016-17.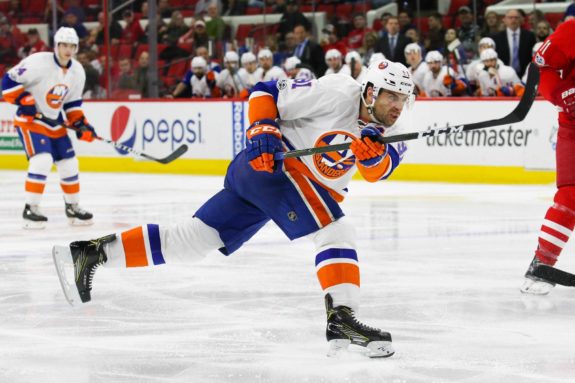 Despite this slight regression in his production, Tavares' points per game mark has still remained at greater than 0.85. Viewed by THN as the main reason behind his decreased ranking, Tavares' game by game offensive production in an "off" year still remained higher than that of Matthews' sensational rookie season in which he achieved a mark of 0.84.
So, to rank Tavares nine places lower than Matthews due to a slight decrease in production is simply not a valid argument, as even in a campaign of lower offensive output Tavares still remained as a more potent threat than the higher ranked Matthews.
With this being said, which traits does Tavares possess which makes him superior to Matthews?
Well, the strength and value in Tavares' game are that he is a sound all-around player. For Tavares, his work begins in his own zone. As a quality defensive player who understands his role and responsibilities, Tavares has the ability to win faceoffs with great regularity and can secure possession before devising and implementing breakouts. Having won 824 draws in 2016-17 – the 11th most in the NHL – Tavares ensures puck possession for his team which, in turn, leads to greater offensive opportunities.
Yes, Tavares' offensive output slipped slightly last season, however, he remains as lethal as ever when the puck is on his stick – which it usually is. A crafty stick-handler of immense creativity, Tavares can protect the puck and pass it to an open teammate with ease or use his strength to fend off his opponents before placing a blistering shot on net. Aware of his positioning at all times and able to find openings on the ice, Tavares as the unique ability to sneak away from his opposition before making them pay the ultimate price.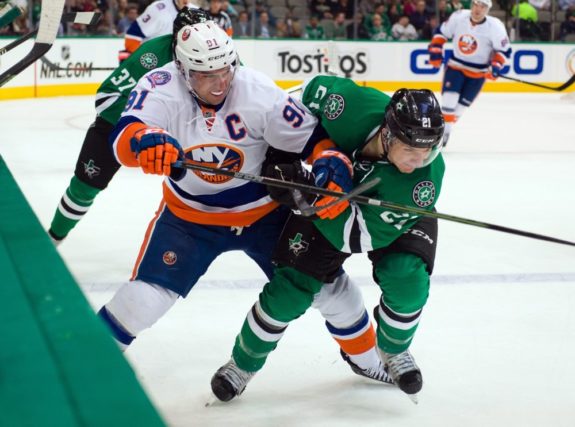 Unlike Matthews, whose goals tend to come from within the hash-marks and close to the crease, Tavares' clandestine nature allows him to pound surprising one-timers on goal from interesting angles as well as place shots on net while using his opponents as a screen. A truly unpredictable player whose creativity drives his lethality, Tavares' strong all-around game and innate offensive abilities make him a unique player of which there are few comparisons.
In short, Tavares' game speaks for itself. A tremendous leader who is the captain of the New York Islanders for a number of reasons, Tavares is a remarkable talent whose consistent success is a feat to be admired.
Who is the Superior Player?
While it goes without saying that both Matthews and Tavares are exceptional young players of tremendous skill and promise, at this point in time it is Tavares who is the superior player.
Why Tavares, you ask?
Well, while Matthews holds tremendous potential and could very well become a greater all-around player than Tavares, it is the latter's current all-around game which makes him so much more valuable. Of course, as Matthews gains greater experience his defensive game will surely improve, however, at the moment, Tavares' strong defensive play, abilities in the face off circle, leadership qualities, and consistent offensive production combine to form a complete package which has become incredibly rare in today's NHL.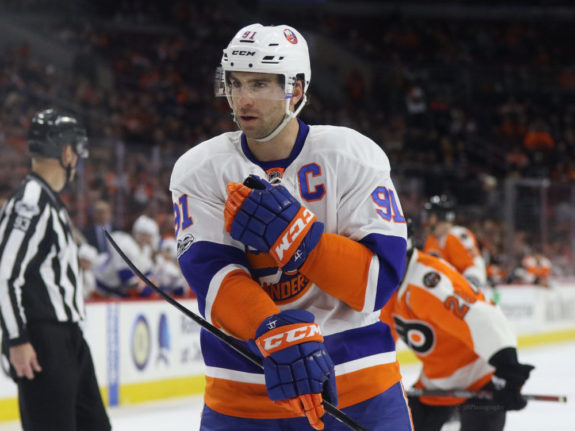 In hindsight, THN's justification for ranking Matthews as the eighth best player in the NHL is quite understandable. Fresh off of an amazing rookie season, Matthews is undoubtedly heading in the right direction and will surely become a fixture amongst the league's best for years to come.
However, I feel as though THN's perception – and ranking – of Tavares was incredibly inaccurate. Sure, his offensive totals have fallen of late, yet Tavares still remains as one of the NHL's most potent threats in addition to his stellar all-around game.
So, while Matthews could very well develop into a sensational comprehensive player and one greater than Tavares, such is simply not the case at this moment in time.
Brett Slawson is a four-year veteran of The Hockey Writers who covers the Toronto Maple Leafs, NHL prospects, and the OHL's Mississauga Steelheads.
Contact Brett on Twitter @brettslawson92, or by email at brett_slawson@hotmail.com.