Following the regular season, one would think at first glance the Detroit Red Wings agreeing to a contract with their most electrifying forward in Andreas Athanasiou would be an afterthought, despite the new contract that would be coming to Tomas Tatar.
However, it's August 24, the Wings are still just over $3 million over the salary cap a few weeks from camp, and Athanasiou still remains a restricted free agent.
But now he has another offer on the table from Russia's KHL – one that, according to Craig Custance of The Athletic Detroit, his agent deems significant.
While this can be taken with a grain of salt as a negotiating tactic by his agent to up the urgency of getting his client signed before camp, the fact that it's reached this point speaks volumes about the course management itself has set the team on.
Management that has been lenient on veterans due to their experience stock, despite what on-ice performance may say. Management that, prior to a five-game defeat in the first round of the 2016 Eastern Conference playoff picture, called Anthony Mantha a spare part in Grand Rapids before electing to go with Joakim Andersson. Andersson, a fourth line player, would sign in Sweden after the team scored eight goals total in the five games.
Management that, on numerous occasions, has overvalued older players and undervalued younger players.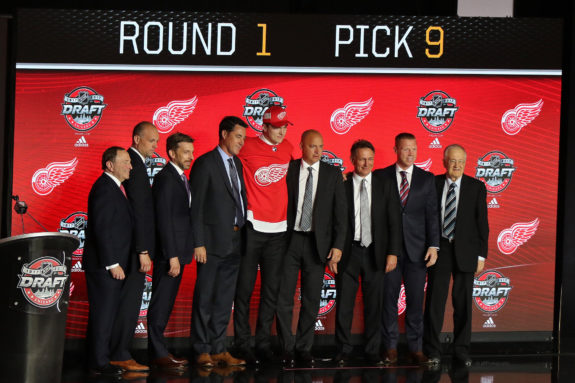 Regarding Athanasiou, it's nothing different.
Lack of Compete Level
A disclaimer to kick things off – Athanasiou is not the best player on the team. In fact, he's a work in progress defensively to say the least. Some of head coach Jeff Blashill's comments on his lazy defensive play is justified with a 47.39% Corsi-for percentage to his name.
However, 2016-17 was his first full season, and the 23-year-old center turned winger is not known for his defense. Not many young players, if any, are. They usually improve their defensive-zone game with age. There's one true weapon that Athanasiou is blessed with in his offensive game, and that's speed. It's something so crucial to have in the game today and an electrifying trait that is missing from the Wings at many positions. His highlight package offers a taste of that:
From the start of 2015 to the end of last season, his 1.36 goals-for per 60 minutes ranked first on Detroit among forwards with a minimum of 100 games played. In the entire league with that sample size, the London, Ontario, native ranked tenth, just behind the likes of Patrick Kane and Jeff Skinner. Sidney Crosby was not far ahead.
Yet, last season, ten Red Wing forwards carried more ice time than Athanasiou, who averaged 13:27 per game. His 18 goals surpassed nine of them, and he missed 18 games.
That's not good enough.
Another knock on young players is that they're apt to taking too many penalties, a sign of lazy play some would say. In 2016-17, nine NHL rookies took over 50 minutes of penalties, including Mantha. Athanasiou took eight minor penalties and drew 14, using that speed to his advantage. His plus-.41 penalties drawn versus taken ratio per 60 minutes ranked fourth among Red Wing forwards who played a minimum of 30 games this past campaign.
Still, not good enough.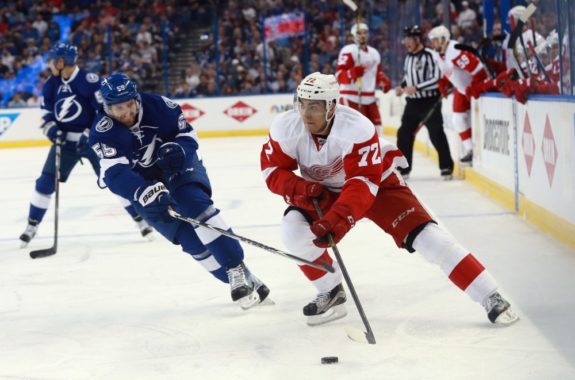 Double A's Double Standard
On a team that finished 25th in the league last season, one would think that Athanasiou was a bright spot in a mundane season. However, he bore the brunt of much criticism from Blashill when others, paid handsomely, underperformed.
Danny DeKeyser looked quite uncomfortable this season and made many mistakes, though he was put in an unfair spot not being a top-pairing defenseman. Jonathan Ericsson at his price tag continued to draw into the lineup despite a hip condition revealed before last season. He continued to make simple mistakes that hurt the Wings on multiple occasions.
Justin Abdelkader scored seven goals this past season, his second consecutive year of decline. Darren Helm continued to disappoint, as he missed at least 30 games for a third time. Luke Glendening was one of the more atrocious possession players in the league yet again, posting a 43.23% Corsi-for percentage in 2016-17.
However, the critique, if any, was very limited because they've built up some tenure, or stock.
Riley Sheahan had a much maligned season of infamy scoring zero goals in his first 79 games, yet played more than Athanasiou because he was not judged on statistics. While part of that may be true with his size and history as a defensive centerman at Notre Dame, it's incredible how much grief and reduced ice time Athanasiou received versus Sheahan with their stark difference in raw performance this past season.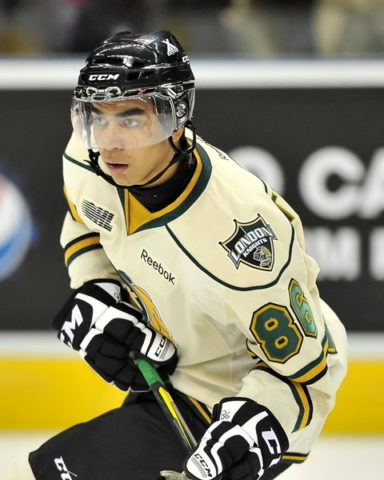 From the outside, it's unknown what Athanasiou's presence is like in the locker room, but there are no leaks or indications that the Wings are dealing with someone like Evander Kane. The Buffalo Sabres forward and gifted scorer has given a cancerous impression in more ways than one through his career.
Athanasiou was at odds with then-head coach Dale Hunter during his OHL days demanding a trade from the London Knights in 2012, oddly enough five years ago today. However, in a business based on results, he doesn't deserve to be singled out as much as he has been through his 101-game tenure in Detroit. This is especially true when other underperformers who have made even more glaring mistakes have not been held accountable under the same microscope.
The Wings Way Must Continue to Evolve
The old "Red Wing Way" was about seasoning prospects to the point of over-ripening them when the team was a perennial contender. Gustav Nyquist, Tomas Tatar, Nick Jensen, Xavier Ouellet, and others who have logged multiple seasons in Grand Rapids know it all too well.
That all changed when Dylan Larkin signed his entry-level contract in 2015 and made the team as a 19-year-old after one season in college. Dennis Cholowski followed suit the next year signing his deal after a single collegiate campaign.
Heading into uncertain territory, the Wings, from an asset standpoint, should be encouraged to play young talent like Athanasiou more and let players like him learn from mistakes along the way. It's a better alternative than continuing to single out and scrutinize despite impressive production.
The opportunity was there this summer to let players like Ouellet and Jensen take a step on the defense corps, but Trevor Daley was brought in to win now on a three-year deal. That money could've been used to wrap this Athanasiou fiasco up and not make it a discussion.
While Daley is a fine veteran at a solid price tag with valuable Stanley Cup experience, he will take minutes from another younger asset. The soon-to-be 34-year-old would be better off in a situation that doesn't point towards a rebuild. General manager Ken Holland, however, doesn't believe in that plan and brought in Daley to return to the playoffs this coming season.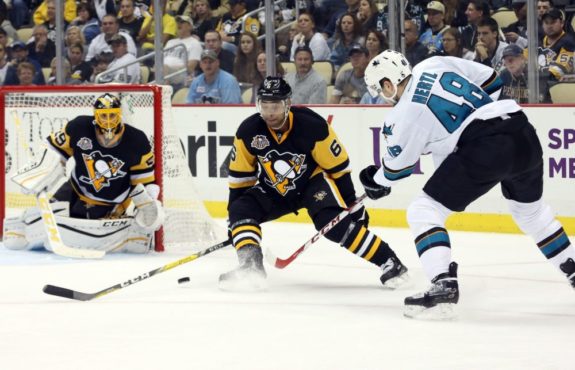 The signing of Luke Witkowski mirrored Daley's. He can play forward and defense but plays the grinder's role that Tyler Bertuzzi will likely show with the big club this season.
While the Wings showed some warmth to the idea of a rebuild at the 2017 trade deadline dealing Thomas Vanek, Brendan Smith, and Steve Ott away for multiple draft picks, the signings of Daley and Witkowski reaffirmed the intention to win now. That only will put a bandage on an inevitable collapse.
Athana-See-You Later?
Pardon the dated pun.
On the surface it's more than surprising at this point that Athanasiou's contract was not an early checkmark. However, with management's monetary commitment to an aging guard, that sense of surprise diminishes. The Wings have become a team that is no longer clinging to superstars drafted before the salary cap's inception in 2005. The last five years under this regulation have humanized the franchise. In a league that requires shrewd investment into cornerstone players and leaders, Detroit has made its share of blunders hurting the team in the present.
Just under $10 million has been invested in a select group of forwards to carry the tradition of Hockeytown to the next generation. Herein lies the issue. These players are either on the wrong side of 30, do not offer any dynamic ability in terms of offense, or both. Abdelkader, Glendening, and Helm combined for 18 goals and a 45.6% Corsi-for percentage last season, including a -2.8% relative Corsi-for percentage when they were on the ice. Those contracts start expiring in four years.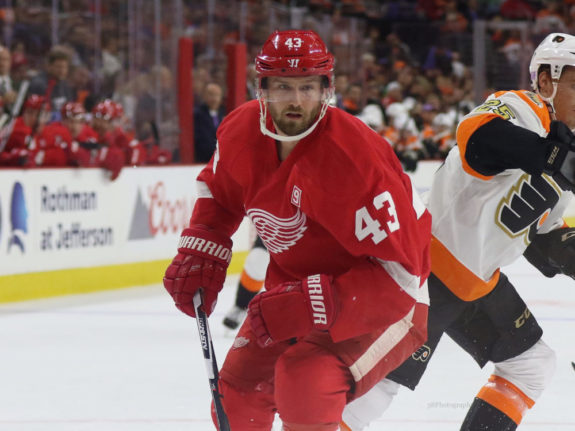 While Detroit will have around $1 million in cap space with the long-term injured reserve relief Johan Franzen brings, a common sense feeling is that Athanasiou will not want to make less than Glendening's $1.8 million. The team will need at least $2 million to retain him. Defenseman Robbie Russo remains unsigned as well, and Holland seems to be fine with a wait-and-see approach in camp, possibly losing another prospect to waivers.
Henrik Zetterberg is going to retire in two years in what will be a capping of any traceable connections to Detroit's last quarter-century of greatness. The focus now should be entirely on grooming the youth for future leadership to build contenders beyond this season.
However, as the Athanasiou contract situation depicts, the outdated direction of investing in dynamically-challenged veterans with win-now investments has put Detroit into hockey purgatory and slowly into irrelevancy. It's to the point now where the organization has put itself in the position to lose one of their most promising young weapons for absolutely nothing.
That in itself is a microcosm of everything wrong with this process.
Griffin is a Junior at Northwood University in Midland, Michigan pursuing a Sports and Entertainment degree. His passion of writing began when Detroit Red Wings captain Henrik Zetterberg was out for the season in 2014 and he wanted to give his thoughts. Griffin comes from LastWordOnSports.com where he had the role of "associate editor" and wrote nearly 300 articles over three years for their hockey department.