Much of the Boston Bruins coverage this offseason has been speculative. The roster is in flux, especially on offense. The lack of a complete top-six and an infusion of unproven young talent have lent intrigue to the intervening months between seasons. The truth is, that we don't know how the Bruins' forward lines will shake out.
The defensive end is more certain in the sense that we know the pieces. For better or worse, barring injury or trade, the Bruins will likely begin the season with Zdeno Chara, Brandon Carlo, Torey Krug, Charlie McAvoy, Adam McQuaid and Kevan Miller on the back end. Head coach Bruce Cassidy could choose any number of pairings, so, rather than traffic in speculation, I'll analyze the benefits and detriments of some potential tandems.
Top Pair
Chara-Carlo
This is the obvious place to start since it was Boston's top d pair last season. Defensively, it was extremely effective. Despite Chara's well-publicized deficiencies, he remains one of the most difficult defensemen to play against in his own zone. While he started only 41.1% of his shifts in the offensive zone, the Bruins still managed 52.4% of total shot attempts (Corsi For Percentage or CF%) while he was on the ice.
Carlo's numbers were similarly impressive. He started only 43.7% of shifts in the offensive zone and put up a 52.0 CF%.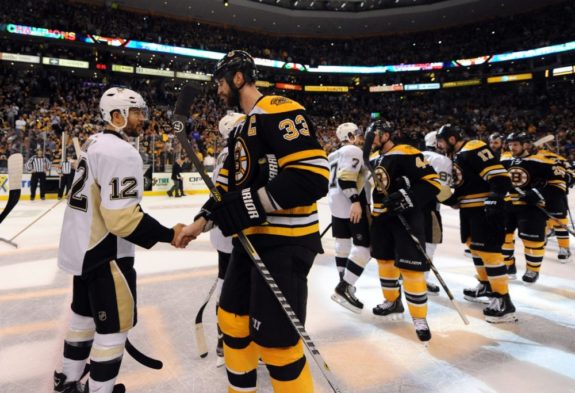 Cassidy employed this pairing against the opponents' best offensive lines, usually in their own end. Neither Chara nor Carlo produced a significant number of shot attempts, goals or assists — Chara put up 29 points in 75 games, while Carlo managed only 16 points in 82 games. Contextually, this means that the two of them were excellent at limiting their opponents' offensive opportunities. If the Bruins were to use this configuration again, it would be a safe, if somewhat boring, shut-down pair.
Chara-McAvoy
Here's where things get interesting. In his brief, six-game debut, McAvoy's skating ability and awareness showed that, at the very least, he will not be a defensive liability. He skated against top competition for much of his premier, and his 52.1 CF% is an indication that he is ready to handle a top-pairing role. His presence would bring an offensive spark to what was a pretty stagnant top-tandem last season. McAvoy is already a dynamic skater and puck-mover, and Chara would be a phenomenal safety blanket and mentor for the youngster.
Chara has shown in the past few years that his captaincy is well earned. He has the ability to mentor young blueliners while still carrying the load of a number-one defenseman. This pairing could be extremely potent if McAvoy develops as quickly as believed. Imagine a lesser version of the Karlsson-Methot pairing of years past. Yeah, that sounds good.
Middle Pair
Krug-Carlo
This could really work. Ideally, on a contending team, Krug would be a bottom-pair, power play specialist. However, he could jive with a player like Carlo who is both defensively responsible and also pretty good at skating the puck up the ice. An uptempo second pair would really play into what Cassidy has implemented defensively, and it might help to jump-start Carl's offense.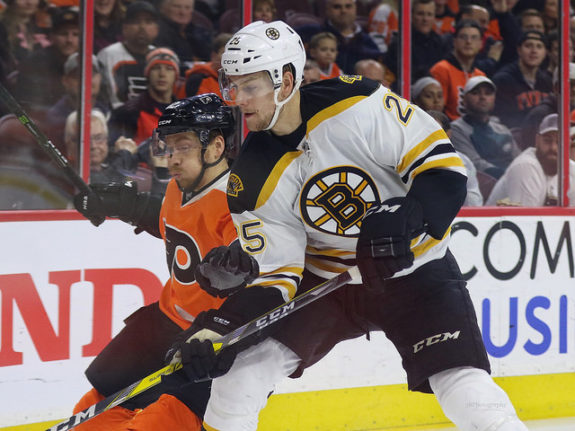 Krug has been at his best playing alongside stay-at-home defenders like McQuaid and Miller. Carlo is a better skater than either of those two and could afford to be a little more aggressive pushing the puck up the ice. He seems to have a pretty good shot, and matching him with a guy like Krug could be the key to unleashing him.
Obviously, there's the possibility that after just one season, Carlo won't be ready to anchor his own pairing. He struggled a bit last season when Chara missed some time due to injury. However, the upside of this duo warrants at least a serious look.
Krug-McAvoy
Just the sight of these two names together might have Bruins fans hearing goal horns. These two are best known for their ability to skate the puck up the ice and the result could be some really fun hockey with both players aggressively skating the puck below the dots. The problem is, the duo could cause a lot of scoring opportunities for opponents. It may also stifle McAvoy's development if he feels like he has to hold back in order to anchor Krug. This tandem may sound fun, but it's a swing and a miss.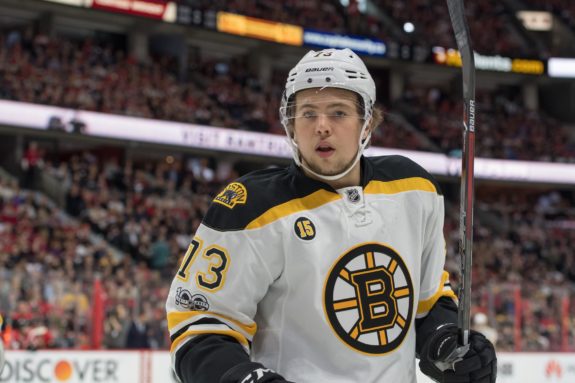 The more devastating reality is that these are the only two truly offensively talented defensemen now that Chara has dialed back his offensive game. Putting them both on the same pairing would place a tremendous amount of pressure on them to produce at even strength.
Miller-McAvoy
If Cassidy elects not to play McAvoy on the top pairing, this could be a good alternative. Miller showed an improved game at both ends of the ice under Cassidy. He was protected from the expansion draft for that reason, as well as his ability to play on the left side. He would give McAvoy a stay-at-home anchor with a modicum of ability to jump into the play when needed.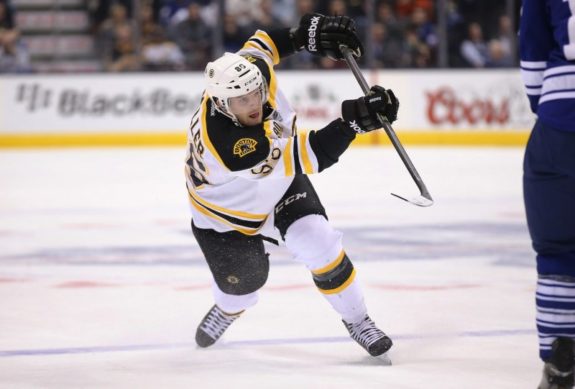 The upshot is that this would balance out the second and third pairs. It would allow Krug to play on the bottom pair with McQuaid-a spot in which he's excelled in the past.
Bottom Pair
Krug-McQuaid
As mentioned above, if Miller were to play on the second pairing, Krug would be free to play against a lower quality of competition on the third pairing with McQuaid. We've seen the success he's had with McQuaid on that bottom pair. In his rookie and sophomore campaigns, the Bruins defense was a bit deeper and he was in that role most of the time and was able to notch eight and 10 even-strength goals, respectively. In his two seasons since, he's managed only five total five-on-five goals.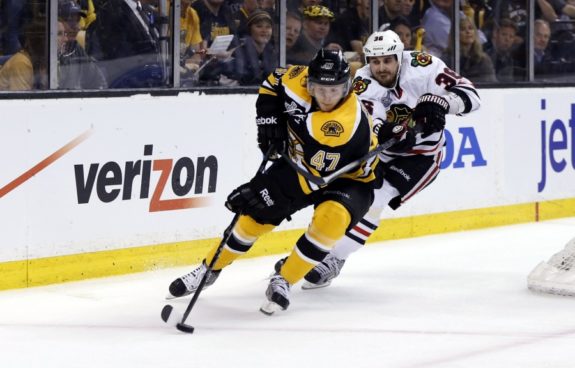 McQuaid is solid. While the league is trending away from his brand of hard-nosed play, it's still nice to have a guy who can throw down if needed. He's also very good defensively. He will anchor the third pairing and he will do it well, rarely a liability and the perfect type of guy to pair with the diminutive Krug.
The Bruins are at their best when their defensive depth allows for the Krug-McQuaid bottom pairing. It's been awhile, but it's becoming a possibility again.
Miller-McQuaid
If you want to talk about solid pairings, this one would be formidable from a physical standpoint. However, as boring as Chara-Carlo is offensively, Miller and McQuaid would be more so. If Cassidy decides to put Krug on the second pairing with Carlo, though, this duo would be a viable option for shoring up the back end.
Closing Thoughts
The most important thing to look for throughout camp and going into the preseason will be where Carlo and McAvoy are playing. If Carlo is away from Chara, it may indicate that Cassidy believes he's ready to anchor his own pairing. This could be beneficial both for this coming season and to prepare for a future without Chara. If Carlo can demonstrate his independence, it could have a domino effect on the rest of the defense.
McAvoy and Carlo are the future of the Bruins' blue line, and their development is of paramount importance. If the Bruins go into the season with Chara–McAvoy as the top pairing and Krug–Carlo as the second pairing, it will be an exciting sign of Cassidy's trust in them.