With the 2016-17 Season in Boston Bruins' rear view mirror, all eyes now turn to the NHL Expansion Draft. The good news for the Bruins and their fans is that the team sits in better position than many of their league counterparts. The bad news? A roster piece will still be heading to the desert with nothing coming back in return.
Boston's seven protected forwards are essentially etched in stone: Patrice Bergeron, Brad Marchand, David Krejci, David Pastrnak, David Backes, Riley Nash and Ryan Spooner will be protected.
Zdeno Chara and Torey Krug are the shoo-ins on defense, leaving just one open slot for protection. Heading int0 (and throughout much of) the season, Colin Miller's protection was a foregone conclusion for that final spot. However, a fade down the stretch (as well as a Herculean performance from Kevan versus Ottawa) has thrown a wrench in those plans. Without further ado, I present the case of Miller v. Miller. Let's dive in.
We're the Millers
They share a surname, employer, position, and were even partners for much of the 2016-17 season. The similarities end there.
Kevan is the rugged, stay-at-home vet of 200-plus NHL contests. He's from Los Angeles, which possibly explains the spelling of his first name. Kevan potted three goals and 10 assists over 58 contests in 2016-17. He can often be found punishing forwards with extreme prejudice, or on Injured Reserve.
Colin is the swift-skating, hard-shooting, former AHL All-Star. He has 100-plus games of NHL experience under his belt. He's from Ontario, which possibly explains why his name isn't spelled "Colynn." Colin netted six goals and seven assists over 61 contests in 2016-17. He can often be found effortlessly skating away from forecheckers, skating into forecheckers, and blasting slappers into shin pads.
Protecting Kevan: The Case For
Kevan Miller's game grew by leaps and bounds this past season. Though an injury forced him out of the team's first 19 games, Miller hit the ground running once he returned.
His situational awareness seems to have improved vastly. His first several seasons were laden with missed assignments and blown coverage, especially around his own net. Those disappeared nearly en-masse in 2016-17. In the past, he seemed to struggle with identifying when to pinch down the wall and when not to. Again, the bad gambles virtually disappeared.
In addition to his improved awareness, Kevan seemed to be a more nimble version of himself. Part of this can be attributed to his growing confidence, experience, and longer leash in Bruce Cassidy's up-tempo style. The rest of it is surely a byproduct of the offseason work he put in with former Bruins star (and current freelance skills coach) Adam Oates. This was never more evident than in an early-April contest against the Chicago Blackhawks when "Killer" channeled his inner Bobby Orr.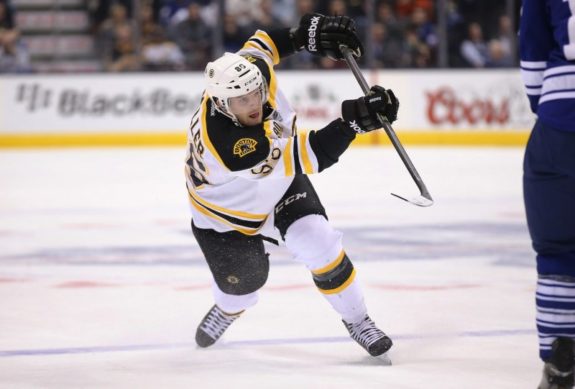 With his team clinging to a one-goal lead in the third period, Kevan jumped on an errant outlet pass at the red line. He exploded through the neutral zone with zero hesitation. As he gained the blue line, he made a very good defenseman in Niklas Hjalmarsson look silly with a deft toe-drag. From the left circle, Miller fired a snapshot far post/top shelf, finishing off a gorgeous (and ultimately game-winning) play. The play was no fluke; it was the direct result of confidence and preparation meeting opportunity.
Still a Bad Dude
Though Kevan Miller is no longer JUST a rugged, stay-at-home defenseman, it's still his bread and butter. In addition to the punishing hits, there aren't too many guys in the modern NHL who can go toe-to-toe with "Killer." The league may be moving away from the enforcers of yore, but there will always be room for a guy who can play AND fight. Especially in Boston. Ask Joe Vitale.
With his team leaking defensemen on a daily basis at the end of the season, Kevan saved his best for last. Forced into a role as the team's de facto third defenseman in the playoffs, Miller was a monster versus Ottawa. As Clarke MacArthur relayed to the Boston Globe's Fluto Shinzawa:
That Miller's an absolute animal.

– Clarke MacArthur (Fluto Shinzawa, Boston Globe) April 25, 2017
Averaging over 25 minutes per night, Kevan single-handedly held Boston's second pairing together. On the penalty kill, Miller paired with Chara to give Boston its only viable option when down a man.
The injuries to Boston's defense prohibited Kevan from much extracurricular activity in an awfully contentious series; Boston simply couldn't afford to lose Miller for two minutes, let alone five. Nevertheless, "Killer" still found a way to be a physical force in the series while picking up just two minor penalties through six chippy games.
Versatility and Developmental Arc
One of the biggest developments of Kevan's season was his newfound ability to play on his off-wing. Boston entered the season (and remain currently) heavy on right-shot defenders. It was Kevan Miller (not Colin nor elder-Bruin Adam McQuaid) who made the shift to his off-wing, and he did so seamlessly. With another right-shot defender in Charlie McAvoy cracking the lineup, this versatility could be a huge step toward balancing out Boston's pairings.
Kevan's protection would have a ripple effect throughout Boston's pairings. Bruce Cassidy is on record as saying that he likes the pairing of Chara and Carlo, so we can pencil that in. Miller's style of play and ability to play the left side make him a great compliment to Charlie McAvoy on the second pairing. This would allow Boston to utilize it's second pairing from this past year (Krug and McQuaid) as its third pairing next year. Boston could give offensive dynamo Torey Krug more favorable zone starts and matchups, limiting his wear and tear. More time in the offensive zone for Krug means more opportunities to do what he does best: Produce offensively.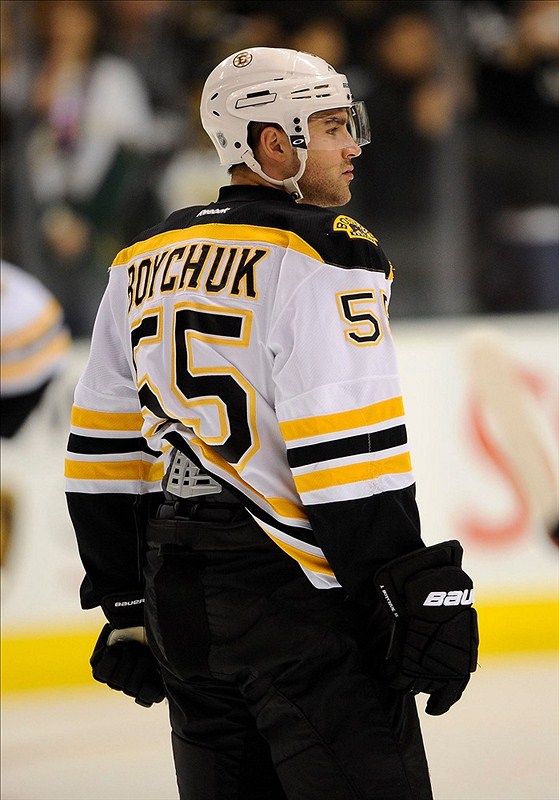 The following may seem a bit premature, given the erratic nature of Kevan's first several years with the club. But the fact remains that his development (and style of play) is very similar to Johnny Boychuk's.
The force that we remember when we think of Johhny Boychuk didn't really come into fruition until the 2011-12 Season. At that point, Boychuk had 125 regular season games under his belt. Heading into this past season Kevan Miller sat at 159 regular season games before playing the best year of his career. Boychuk spent the duration of his best days in Boston on contracts that paid him $1.875 million and $3.36 million per season. That averages out to roughly $2.6 million per season. Kevan Miller's contract pays him $2.5 million per season.
While a seven-year, $42 million contract is not in Kevan Miller's future, the parallels between him and Boychuk are undeniable. If "Killer" keeps up this level of play, his current contract will look like a steal.
Protecting Kevan: The Case Against
Though his play improved dramatically this past season, there's a large sample size of reasons to be wary.
Kevan Miller signed with Boston as an Undrafted Free Agent following a solid (if unspectacular) career at the University of Vermont. While some Undrafted Free Agents go on to have stellar careers, the majority of those who even reach the NHL tend to have unspectacular careers. It's likely 2016-17 Kevan Miller is at least near his peak, if not at the peak itself. Slotting in as the team's fourth or fifth best defenseman while eating up minutes on the penalty kill is likely as high as it gets for Kevan.
Kevan Miller has missed time due to injury in all four seasons he's spent with Boston. He missed 24 contests last year, 11 the year before, and half a season the year before that. He's a rough-and-tumble guy, and those types of players tend to spend considerable time on the shelf.
Kevan's skill set has been referred to as "redundant" alongside Adam McQuaid. McQuaid, like Kevan Miller, has been recently inked to a four-year extension. Furthermore, Kevan's re-signing and redundant skill set seem to fly in the face of Don Sweeney's desire to have the team's defensemen push the pace with more tenacity and frequency. With two-way defenders being all the rage in the modern NHL, there are some who question the re-signing and starting of both McQuaid and Kevan Miller.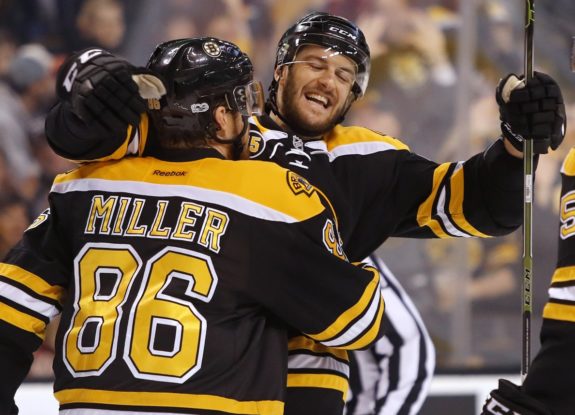 Protecting Colin: The Case For
Colin Miller fits the mold of the modern NHL defenseman. It's precisely because of this that his protection from the upcoming Expansion Draft seemed a foregone conclusion until just about six weeks ago.
Colin Miller is a smooth and effortless skater. He pushes the pace quite well, and can skate the puck out of trouble should an outlet pass not be an option.  And boy, can he shoot the puck.
In the 2015 AHL All-Star game, Colin set a league record with a 104 mph slap shot. That's an absolute rocket.
High Ceiling and Affordability
When the 2017-18 Season kicks off, Colin Miller will still be just 24 years old. Not every defenseman is a Brandon Carlo or Charlie McAvoy, playing top minutes at 19 years old. Defensemen typically take more time to develop than their forward counterparts; think of the respective learning curves as the difference between quarterbacks and running backs. With barely 100 games of NHL experience, Colin's best days are almost certainly ahead of him. His current ceiling is as a team's third or fourth-best defenseman, while playing heavy minutes on the power play.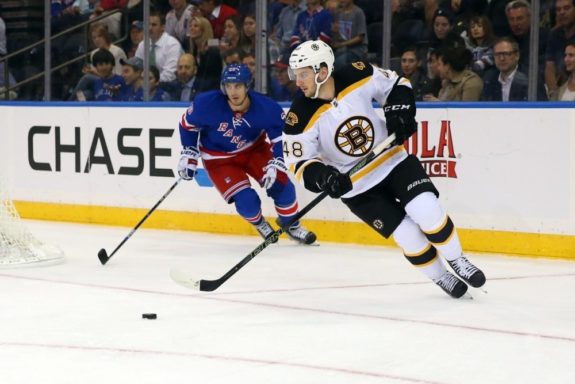 Contractually, Colin Miller has one year left on a two-year deal, paying him $1 million annually. He will still be under team control as an RFA when the 2017-18 Season ends. Barring an absolute explosion and leap in development, Boston will likely be able to retain his services moving forward on an affordable bridge-deal; likely two years in length.
Colin showed this past season that there's more to his game than puck skills; perhaps a bit of Kevan rubbed off on him. Colin dropped the gloves twice in 2016-17, acquitting himself well both times. He held his own against Miles Wood, and when Scott Wilson came calling Colin fed him lunch. This does more than get the crowd involved: It earns the respect and trust of one's teammates while creating space (literally and figuratively).
A late-season hit on Alexander Burmistrov caught the attention of the officiating crew while also making every year-end Bruins highlight reel. It was a devastating, clean hit (regardless of the on-ice call), and proved that "Chiller" is more than just a finesse defender.
Protecting Colin: The Case Against
Losing a player with Colin's skill set for nothing would sting any franchise. Such is the nature of Expansion Drafts. Regardless, Colin's play and the current makeup of Boston's blue line/pipeline don't exactly preclude him from being left exposed.
Arrested Development
Colin's sophomore campaign was at best on par with his rookie season. At worst, it was a slight regression. He notched 13 points for the second consecutive year, but did so in nearly 20 more contests. Perhaps most disturbing was his play down the stretch under Bruce Cassidy.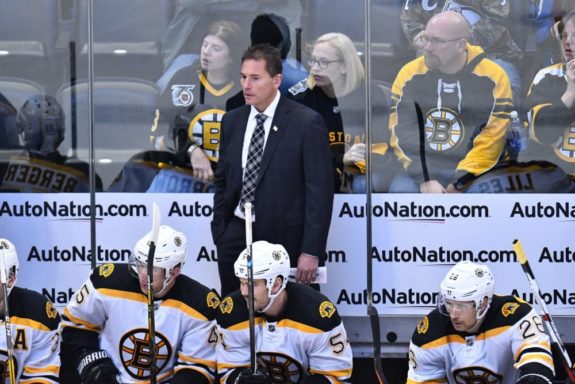 With Cassidy at the helm, Boston's defenders had their shackles loosened from the days of Claude Julien. They were encouraged to be more decisive and to join the attack with greater frequency and tenacity. This would seem to play to Colin's strengths, but the results were lacking. Colin potted three goals and two helpers in 22 contests. He'd recorded three goals and four helpers in 39 contests under Julien; the increased offense under Cassidy was marginal, at best. Comparatively speaking, Kevan Miller recorded two goals and five assists in 27 games under Cassidy, while playing better defensively.
Furthermore, Colin spent five games in the press box down the stretch in favor of John-Michael Liles. As the team needed Colin's play to get stronger it instead got weaker. He appeared to be losing confidence on a nightly basis.
Whether he was losing his man in coverage around the net, failing to identify an impending stretch pass, or pinching down the wall without making sure he had support, Colin made enough mistakes to earn time above the ice as points in the standings reached a premium. These are wrinkles that can be ironed out with time. Whether or not the Bruins have the time and patience at this juncture remains to be seen.
Ability and Skill Do Not Equal Effectiveness
The NHL is not a skills competition. It is not the NFL Combine. Skills and traits alone do not make a player great. If they did, Alexander Semin would be well on his way to the Hall of Fame.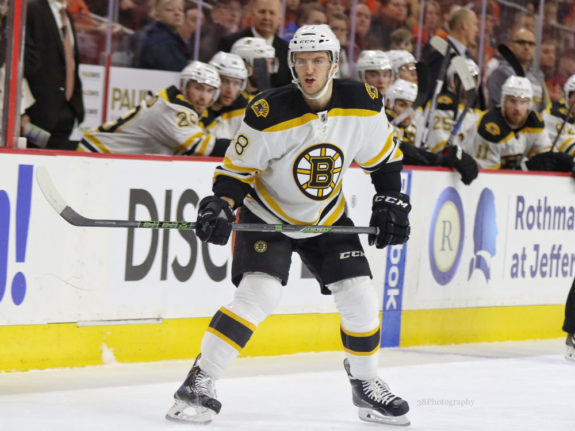 For as swift and fleet-of-foot as he is, Colin Miller has a tendency to skate pucks into trouble. For as powerful as his shot is, it finds shin pads or glass with much greater frequency than twine. In order for Colin Miller to even come close to maximizing his potential, these areas need to be cleaned up dramatically.
Colin Miller's awareness and development are more or less on par with where you'd expect them to be. There are hiccups and mistakes that come along with every young defender, and Colin is no different. On par or not, the miscues were still happening with regularity.
Miller v. Miller: The Verdict
Any way you slice it, this is a tough call. Kevan brings an undeniable blend of stability, physicality, and is a boon to Boston's top-ranked penalty kill. Moreover, he appears to be following a similar developmental path to that of Johnny Boychuk. In the here and now, Kevan brings just a bit more to the table than Colin.
Colin, on the other hand, carries more long-term upside. He hasn't fully hit his stride yet, and it would sting to lose a player whose best days are likely ahead of them. He has the raw tools to be the kind of impactful, two-way defender that 31 NHL teams crave.
In light of the evidence, this court hereby decrees that Kevan should be the protected Miller. Though Colin does maintain a higher upside, in the end, it was Kevan's immediate impact, ability to play a strong game on his off-wing, and the domino effect that would thereby transpire that led this court to its decision. The opportunity to roll out the following pairs proved too tempting:
Chara-Carlo
K. Miller-McAvoy
Krug-McQuaid
It is quite possible that Colin goes on to have a better career than Kevan. And if he does there will certainly be ample grounds for second-guessing. But with so much talk of what Boston defensemen MIGHT be someday (Carlo, McAvoy, Lauzon, Zboril, Grzelcyk, Lindgren), it's the decision of this court that, at this juncture, the Boston Bruins hang their hats on what a Bruins defenseman IS.
Court is adjourned.