It is week three of the Columbus Blue Jackets' offseason but there's no shortage of things to talk about surrounding the team. One discussion topic might be the new faces that could be added to the roster by the start of next season. With as young as the team is and as good as it was this year, don't expect many changes.
But every year there's some turnover for most, if not all, teams in the league. Sometimes there's no hole needing to be filled but a young guy impresses in the summer and takes over a spot on the roster. No matter if there's an opening or not, there are three Jackets forward prospects that I think could crack the opening night roster come October.
1) Keegan Kolesar
The 2015 third-round pick tallied 60 points in 54 games during the WHL regular season as a member of the Seattle Thunderbirds. In the 2014-15 and 2015-16 seasons, he played 64 games in each and chalked up 38 and 61 points, respectively. So this season was his best points-per-game output (1.11) of his WHL career. He was also a plus-28 with 101 penalty minutes during the regular season. Dusing this postseason, he currently owns a line of 9-13-22 and is plus-10 in 14 playoff games. He and Seattle will take on the Regina Pats starting Friday night in the WHL Finals.
Kolesar is not really a guy that is going to fill the net but is more than capable in the offensive zone. His game is very similar to that of Josh Anderson. He's a right-handed shot that can wreak havoc on the forecheck because he throws his weight around. Although not as big as Anderson, he still maintains a large frame of his own (6-foot-2, 222 pounds). He will never shy away from anybody. His gloves come off real easy. His physical style of play fits right in with what the Jackets like to do and his arrogance is something that head coach John Tortorella is likely to appreciate.
2) Pierre-Luc Dubois
After a stellar 2015-16 campaign with Cape Breton (99 points in 62 games), Dubois's draft stock elevated tremendously. This led to him being drafted third overall by Columbus last summer. But his stats took a giant drop this season. After scoring only 18 points in the first 20 games, he was traded to Blainville-Boisbriand. While with the Armada, he tallied 37 points in 28 games to finish the regular season.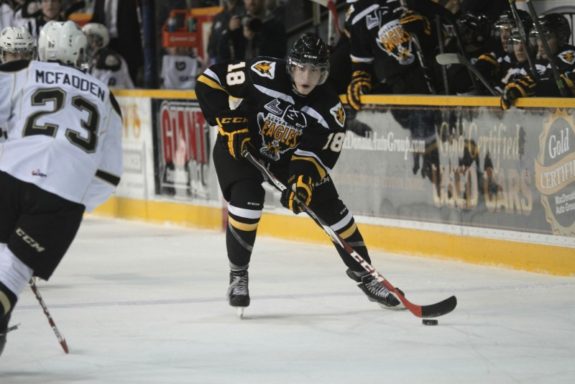 A renewed Dubois has arrived for the QMJHL playoffs as he owns an 8-13-21 line in 15 postseason games this spring. A guy that shines when the stage gets bigger is something the Jackets should like after an early departure from this year's playoffs. Dubois will get a chance to show what he's worth as his team plays the Saint John Sea Dogs in the QMJHL Finals.
Dubois has mostly played center and was drafted into the NHL as that position. His big frame (6-foot-3, 202 pounds) should allow him to win draws, something the Jackets need to improve on. Depending on what happens in the offseason, the Jackets might find themselves somewhat thin down the middle. Dubois could fill that hole.
The big-bodied power forward plays with an edge and can use his size in all three zones. His willingness to throw the body and mix it up is a perfect match with the Jackets. Dubois let his presence be known last summer at the Jackets' training camp. Perhaps another great camp will earn him a spot on the NHL roster. Because he was drafted so high, the Jackets have high expectations for him. If he does make the team next year, he'll be expected to do some big things.
3) Vitaly Abramov
The undersized Russian forward put up incredible numbers this season with the Gatineau Olympiques of the QMJHL. His 104 points in 66 games won him the scoring title in the Q. He produced seven points in as many postseason games before the Cleveland Monsters brought him in for their late-season playoff push. His success at the junior level carried over into the pros as he scored a goal and three assists in his four games with Cleveland.
Abramov turns 19 on Monday and has already proven he can score goals and rack up assists against tough competition. Any time you win the scoring title in any league, it's not a fluke. But at 174 pounds, the 2016 third-round selection likely will have some filling out to do before making the NHL squad. However, his scoring ability can't go unnoticed. The Jackets are still looking for more scoring touch so his ability to produce might find him a spot in their lineup sooner than later.