The final score of the Buffalo Beauts' Oct. 16 exhibition game with the Buffalo Jr. Sabres (15 ONLY) team was not a strong indicator of what this hockey club is about. The play of the Beauts themselves depicted a slew of positives. Coach Ric Seiling was extremely pleased with his hockey club despite the 9-4 loss, and did a lot of experimenting with his lines and defensive pairs. The night was most assuredly a success, and THW takes a look at some of the more inspiring performances from the game.
"I was very happy with what I saw tonight," Seiling shared with the media after the game. "Just talking to their coach (Jr. Sabres coach) after the game, he was raving about our goaltending. He was raving about traffic we had in front of the net. The pucks were getting there. We were creating opportunities. I just told the girls that the way they're moving and operating, and getting open for each other—all of a sudden I think someone's tied up and, bang, we move the puck to an open person, and we're still having the pressure on… I'm happy with what I saw tonight, and I think it was a good workout for them."
The Tenacity of Jessica Sibley
The most physical Beaut on the ice was quite easily number 6, Jessica Sibley. The 5-foot-5 Saskatchewan native was constantly in the thick of the action. While no Beauts were plus-players by game's end, Sibley was one of only four skaters to not be in the minus category.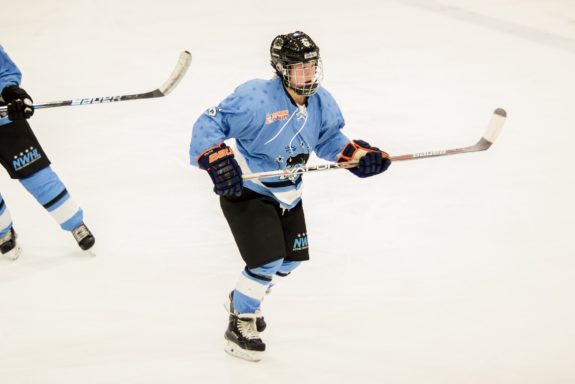 She would put two shots on goal during the night, and despite the highly physical game that she played, she kept herself in check. Sibley would not incur any infractions during the course of the game.
More noteworthy, though, and certainly not to insight anything more than the truth, the Jr. Sabres ended up taking a few liberties with her. These occurred mainly in the neutral zone as the play went back and forth. Sibley did not back down from anyone and seemed to relish in being unfazed by any sort of extracurricular activity. Separately, were her opponents this evening only a few years older, they likely would have sustained more than a tongue-lashing in return from Sibley. Overall, her play was very tough and stalwart.
Leveille Stole the Show & Stole Pucks Regularly
Traveling to Western New York from the Detroit area, the Monday night game was the first opportunity for the Beauts faithful to see goaltender Mandy Leveille with the team this season. Leveille had not been in town for the June free-agent camp, the prior practices or the exhibition game against Team China. This was no concern at all as the 23-year-old was simply stellar in net against the Jr. Sabres.
That may sound a bit exaggerated due to the fact that she gave up nine goals. However, she did so while facing a whopping 57 shots on goal. Leveille shared some thoughts on her first game back:
"That was a lot of shots to start off. But even though they got a lot of shots I thought our team still played really well and they battled. Irrespective of what the score was, they just kept coming."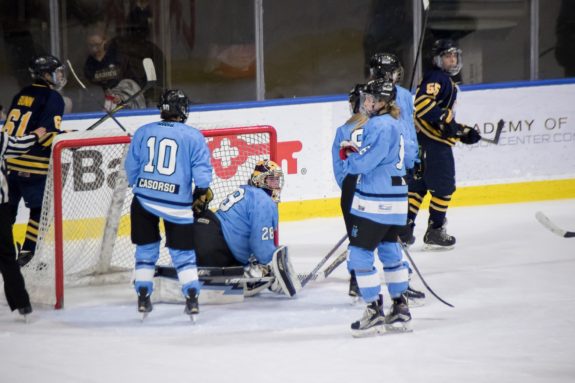 The finest stop of the night for Leveille stole the entire show. After being assessed a two-minute minor for unsportsmanlike conduct at 15:57 of the second period, she became fiery and of ill-humor. A short time later she came up with one of the finest examples of a glove save ever seen—she robbed the kid blind, so to speak.
"That felt pretty good," Leveille laughed. "I was a little angry before it. That helped settle me down and I think the team. A goaltender has got to be the one that's cool. I kind of lost it for a little bit there, but that's always nice to make a semi-decent, nice save, and kind of get back into the game."
Ott Looked Quite Comfortable on Defense
Buffalo went with only five defenders on its roster for the night as Colleen Murphy and Lisa Chesson were among the team's scratches. Initially Seiling kept it as such and rotated pairings between Jacquie Greco, Kayla Parsons, Sarah Casorso, Jordyn Burns, and Sarah Edney. Eventually, for at least half the game, forward Jordan Ott was moved back with the blueliners and oftentimes was paired with Greco. Interestingly enough, Greco herself is listed as a defender-forward on the team roster. Might the same be done with Ott?
"That was the one thing we liked with Jordan," Seiling shared. "Her flexibility in being able to play offense and defense. We get into a situation whether with injuries or scheduling, we have a player like that. Last year we used Jacquie Greco in that situation, and I think that Jordan plays both very well, and we are very comfortable with having her on either side, either at forward or at defense."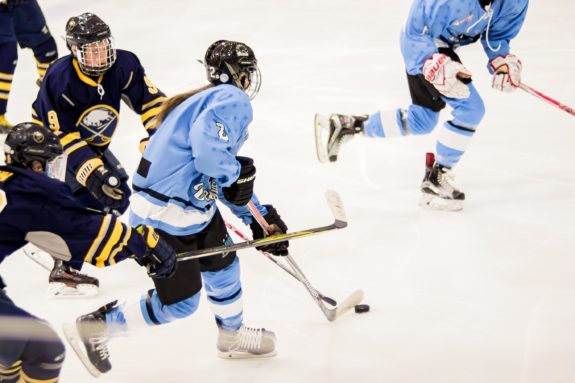 Whatever ends up being the case, Ott looked quite confident in the defense position and did not miss a beat. She worked the puck at the point well and kept multiple Jr. Sabres' clearing attempts from escaping the zone. If Buffalo needs to utilize her as a defender more often than not, Ott will be just fine.
Accursi Is a Magician With Her Stickhandling
After posting two assists in the game against China, forward Taylor Accursi showed more shades of her wizardry when handling a puck. Invoking enough maneuvers and confidence to draw comparisons to Pavel Datsyuk or Denis Savard, Accursi fooled multiple Jr. Sabres with the way she controlled the puck.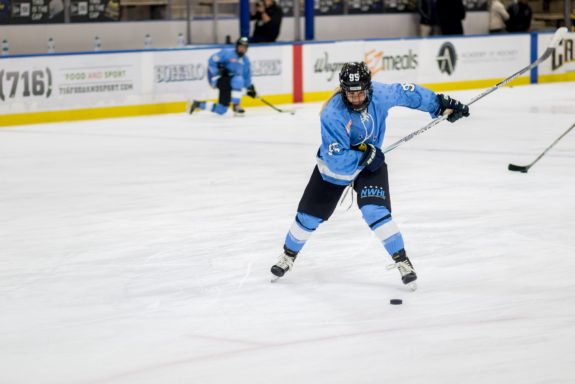 While Accursi's maneuvers translated into just one shot on goal, she was dangerous all night. It is safe to say that few NWHL aficionados realized just how good she is with a puck. Accursi is deceptive, and given a full season still to come, she will make opponents pay dearly if they underestimate her. She has this impressive ability to suddenly accelerate with just a single stride. Accursi catches defenders off guard, and spectators as well. If she continues this repertoire, fans will be entertained every night.
Beaut of the Night Goes to Lewicki
The most impressive Beaut in this final exhibition game was certainly Kristin Lewicki. One-third of "The Adrian Line", the 5-foot-2 spark plug forechecked like a little demon out there. Working ever so hard around the Jr. Sabres' net, Lewicki put forth the first two Beauts goals for the game.
There was some discrepancy with her second goal. Initially, it was given to Lewicki, then it was changed to her linemate Maddie Elia, only to eventually be credited back to Lewicki when all was said in done. In total, she generated three shots on goal on top of the three shots she fired on previously against China.
It was not just the two goals and the shots that would make Lewicki a preseason MVP. Rather, it was the all-around complete game that she played. Lewicki worked just as hard at her backchecking as her forechecking. She took multiple faceoffs and spent some moments doing a little quarterbacking from the point on the power play. At times she would just muscle her way into the Jr. Sabres' goal mouth, sort of devil-may-care.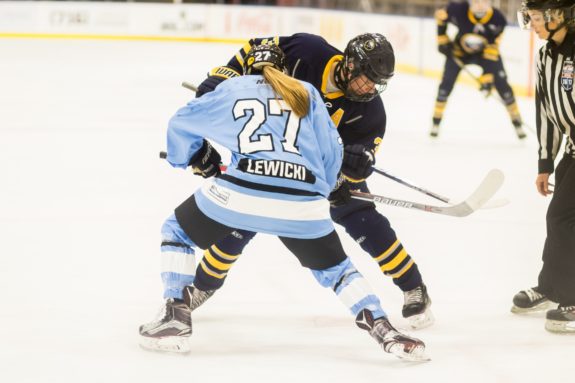 One of the nicest combinations of the night was some beautiful tic-tac-toe passing as the Beauts entered into the zone during the third period. Ott carried the puck into the attacking zone. She soon relayed a smooth pass over to Kourtney Kunichika, who just as nicely slipped it over to Lewicki. From there, Lewicki nearly had herself a hat trick.
It is exceptionally nice to see a first-year forward like Lewicki assemble such a solid showing in the early going.
The Beauts' Depth Is Totally There
Buffalo continues to demonstrate its penchant for contributions from all players and at all ends. Within these first two exhibition games, multiple different players have stepped up each game. Not always the same players either. While players like Corinne Buie, Maddie Elia, and Sarah Edney led the charge against China, this time it was players like Lewicki, Leveille, and Sibley to name some of the key contributors. The Beauts' depth is certainly there.
Guess who's back? @MandyLeveille29 saw her first game action since last March when she defeated the NYR to advance to the #IsobelCupFinal! pic.twitter.com/9nxIxkKdFQ

— Buffalo Beauts (@BuffaloBeauts) October 17, 2017
Leveille shared her thoughts on how the team jelled from the goaltender on out and the communication they had with one another:
"As a goalie, you're the quarterback on the team, so you've got to be hooting and hollering at your team. The defense (was) communicating with me well, so overall I thought it was really good. We were effective talking on the ice from goalie, to defense, to forward. That was good to see. Especially with a new team sometimes you are kind of timid, but we were loud and that was awesome. Feels good."
Coaches to Make Final Adjustments
Now they must do the most tricky part—carry this early success into the regular season and maintain. With the look of determination that these players showed in just a couple of exhibition games, they are giving every indication that they will be lighting the NWHL regular season on fire.
Seiling went on to explain how the Beauts will develop the game plan going forward:
"From here on in now we'll start isolating. We'll start breaking the ice down in sections. What things we want done in certain areas of the ice. The D-zone, the neutral zone, the offensive zone—one side versus the other. We start breaking things down into segments. You look at something as a whole, and then you start to digest it. Kind of micro-organize it. That's what we have the next few weeks to do is start getting that in. Making sure everybody knows what their responsibilities are on faceoffs, penalty killing, power play. Things like that."
Time to get the 2017-18 NWHL regular season underway.
General Manager of the Buffalo Beauts (NWHL). Hockey history writer "The Hockey Writers". Credentialed media for the NHL Combine and 2018 IIHF World Junior Championships in Buffalo, NY, USA. Born and raised in Buffalo, NY. Lifelong hockey fan for over 40 years. Proponent of the women's game.