The Beauts' Oct. 9 4-2 victory over Team China was not only a spirited affair to watch, but it served as an indicator of what is on their horizon. The 2017-18 Beauts utilized this first match to find their legs and get some jitters out of their system. Those minor hurdles were alleviated in short order. By the end of the game, the window had been opened and it was exciting to see what is inside waiting to come out.
We take a look at these early beginnings, knowing the best is yet to come. China was just the warmup. Here is what Beauts fans can most expect to take shape once the regular season is underway.
The Defense Corps Functioning as One
Coaches Ric Seiling and Craig Muni partnered up the defenders quite nicely, and seem to have found the proper duos. Sarah Edney and Jacquie Greco, the top blueline pair against China, came out with a ton of energy. Both players jumped into the play regularly throughout the night. Edney's tenacity helped her notch the Beauts' third goal of the game. On top of that, the Harvard alum led all Beauts players with a plus-2 for plus/minus. She was enthused about playing alongside Greco.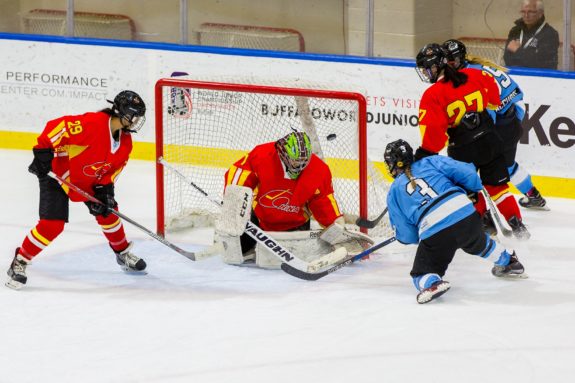 Edney shared her thoughts on being paired with the veteran Beaut and the impact that all of the players are having:
"She's done a really good job of welcoming me to Buffalo," she said on Greco. "It's not my first rodeo, but I think you do have those layers there—new to Buffalo, new to pro hockey. There's just a bunch of leaders and even the girls that are coming right here from college, whether they're in a little bit more in shape right now or what it is, but I think everyone brings a kind of something different."
Edney Recognizes Vast Depth on Defense
Likewise, the other Beauts defenders all had nice showings. Kayla Parsons played a most physical game and out-muscled China's forwards on multiple occasions. Her defense partner, Colleen Murphy, was quick and shifty on the backend. Murphy spent a good chunk of time manning the Beauts' point alongside Sarah Casorso when Buffalo had the power play. When the regular season gets underway, Murphy and Casorso give the Beauts two capable quarterbacks when the team has the man-advantage, and both do well at orchestrating and controlling play. Jordyn Burns put two shots on net and provided a steadying hand alongside her partner Casorso.
Edney went on to say, "I think it's really exciting how much depth we have. Getting to play with new players is always a lot of fun. Especially when the new players work right away and you just feel that everything is flowing from the first game. That's really exciting. We were just talking about it—this is the first time that we have played in a game together. We have had two practices. It's already going so well and can only go up from here."
An Ever-Dangerous Buie and Jones
After Rebecca Vint blocked a shot early in the game, offensive forces Corinne Buie and Jess Jones had to make due without their linemate. They did just that.
Buie scored her first goal of the game from Jones and Maddie Elia (more on Elia later) to knot it up at 2-2. The goal was initially credited to Jones herself but was switched to Buie shortly thereafter. Multiple forwards continued to take Vint's spot on the line as the game went along. This did not seem to phase Buie one bit, as she would also score Buffalo's fourth and final goal—this time on the power play—from Taylor Accursi in the third period.
Buie shared her thoughts on her performance and that of the team:
"It just shows how we are as a team is unbelievable," she said. "After that first period to see us battle back and win, and play all the way through. Having all those blocked shots at the end. We were just playing gritty and just showed a lot of character for the first game, so it was really exciting."
"I was so impressed with the level of skill that we have this year" @corinnebuie pic.twitter.com/O5uXfhlPYA

— Buffalo Beauts (@BuffaloBeauts) October 9, 2017
While Vint is definitely a wingnut on the top line—in essence, she holds the line together—Buie and Jones are a force to be reckoned with and could become the NWHL's Rodgers and Hammerstein. They are innovative, non-stop, and just plain fun to watch.
Buie spoke a bit more about the opportunity to play alongside Jones. "I was really excited to play with her. The first two practices we were really flowing together."
Elia Gets Mad and Gets Going
Western New York native Maddie Elia's Twitter handle is "madfrog126", and she seemed to play to at least the first part of that moniker. Not only did Elia pick up an assist on the first Buie marker, but she also had a shot on goal and was one of only six Beauts to finish the game as a plus player.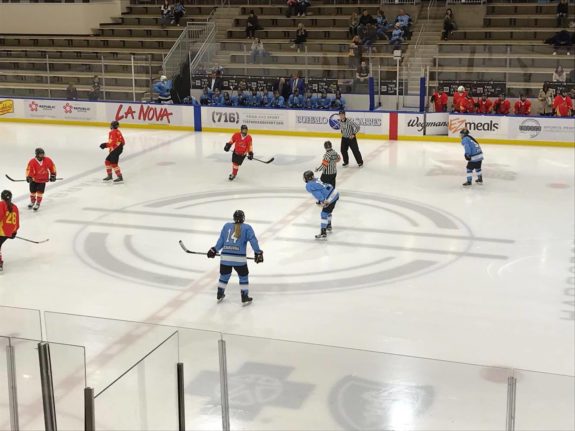 Elia also played very physical and led the team in penalty minutes. What was most impressive was her tenacity. After Elia took a questionable cross-checking call in the third period, she seemed to articulate "It wasn't me!" on her way to the box. Perhaps incensed by a bit of injustice, Elia made up for it and forechecked like a demon during her remaining shifts of the game. It was exhilarating to see a player take an exhibition game as seriously as Elia outwardly showed.
Related: Beauts Media Day Draws Attention to Their Chemistry
Scamurra's Breakthrough Year?
Another native "Buffalo gal" who really showed her stuff against China was stalwart forward Hayley Scamurra. After the Beauts had gone down 2-0 in the first period, Scamurra took it upon herself to out-work and out-hustle the opposition. She would be rewarded with an unassisted goal just over four minutes into the second period. Scamurra fought tooth and nail around the China net until she was able to bang the puck home. The Beauts never looked back.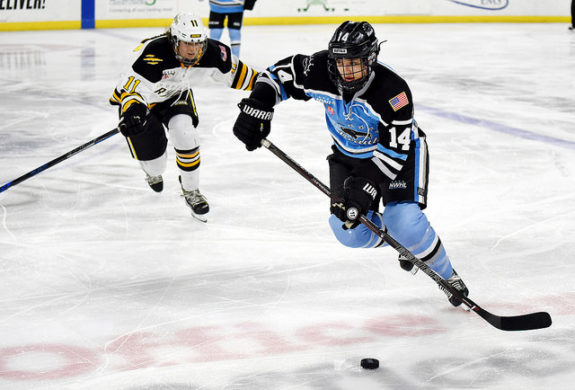 Everything about Scamurra's game is noteworthy. This young lady has size and strength. More importantly, she is able to accentuate those two components with a mixture of graceful ferocity. By no means did China play an easy game against Buffalo. They were quick-footed and sharp, but also did not hesitate to offer a little rough stuff. Their four minor penalties were proof enough of that. No matter what style of play China brought to Buffalo, Scamurra did not waver—she matched fire with fire.
Indicative of Something More
No player for Buffalo fell short in the victory over China. Each held her own and contributed. Kelsey Neumann made a solid glove save off of a turnover in the Beauts' end. Jordan Ott maintained solid puck control that seemed to intimidate China as she carried it, to the point of them backing off and giving her room. Accursi had some beautiful maneuvers down low and nearly scored one of her own.  Point being, each Beaut in the lineup did something positive.
🇨🇳 and 🇺🇸 anthems. #CHINAvsBUF pic.twitter.com/rKjKA0Nfgs

— Buffalo Beauts (@BuffaloBeauts) October 9, 2017
In postgame discussions afterward, it was a commonality felt and mentioned by each of the players and coaches. They recognize that this is a great start, but know that they have a full season ahead to fine-tune and further jell. Seiling spoke on what he knew already to be in the makeup of his squad and how it helped in their victory:
"We knew the talent level of our team. We're very happy with it and we're just happy the way they continue to strive forward and got the pre-jitters off and were able to pull it out."
Seiling would go on to say, "It's important because they know the core values that Craig and I stand behind and what the team is and how we move. It's important to know the core values of your management, and that's the way we feel and that's way we coach. We don't vary from one to the other."
Related: Beauts' Greco Back for a 2nd Year
A New Level of Skill That Wasn't Here Before
As mentioned earlier, this victory is indeed an indicator of what more this team is going to offer. The Beauts have one under their belt now, and that always brings about more confidence. With more confidence, the team appears poised to kick into high gear once the regular season gets underway.
Buie spoke to their ability specifically:
"I was just so impressed by the level of skill that we have. I mean, that was our first game and it was showcased time and time again the little plays. People were being able to make flashy plays with the puck that we didn't see so much (last year) and just possess the puck more."
This team is definitely primed for great things.
General Manager of the Buffalo Beauts (NWHL). Hockey history writer "The Hockey Writers". Credentialed media for the NHL Combine and 2018 IIHF World Junior Championships in Buffalo, NY, USA. Born and raised in Buffalo, NY. Lifelong hockey fan for over 40 years. Proponent of the women's game.