There is a quote from American writer Elbert Hubbard that says, "There is something that is much more scarce, something finer far, something rarer than Ability. It is the Ability to recognize Ability." Buffalo Beauts' co-coaches Craig Muni and Ric Seiling must be seers of this sort.
The reigning Isobel Cup champion coaches were able to pinpoint the ability of a tall, sleek D-III forward from Potsdam at their recent free agent camp (June 10th/11th). Both men knew that she would be a fit for their hockey club. That was the first part.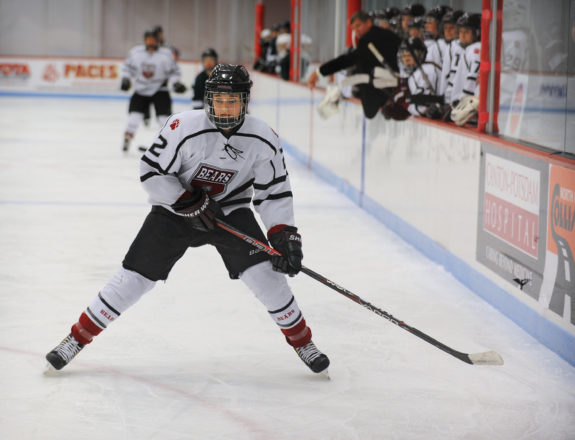 The second part comes down to the young player herself. Jordan Ott made herself noticeable on the ice in that trial period. She was able to hold her own against players who already harbored both NWHL and CWHL experience, and many of whom came from Division-I schools. Ott was fast and lithe. One could even describe her play as graceful or Beliveau-esque. One thing was for certain, Ott undoubtedly showed she belongs in the NWHL.
Let's take a more in-depth look at the newest Buffalo Beaut.
An Early Start
Ott grew up in the Rochester area in New York State. Even though she is a fresh-faced 22-year-old, she has still been playing hockey for a considerable length of time.
"I started when I was really little. I was three the first time that I went and skated. My dad worked with a guy who was going to bring his daughters to a learn-to-skate. So my dad decided to bring me and I pretty much never stopped after that."
Ott never held back from there. Her family has supported her in all of her athletic endeavors from that early age and onward.
"When I was younger my parents let me just kind of go with the flow. They didn't really pressure me to start. But when I wanted to do it, they were like 'Yep, sure. Go ahead," she laughs.
Being A Sabres/Amerks Fan
The Rochester Americans are one of the most storied franchises of the American Hockey League. For most of the past four decades, they have been the farm team of the NHL's Buffalo Sabres. As a youngster, Ott regularly attended Amerks' games and had an opportunity to see the young talent on Rochester's roster prior to becoming household names in Buffalo, not to mention League-wide.
"I am honestly a huge Buffalo Sabres fan. Living in Rochester, their farm team is here (Rochester Americans). Watching players like Jason Pominville, Thomas Vanek, and Ryan Miller all play here, and then getting to see them on TV a couple years later when they got called up. Those were the years that I really loved to watch. Chris Drury, Danny Briere. Those were my hockey heroes growing up.
"Here (Rochester) when I was little we would go to games locally, and then when they got called up it was awesome to see the players (on TV) whom I had seen in person."
Finding A Home At Potsdam
In May of this year, Ott graduated from SUNY Potsdam; a state university close to a four-hour drive northeast of her native Rochester. Over her four years at Potsdam, Ott became one of the school's most decorated athletes in program history. Determining which school was the right one for her was a bit of a process, but eventually, she found her home.
"The search started when I was younger. I went to the "elite 66″ camp; the national camp that is held in Minnesota. I got some interest there from some D-I schools and some D-III schools. I had to make the decision of which way I wanted to go with it. A large part of my decision was that I wanted to play softball. I also used to play soccer, so I was kind of on the fence as to which sport I wanted to do second. Hockey has always been my first sport."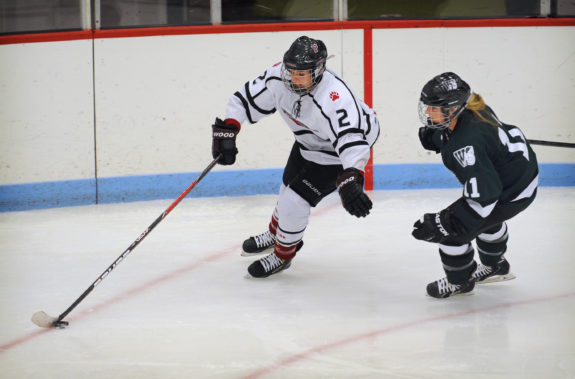 "I kept my options open and I went to a couple camps. I went to Colgate for a camp. When it came down to it, my parents and I agreed that I wanted to pick a school that if anything were to happen and I could not play sports anymore, I wanted to be somewhere where I would be happy."
Potsdam Bears Hockey
Ott found her happiness at Potsdam, which included four years of NCAA hockey and softball. Ott was utilized as a utility player for the Bears' softball program and excelled particularly as a shortstop.
Speaking more as to why Potsdam was right for her, Ott stated, "I felt that I fit in well with the campus. I liked the location. Distance from home was a big thing. I wanted to be away from home, but I wanted to get home if I needed to. That was a deciding factor."
Hockey was always at the forefront of Ott's collegiate aspirations, and ultimately she knew that Potsdam afforded her the best opportunity to play. With a Division-III NCAA school and as a player of her skill level, it would ensure that she could make the most of her four years of college play. After all, entering into her freshman year the NWHL was not even in existence.
"I wanted to go somewhere that I was going to play for four years. I didn't think this (professional hockey) would ever be an option. At the time I was being recruited, it wasn't. Basically, I said, 'I have four more years left to play my favorite sport and I want to go somewhere where I am actually going to play all four years'. I didn't want to go D-I and work my way into it. I wanted to go somewhere and be competitive for the last four years that I had."
Potsdam Record Books
Competitive is an understatement as far as Ott is concerned. With the Bears' women's hockey team she would rewrite the record books. Averaging better than a point per game for her career, Ott tallied 61 goals and 46 assists throughout her time with Potsdam. Her 107 points in 101 games are a record for the school.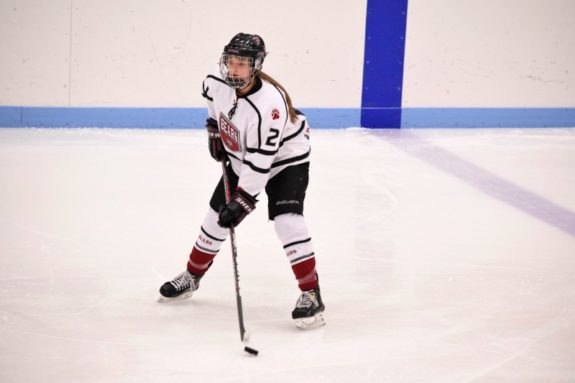 "(Potsdam) was the highlight of my athletic career. The people that I met, my teammates, and my coaches, and all of the accomplishments. It was great."
The records do not end with the school's career points record. Ott also owns the Bears' records for goals (61), point-per-game (1.06), points in a season (36), power play goals (18) and game-winning goals (12).
Ott's freshman season alone is incredibly impressive. In the process of scoring 22 goals in only 25 games (done on only 92 shots), she was an eight-time ECAC Rookie of the Week, an ECAC West Rookie of the Year, and the USCHO Rookie of the Year. When a freshman puts up numbers such as Ott's, opposing teams take note and key in on that player. Ott's dexterity and internal motivation kept her moving forward despite the opposition.
Perseverance By Ott
"Learning how to motivate yourself, and learning how to be the best that you can be. Obviously, I could have just been complacent after having a good freshman year at school, but I wanted to keep pushing. I knew that it was going to get tougher. Playing at the level that I play at, when you have stats like that, I got double-teamed and triple-teamed the next couple of years and my numbers went down."
Though her goal totals may have dipped due to shadowing, Ott still recorded double-digits in goals for her three remaining seasons at the school. She posted seasons of 10, 15 and 14 respectively. Nothing to sniff at when accomplished in seasons of 25 (sophomore, junior seasons) and 26 games (senior year).
Memories To Cherish
When asked to name her most meaningful moments at Potsdam, Ott was able to share the following:
"There are a lot of good ones. We were not exactly an All Star team, we weren't going to the national championship every year like Plattsburgh. My freshman year they opened the brand new rink. I played in my very first college game. In my very first game, I scored my first goal 12 minutes into the game. I will definitely never forget getting the first goal in the new, renovated Maxcy Arena. Obviously, as a freshman coming in I was so nervous. Being able to score the first goal was pretty cool."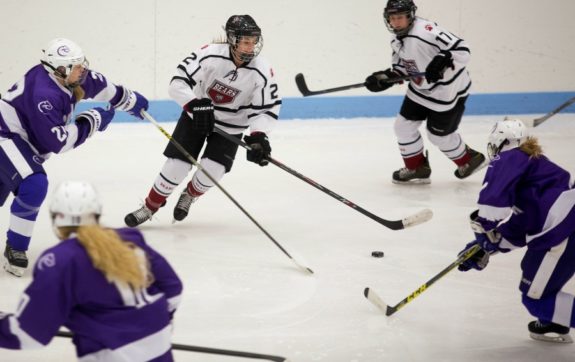 "I got my 94th point against Buffalo State this past year. That was the scoring record for the school. I felt that my four years had kind of come to a climax there. That it had all paid off."
A Level Of Competition Like Never Before
When Ott took part in the Beauts' free agent camp she appeared a bit in awe of the other players on the ice. Some of the players whom she was up against were at least five years older than her, and/or had played at Division-I schools. A few were either current Beauts or had previously played professionally.
Ott held her own out there during the camp. That being said, she also recognizes that once the NWHL season begins she will be consistently playing at a level that she has not experienced before.
"Just the chance to play at such a high level. Like I said, when I was getting recruited for college, (the NWHL)  wasn't even a thing. There was no such thing as this league. Getting the chance to play with people that are so talented. Seeing how much better I can get, even past how much I've grown in college. When I  played locally we used to play in the Batavia league. We always played against good players, but I have never been able to play at such as high level as I'm going to get to play this year. I have never seen anyone of that caliber. It is going to be a crazy, mind-boggling experience."
Garnering The NWHL Pace
Ott's ability to score at Potsdam may not transfer over immediately to the NWHL. As any other rookie, there will be a learning curve for the youngster. Fortunately, Buffalo has numerous veteran players that can take Ott under their wing and show her the ropes.
NEWS: We have signed former @PDAMWH forward, Jordan Ott, for the 2017-2018 @NWHL season! #DefendTheCrown

Story: https://t.co/3cs9vrgT4a pic.twitter.com/Km5PjP4Zfv

— Buffalo Beauts (@BuffaloBeauts) June 16, 2017
"I think my biggest challenge is just going to be learning to play at the speed that is necessary in order to be successful. Talent-wise, I can get better. I can improve on all aspects of my game and I want to do that. This is a great opportunity to do that. Obviously, it is very daunting to play against people that you see on TV. I think it's absolutely crazy that I'll have the opportunity to be on the same sheet of ice as some of them."
Role As A Beaut
Coaches Muni and Seiling will ultimately decide the usage of the tall forward on their roster. Ott shared her own thoughts on how she could fit on the roster:
"I think I'm going to be a role player on this team. I'm going to have a specific spot. It's probably not going to be as key as people that are going to have more skill than I will, and that's okay. One of the things that I can bring to the team is that I am a pretty positive person. I think I am a good locker room person. I think I am a good teammate; at least I strive to be. "
Ott went on to say:
"I think that in an off-ice perspective I can be a motivator to motivate the team. I think on the ice I can be a role player. Third line, coming in and working hard. Taking those shifts that when the top line needs a break, going out and grinding hard. Getting the pucks in the corner, and getting them to the net."
Ott Recognizes The Opportunity
As is the case with many, if not all of the players in the NWHL, Ott is going to be in the League because hockey is in the innermost part of her heart. She is also not blind to the fact that she is setting an example for other young players. In another five to seven years, there will be young girls that will be the same age as Ott is now. Unlike in Ott's youth, there is now a professional league that they can aspire to.
"I want to make sure that everyone knows that I'm there because I love to play hockey. It is the coolest thing that I am getting this opportunity, and I want to be that person on the team that makes other people aware of how special an opportunity we have. I feel like I can be that constant reminder of how important it is for us to be something that other kids can look up to."
Bound To Be A Fan Favorite
Buffalo Beauts fans will be able to relate to Ott's warm personality and her sense of humility. The "City of Good Neighbors" has long prided itself on having hard working, "blue collar" professional athletes on its teams.  Ott will not disappoint, and she will quickly become one of the more popular Beauts players.
Olivia's back rooting for Jordan and the Bears in Elmira. Coach Green and Trainer Berking in the pic as well. Go Bears! #PotsdamHockey pic.twitter.com/1D0kpTFyyX

— Potsdam Athletics (@PotsdamBears) February 19, 2017
"Having played sports my whole life, I don't think there is a friend that I have that I haven't played some athletic activity with. I think relationships are probably the biggest thing that I have learned from playing sports. Learning how to deal with people that you might not like just because you're teammates. Dealing with different personalities, and learning how to adjust for different circumstances. You're not going to be the same person on one team as you might be on another. Learning how to work with the people around you."
Ott's ability to work with others will ensure that she is a successful Beaut.
General Manager of the Buffalo Beauts (NWHL). Hockey history writer "The Hockey Writers". Credentialed media for the NHL Combine and 2018 IIHF World Junior Championships in Buffalo, NY, USA. Born and raised in Buffalo, NY. Lifelong hockey fan for over 40 years. Proponent of the women's game.