From May 1-31, NWHL teams can re-sign players from their 2016-17 roster and their draft picks during the restricted free agency period, and beginning on June 1 any unsigned players left will be free to sign with any team.
The third season of the NWHL will begin in October as the Buffalo Beauts defend their Isobel Cup championship, and with up to 12 players unable to participate in the league this season due to their selection for Team USA's 2018 Olympic team, this will be the most competitive season yet.
My colleague Dan Rice will keep THW readers up-to-date on New York and Connecticut's signings throughout the summer, while I post updates on Buffalo and Boston.
Boston Pride Trivigno Signing Strengthens All Facets
Pride Ink Rookie Daniels, Vet Harrington
Beauts Sign 2 Vets & 2 Rookies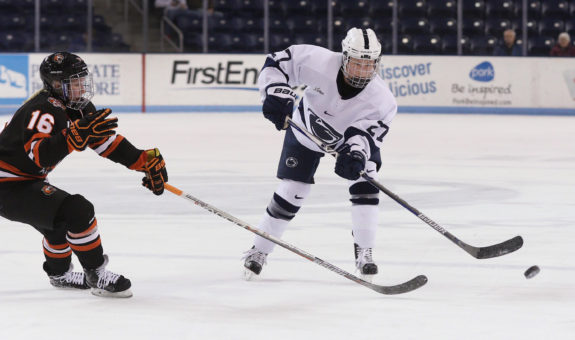 Presently the Buffalo Beauts have the most players under contract of the four NWHL teams. Part of their accumulation comes from the July 21 announcement that four more newcomers were now with the team. Each of the four comes from a different college team: a forward from Syracuse, a defender from Penn State and another from Northeastern, and a netminder from Mercyhurst.
We take a look at each player individually.
Kelly Seward
Kelly Seward had a very strong showing at the Beauts' free-agent camp back in June. The sleek defender moved the puck well during camp and appeared unfazed by any pressure or nerves. At 5 feet 9 inches tall, she is another sizable player for Buffalo's backend that already has three defenders over 5-foot-7.
Seward has used her size and confidence to have been a mainstay on the Nittany Lions defense the past four seasons. During her senior campaign, she led the entire team in blocked shots with 56. In 142 career games for Penn State, Seward tallied five goals and 29 assists for 34 career points.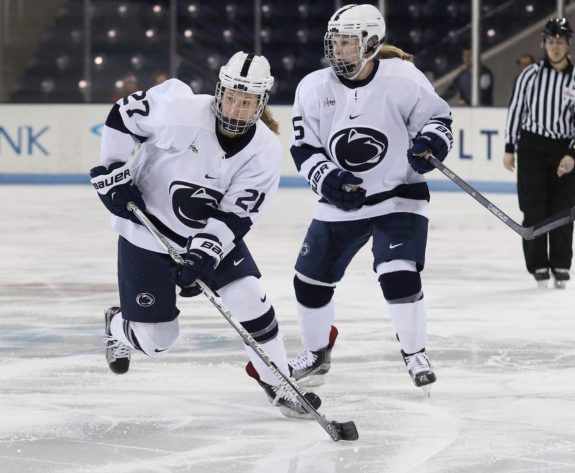 A strong intellect in Seward may certainly carry over to the ice. During her college career she was a Big Ten Distinguished Scholar three times. She was also named on three occasions to the Academic All-Big Ten and the All-CHA Academic teams. She is a sound decision maker when handling the puck.
What is particularly nice about the Seward signing is that she is afforded the opportunity to play in front of the hometown crowd. She hails from the suburb of Williamsville, New York. Seward shared in a Penn State release:
"I'm very grateful and honored for the opportunity to represent my hometown in Buffalo and help grow the game of women's hockey," she said.
Colleen Murphy
One of the more exciting newcomers for Buffalo in 2017-18 will be defender Colleen Murphy. While she may be the most diminutive size-wise on the Beauts "D," that will not matter in the least. The 5-foot-4 Murphy played four years at Northeastern University as a quick-moving puck carrier with tenacity. A native of North Carolina, Murphy is known for ferocity and her willingness to jump into the rush.
Murphy's 138 career games for Northeastern are tied for the sixth-most in the program's history. Within those games, she notched 12 goals and 38 assists for 50 points. Her numbers are just outside of the top 10 in scoring by Northeastern defenders, ranking her at 12th.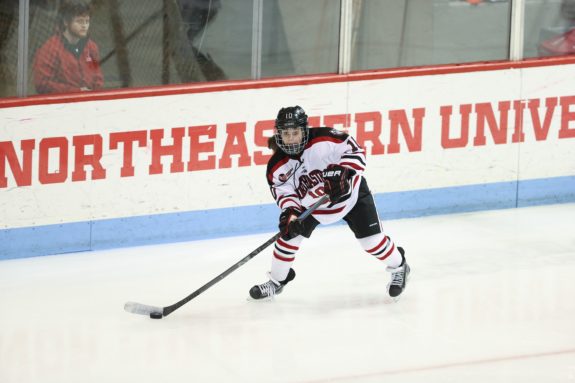 She would finish her four years of college as a plus player with a plus-14.
What could end up being an added bonus, if not a well-planned scheme by Coaches Muni and Seiling, is that the Beauts already have a fellow Northeastern teammate of Murphy's in Hayley Scamurra. On multiple occasions during their time with the Huskies, Murphy set up one of Scamurra's 39 career goals. Placing Murphy and Scamurra on the same unit together for Buffalo could generate both chemistry and offense from the two players.
Julia DiTondo
Buffalo has found its third netminder, and it will be Mercyhurst's Julia DiTondo. Standing opposite Beauts veteran goalie Kelsey Neumann at the free agent camp, DiTondo demonstrated skill between the pipes—skills that go along with her size. The 5-foot-10 goaltender will be the tallest of the three Buffalo goalies (the other two being Neumann and Amanda Leveille).
Like Seward, DiTondo will now be playing professional hockey in front of her hometown crowd. She is originally from the Buffalo suburb of Kenmore.
ICYMI: Two of the four players we signed yesterday are Buffalo natives and @nicholsghockey alumni! #DefendTheCrown https://t.co/gQ4F6iKNch pic.twitter.com/8jPgGb7iBB

— Buffalo Beauts (@BuffaloBeauts) July 22, 2017
During her time at Mercyhurst, DiTondo compiled a record of 5-2-0—a nice collegiate record in and of itself, but her other numbers from her time with the Lakers are even more positive. In her six appearances in the 2014-15 season, DiTondo allowed only seven goals. Her five contests in 2013-14 saw her allow a mere five goals. Her career numbers of a 1.33 goals-against average and a save percentage .937 are most appealing.
With Neumann and Leveille already well-established with the team, it will be interesting to see how DiTondo fits in. It would be enjoyable to see her grab some ice time during the 2017-18 season. Her history at Mercyhurst is enough to say she would make the most of the opportunity.
Jessica Sibley
Buffalo is already quite deep at the forward position and are now even more so with Jessica Sibley joining the squad. The recent Syracuse University graduate is from Luseland, Saskatchewan and is now one of only four Canadian players on the team. Sibley spoke of her hometown via NWHL press release:
"Luseland is a very small, rural Saskatchewan town of fewer than 600 people," Sibley noted. "I hope to act as an inspiration to younger girls who are from small towns or rural areas and show them that they are capable of succeeding in sport."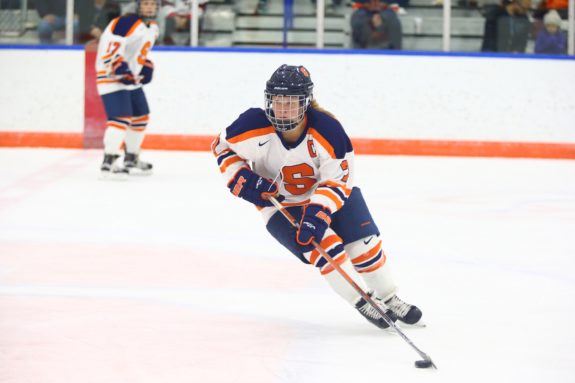 Sibley already made a name for herself as a small-town girl while at Syracuse. In 140 games for the Orange Sibley posted 35 goals and 57 assists. Her 92 career points rank her fourth all-time in the school's history. The 35 goals place her sixth overall and her assists total places her fourth.
The Beauts can expect Sibley to add additional scoring prowess into their mix—something they will certainly need if they are to retain the Isobel Cup.
Speaking of the opportunity, Sibley went on to say, "I'm very eager to get started in the NWHL. The Beauts' coaching staff has been wonderful to work with. They were quick to help me with living accommodations and ensured I had everything I needed to make the move out East. I want to do everything I can to help my team defend the Isobel Cup."
Final Thoughts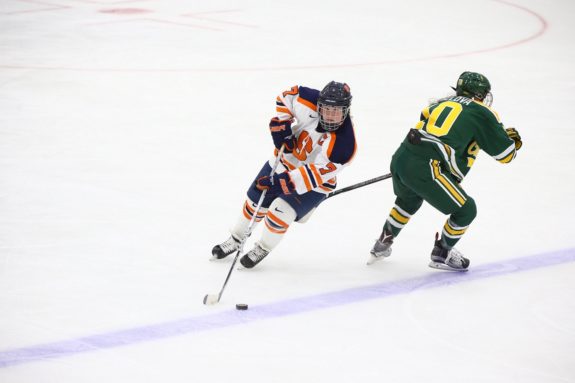 All four players help to round out the Beauts' roster very well.
The goaltending is now situated. DiTondo complements veterans Leveille and Neumann. She presents an intriguing third option.
The offense is there too. There are 10 forwards now that Sibley has inked and all are capable of putting the puck into the back of the net. Goal scoring was something Buffalo struggled with last year. Their 44 goals were the lowest in the NWHL during their Cup-winning season. Expect that number to increase this coming season.
Murphy and Seward joining the blueline corps makes six. Nine different defenders saw ice time for Buffalo last year. Expect at least a couple more to be added for 2017-18.
General Manager of the Buffalo Beauts (NWHL). Hockey history writer "The Hockey Writers". Credentialed media for the NHL Combine and 2018 IIHF World Junior Championships in Buffalo, NY, USA. Born and raised in Buffalo, NY. Lifelong hockey fan for over 40 years. Proponent of the women's game.