From May 1-31, NWHL teams can re-sign players from their 2016-17 roster and their draft picks during the restricted free agency period, and beginning on June 1 any unsigned players left will be free to sign with any team.
The third season of the NWHL will begin in October as the Buffalo Beauts defend their Isobel Cup championship, and with up to 12 players unable to participate in the league this season due to their selection for Team USA's 2018 Olympic team, this will be the most competitive season yet.
My colleague Dan Rice will keep THW readers up-to-date on New York and Connecticut's signings throughout the summer, while I post updates on Buffalo and Boston.
Beauts Sign 2 Vets & 2 Rookies
Boston Pride Have Exciting Rookie in Savage
Consistency as Five More Beauts Return
The NWHL arms race continues as the summer moves along. The first two champions in league history, the Boston Pride and Buffalo Beauts, seem to be trading tit for tat. This week the Pride added another exciting rookie into the fold, and signed away from Buffalo one of the more coveted defenders in the game. As of right now, between the two teams Boston may have pulled ahead.
Let's take a look at the Pride's two most recent signings.
Sydney Daniels
After four solid seasons at Harvard University, Sydney Daniels graduated towards the end of this May. Less than two months later she has signed on with Boston. Though she was originally drafted by the New York Riveters in the 2016 NWHL draft, the free agency period gave Daniels the option of being closer to home.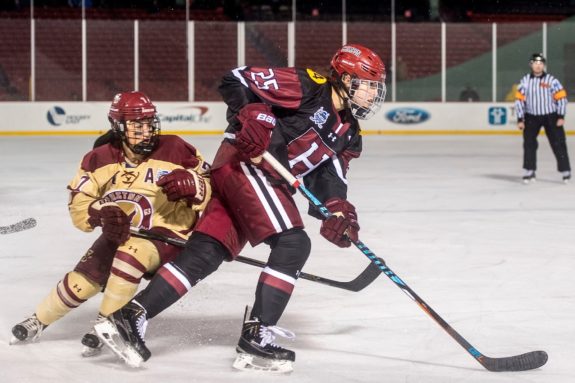 Daniels originally hails from Southwick, Massachusetts but works in Boston. On the decision to stay in Massachusetts with the Pride, Daniels said via NWHL press release:
"Being drafted by New York was such an honor," she said. "However, I decided to sign with Boston because it has become a home to me in the last four years. It's where my friends and family are and I cannot wait to play in front of them."
Like Father, Like Daughter
Speaking of family, Daniels is one of only a handful of women who have played (or will play) in the NWHL who have a father that played in the NHL. Her father Scott Daniels played parts of six NHL seasons with the Hartford Whalers, Philadelphia Flyers, and New Jersey Devils. He was also one tough customer who twice surpassed 200 penalty minutes in an NHL season. Two of the other NWHLers to have pro fathers have been Alex Carpenter and her Stanley Cup winning father Bobby, and Hayley Scamurra who's father Peter played for the Washington Capitals.
At Harvard Daniels was productive. In 126 games she tallied 59 goals and 28 assists for 87 points. She showed no hesitancy towards firing the puck as she surpassed 100 shots a season during her final three years with the Crimson, and topped out with 512 total. Her finest season statistically was her junior year campaign when she potted 21 goals in 31 games, had exactly 31 points in that stretch and finished as a plus 20.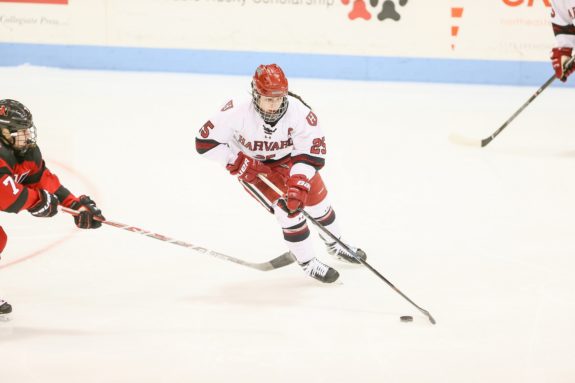 Perhaps reminiscent of her father, Daniels had 120 penalty minutes in 126 games for the Crimson. Make no mistake, she was also highly skilled and dependable. A career plus 48 and 14 game winning goals is proof of that.
Daniels also added, "I am beyond excited and honored to have the opportunity to sign with an NWHL team. I'm so happy to have the opportunity to continue to play the sport I love in a city that I love."
This is yet another forward for Boston that can put the puck into the back of the net.
Paige Harrington
Although anything can happen in free agency, the Boston Pride may have stolen one. After being an original Buffalo Beaut and Isobel Cup winner for the team, Paige Harrington moves on. It is a tough one for the Beauts to swallow. Harrington has been a workhorse on defense and has never missed a game for Buffalo, regular season or playoffs.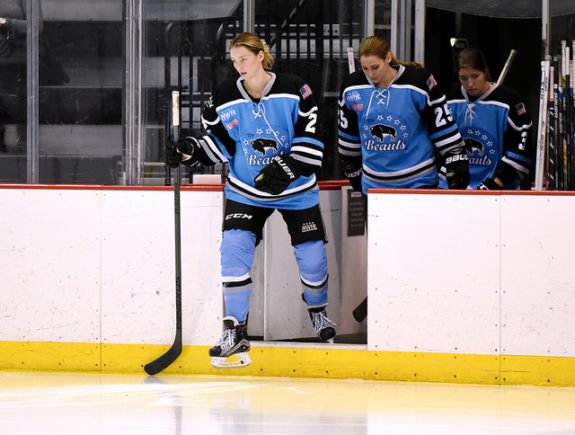 Boston, meanwhile, should be ecstatic. At five-feet and eleven-inches and over 140 pounds, Harrington is a thoroughbred. She fits the style and build which coaches want in a defender. Dependability is her forte. Among Buffalo's blueliners last regular season she was second only to Megan Bozek in shots blocked (12). Harrington's positioning is always impeccable and oftentimes she seems impervious to opposing skaters. It was also not uncommon for Harrington to be literally heads above the rest.
Her importance to a hockey club was perhaps no more apparent than in the Isobel Cup finals with Buffalo's victory against Boston.
A Necessary Move for Boston
Boston needed a defender like Harrington. The team's forwards are particularly potent and envy-inducing. However, the Pride had only Kaliya Johnson and Lexi Bender inked as defenders prior to the Harrington signing. Johnson and Bender are most assuredly highly regarded rearguards, but the backend still needed a major move. Boston got the job done.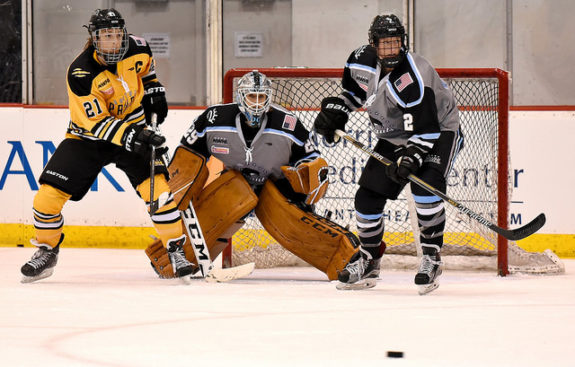 The signing is a positive one for Harrington as well. She returns closer to home. Being from the Boston suburb of Mansfield, Harrington said via NWHL press release:
"Being able to play professional hockey for my home city of Boston has been a childhood dream of mine, so this is a very special moment for me," said Harrington. "I am looking forward to another year playing at the top level of women's hockey in the NWHL. The Pride should be a great fit for me, and I hope to make a positive impact on the team."
Goodbye, Buffalo
In 35 regular season games for the Beauts Harrington had three assists. Numbers aside, Buffalo fans had grown accustomed to and developed an affinity for the rangy defender. The feeling was mutual. Through the same press release, Harrington shared a special statement with Buffalo:
"To the Buffalo fans: Thank you for your unwavering support the past two seasons. Playing for the Beauts was one of the best times in my life. Buffalo is an amazing city and will always have a piece of my heart.
Thank you @BuffaloBeauts for everything! Its been unreal. Looking forward to being home with the @TheBostonPride! @NWHL https://t.co/7BEN3BTEkk

— Paige Harrington (@ona_ramPAIGE) July 12, 2017
"To the Beauts' coaches: Thank you for taking a chance on me and pushing me to become a better hockey player. I have the highest respect for the coaches, trainers, media crew, staff, teammates, and fans for their commitment to the Beauts and the NWHL. I will always remember what we accomplished this year – no better feeling than bringing the Isobel Cup to the city of Buffalo.
"To my teammates: Thank you for all the memories and laughs along the way. We had an awesome group of girls pushing for women's hockey. For those who are playing next year, I'll see you on the ice."