During just about every broadcast of a nationally televised Detroit Red Wings game, there's a reference to Hockeytown's rich history of late-round draft steals. Usually, Pierre McGuire gives credit to Ken Holland, Hakan Andersson and Detroit's European scouting staff for finding diamonds in the rough who other teams pass on.
Now, it appears that the Red Wings' management team has pioneered an innovation to add organizational depth — undrafted free agents. With other teams expanding their scouting departments, removing bias from their internal rankings and tracking the various European leagues more thoroughly, Detroit had to find a new way to gain a competitive edge – and they did.
Why Undrafted Free Agents
Of all the draft-eligible hockey players across the world, only 217 were selected by NHL teams in the 2017 Entry Draft. That leaves thousands passed over for varying reasons: talent hasn't yet developed, too small, too slow – the list of knocks goes on. And, typically, there's a preference for first-year eligible players, so if a player is passed over, then it's not uncommon for them to never be selected in an NHL draft. Basically, it's make-or-break at 18 for these hockey players with regard to the NHL draft. But what happens if they're not selected?
OHL, QMJHL, and WHL players usually have two to three more years of major junior eligibility.
Non-major junior players can play juniors for two more years before joining an NCAA program.
European players can continue to play in the junior and senior leagues overseas.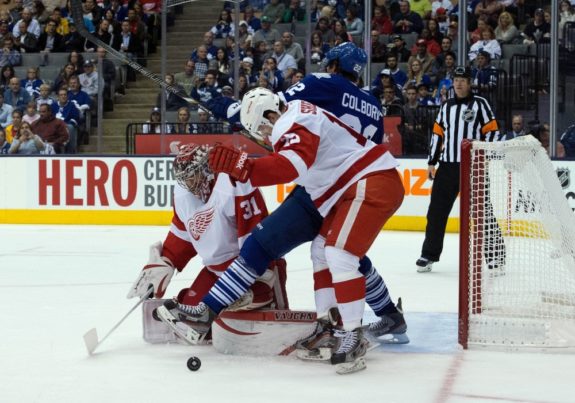 These additional years give those players more time to develop their skill sets and NHL teams a larger sample size to evaluate them. If they're never drafted, then these players become unrestricted free agents at varying points and can sign with whomever they'd like. And when they're signed, they essentially supplement their draft class, just years later. This is critical to roster management, especially if there were a few swings-and-misses early on in previous draft years.
Recent Undrafted Free Agents
Over the past few years, the Red Wings have made a commitment to evaluating and signing undrafted free agents. In fact, Jiri Fischer's new title as Detroit's Director of Player Evaluation was created for him to scout these players across the world and bring back a list of who the Red Wings need to pursue.
With that being said, here are the most recent undrafted free agents signed by the Red Wings:
Red Wings Undrafted Free Agent Signings

Player

Position

Year Signed

Draft Class Supplemented

Luke Glendening

C

2013

2007

Danny DeKeyser

D

2013

2008

Jared Coreau

G

2013

2010

Tomas Nosek*

C

2014

2010

Joe Hicketts

D

2014

2014

Robbie Russo

D

2015

2011

Dan Renouf

D

2016

2012

Matej Machovsky

G

2017

2011

Libor Sulak

D

2017

2012
*Nosek was selected by the Vegas Golden Knights in the expansion draft.
All "Year Signed" data courtesy of CapFriendly.
If you go back further, the Red Wings also signed Damien Brunner, Brian Lashoff, Brett Lebda, and Jason Williams to entry-level deals as undrafted free agents.
None of these players are the game-breakers like those who the Red Wings were able to find in late rounds of previous drafts (Pavel Datsyuk, Henrik Zetterberg, Johan Franzen, and Vladimir Konstantinov, for example). However, those signed undrafted free agents who have already reached the NHL are valued players on the team.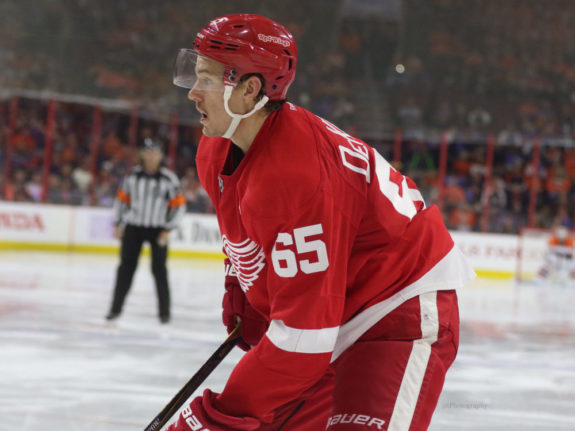 Though he may be best suited for a second-pairing role, Danny DeKeyser is Detroit's go-to defenseman. Signing him helped to supplement the 2008 draft class, when the Red Wings took goalie Tom McCollum in the first round over the likes of Jake Allen, Roman Josi, Justin Schultz, and Derek Stepan. (Apart from fourth-round pick Gustav Nyquist and McCollum, no one from that draft class reached the NHL.)
Factoring in DeKeyser doesn't make that year look as bad. Similarly, adding undrafted free agents to strong draft years—like the 2010 draft class—only makes them stronger and deepens Detroit's prospect pool.
Today's Impact
Don't let Spencer Foo passing on Detroit foo-l you—the Red Wings can still sell their organization to late-bloomers who could become NHL contributors. They had Sulak and Machovsky high on their list alongside Foo and Nashville's Victor Ejdsell.
Having DeKeyser, Glendening, and Coreau playing big roles last season plus Russo and Hicketts on the cusp is perfect evidence of what Detroit is promising these free agents: if you sign with us, we will develop you and you will play. The proof is on the ice. And with Fischer now scouting these players year-round, you can believe the Red Wings will be top contenders for these players heading into the future.
Recent Posts