In the history of the Toronto Maple Leafs, there have been many really tough players. Perhaps the first three that come to mind are Wendel Clari, Tie Domi, and Doug Gilmour. 
---
---
Wendel Clark is considered one of the toughest Maple Leafs players in history. He was known for his physical style of play and his willingness to stand up for his teammates. He was widely loved by the fans for his toughness and leadership on the ice.
Related: Ex-Maple Leaf Jack Campbell & His Season with the Oilers
Domi was known for his fighting ability, and he, too, was willing to stand up and protect his teammates. He played for the Maple Leafs for 11 seasons and also became a fan favorite.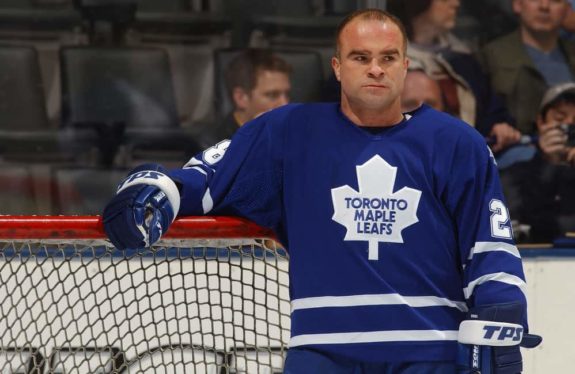 Gilmour wasn't necessarily known for his fighting ability; however, he was one of the toughest players in Maple Leafs' history in other ways. Specifically, he was known for his tenacity and his ability to play through pain. Gilmour became a key player in Maple Leafs' success in the 1990s and was beloved by Maple Leafs fans.
But perhaps the toughest player in franchise history was Jim Dorey.
Who Was Jim Dorey?
Dorey played for the Maple Leafs from 1968 to 1972. He was a member of the organization when they were hugely popular, and he preempted some of the team's most iconic players as the game became more modern. Darryl Sittler, Borje Salming, and Lanny McDonald were just beginning their time with the Maple Leafs when Dorey was ending his. During that time, Dorey was a reliable defenseman renowned for giving his all on the ice. He was recognized for his physicality and his willingness to block shots and sacrifice his body for the team. 
Related: Top 10 Offensive Seasons in Toronto Maple Leafs History
---
Latest News & Highlights
---
Dorey was a key part of the teams that reached the playoffs in both 1970 and 1971.
Dorey's First Game as a Maple Leaf
Dorey was drafted by the Maple Leafs in the fourth round (23rd overall) in the 1964 NHL Amateur Draft. In his first game, he set the NHL single-game penalty record with 48 minutes in the penalty box. That debut came on Oct. 16, 1968, against the Pittsburgh Penguins at the Maple Leaf Gardens.
He was 21 years old at the time. Like most young hockey players, skating in his first NHL game was a dream. But his debut turned into a gong show. He took two minor penalties in the first period and added four more penalties in the second. Before the game was over, he had been in altercations with almost every Penguins player on the ice. The result was two fighting majors, two misconducts, a game misconduct, and a high-sticking minor for a record nine penalties.
Dorey's record has since been surpassed, but his 48 penalty minutes in a single game remain a franchise record.
What Happened After the Game Surprised Dorey
After his record-breaking penalty-filled debut, Dorey assumed he would be sent down to the AHL. However, he was surprised when King Clancy and Punch Imlach entered the dressing room, and instead of punishing him for his aggressive play, Imlach pulled out his wallet and handed him $100. The directions were clear: "Get lost for the weekend." Dorey was shocked, especially by Imlach, who was known as a penny-pincher.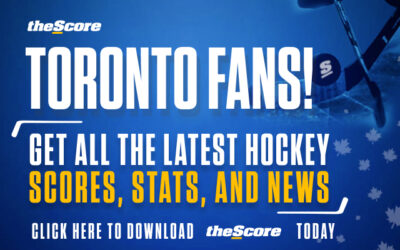 Clancy was jumping up and down in delight at Dorey's performance. Imlach told Dorey that his style of play was what he wanted to see from his players, and the gesture wasn't lost on him. Dorey took the incident to heart. If his coaches were going to reward him for playing aggressively, he was going to continue playing aggressively.
Dorey Becomes a Target for Other Players
Imlach, as the Maple Leafs' head coach, might have had some foresight by rewarding Dorey. The media covered the incident widely, and Dorey became a target for other players as a result – the fastest gun in the West sort of thing. 
Related: The 7 Toughest Players to Wear a Maple Leafs Jersey
Dorey's aggressive debut set the tone for his career, but it also gave him the confidence to play "his" style. It also cemented his place in Maple Leafs' history and into the hearts of Leafs Nation. 
During his time in Toronto, Dorey was a solid contributor. In the 1968-69 season, he scored eight goals and 22 assists (for 30 points) while accumulating 200 penalty minutes. The following season, he played 46 games, scoring six goals and adding 11 assists (for 17 points). 
In 1970-71, Dorey had one of his best seasons with the club, scoring seven goals, 22 assists (for 29 points), and accumulating 198 penalty minutes. In his final Maple Leafs season (1971-72), he played 50 games with four goals and 19 assists (for 23 points). He also "only" collected 56 penalty minutes that season.
Dorey Traded to the Rangers
After being traded to the New York Rangers late in the 1971-72 season, Dorey got a chance to play in the Stanley Cup Final for the first time in his career. Sadly, he only played one game against the Boston Bruins before being sidelined by an injury as the Bruins went on to win Lord Stanley's Cup in six games.
Related: 2015-16 Maple Leafs: Celebrating the Worst Team History
Dorey jumped to the new World Hockey Association (WHA) the next season. He played for several WHA teams, including the New England Whalers and the Quebec Nordiques. With the Whalers, he won the inaugural Avco Cup in 1973. Dorey also came back to play for the WHA's Toronto Toros. He finished his career in the American Hockey League (AHL), playing with the Philadelphia Firebirds and New Haven Nighthawks.
Dorey Retires to Kingston 
Dorey retired from playing in 1981 and settled in his hometown of Kingston, Ontario, where he coached the Ontario Hockey League's (OHL) Kingston Canadians for seven years. He helped establish hockey schools overseas and gave his support to many charities.
Dorey has remained active in the Maple Leafs Alumni Association and has been involved in the local chapters of the Boys and Girls Rotary clubs. He had a successful career as a professional hockey player, both in the NHL and the WHA, and continues to contribute to his community.
It Was an Honor to Play for the Maple Leafs
Dorey has often noted that he has nothing but great memories of his time with the Maple Leafs. He was drafted by the team in 1964 and spent four seasons patrolling their blue line. For him, it was an honor to play for Toronto. In one article, he mentioned that he realizes how special his time was with the team more now than when he was actually playing. His story is a great part of Maple Leafs' history.