"If you can't beat them in the alley, you can't beat them on the ice."
The man who created, owned, coached and managed the Toronto Maple Leafs, Conn Smythe, believed that toughness was an essential part of hockey, particularly if you wanted to win. You had to be able to stand up for yourself — a team that could be bullied by the opposition could be beaten easily.
Over the years, the Leafs have had a number of players who could be described as tough. Stars like Sittler, Gilmour, Salming, Roberts… favourites like Belak, Tucker and Shack. The Leafs have historically had a tough team. But there have always been those who were seen as the toughest of them all. Not all necessarily fighters (though being willing and able to chuck knuckles helps) but these seven players were noted by their opponents, loved by the Leafs faithful, and go down as the toughest to wear the Maple Leafs jersey.
7. Big Daddy Bob McGill (1981-86, 1992-93)
In the early 1980s, the Maple Leafs were a team with many troubles. There were some decent scorers, but not enough scoring to overcome the deficits; the goaltending was shaky, the defence corps was young and inexperienced and ownership was always meddling in personnel decisions. But, one thing the team had was a couple of guys on the blueline who weren't afraid to mix it up – among them, Bob McGill.
In an interview with The Hockey News, McGill described how he got his nickname: "Marc Magnan, a guy I played with in St. Catharines in the American Hockey League, was reading this book about Big Daddy Lipscomb, who played in the NFL. He was supposed to be the toughest guy. I got in a couple scraps. Came in the dressing room, he started calling me 'Big Daddy.' "
The big kid from Leduc, Alberta stepped into his first NHL season as a 19-year-old on a Maple Leafs team with personnel issues. And he didn't waste any time, accumulating 263 penalty minutes in 68 games to lead Toronto in 1981-82, though that number was part fighting and part poor penalties due to inexperience.
He split time in the AHL, but over the next two seasons counted 197 PIM in only 41 NHL games. He returned to the Leafs full-time in 1984-85 and posted 250 PIM, though he had matured into a much better defenceman. Still, he knew his role was to be a heavy hitter and a guy willing to scrap when needed.
He left Toronto in 1987, returning for 19 games in 1992. In total, McGill had four goals, 29 points and 988 PIM in 317 Leafs games to rank eighth on the franchise penalty minute list.
6. Boomer Baun (1956-67, 1970-73)
Winner of two Memorial Cups with the Marlboros and four Stanley Cups with the Leafs, Bob Baun is known for one of the most memorable displays of toughness ever.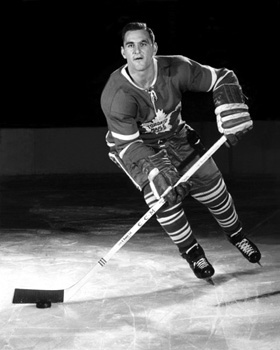 A member of the legendary Leafs defence corps of the 1960s, Baun was known as one of the cleanest and hardest hitters of his time. He was a solid defender – not very flashy with the puck, but he could rock opponents with his hard checks against the boards. He would 'lower the boom' as it were on the other team's forwards, hence the 'Boomer' nickname. On a team that stressed defensive play, Baun's combination of body checking and stand-up defensive play made him invaluable.
But Baun would come to be best known for having his foot broken by a Gordie Howe shot in game six of the 1964 Stanley Cup final, then scoring the winning goal in overtime. Baun, never known as a scorer, had decided he just was not going to miss overtime, so the doctor, figuring he couldn't hurt the foot any worse, froze it and laced the skates back up. Boomer's goal evened the series, and the Leafs won the Cup a couple nights later. Without a guy like Bob Baun to tough it out, it seems unlikely that would have been the outcome.
Bob Baun played parts of 14 seasons with Toronto, a total of 739 games, in which he accumulated 29 goals, 169 points and 1,155 PIM (seventh on the franchise list).
5. Red Horner (1928-40)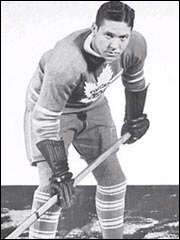 The first Leafs player to take on the policeman role, Red Horner was proud to play the game he did for the team he loved. Horner knew that being a big kid, he could impress people with a crash and bang style. Smythe knew what he had in the hard-hitter lad, and snapped him up right away.
Horner played 12 years with the Leafs, serving as captain from 1938-40. He led the NHL in penalty minutes in seven seasons (no other player in history has led the league more than four times) and set a record for PIM in a single season with 167 in 1935-36 – a record that stood until the mid-1950s. He retired from the NHL as the career penalty minute leader, a mark he held for 17 years. In 490 games, he scored 42 goals and 152 points and is sixth in franchise history with 1,254 penalty minutes.
"I was just naturally a heavy-hitter" Red said in later years. "We had some smaller players on the team and someone had to protect them. I was that someone."
4. Tim Horton (1949-70)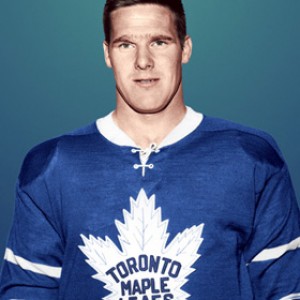 A six-time All-Star and four-time Stanley Cup winner, Tim Horton was well-known by opponents and teammates alike as one of the strongest players to lace 'em up. Along with Baun, Carl Brewer and Allan Stanley, Horton was a member of one of the best defensive corps ever put together.
Horton began his Leaf career in 1949, and at one point would play 468 consecutive games (a record for defencemen since surpassed by Karlis Skrastins in 2007). Like Baun, he was a physical defenceman. Opponent John Ferguson Sr. once remarked "Horton's the hardest body checker I've ever come up against. He's as strong as an ox and hits with terrific force."
Horton wasn't a scrapper or fighter, as Bobby Hull remarked "There were defensemen you had to fear because they were vicious and would slam you into the boards from behind… But you respected Tim Horton because he didn't need that type of intimidation. He used his tremendous strength and talent to keep you in check."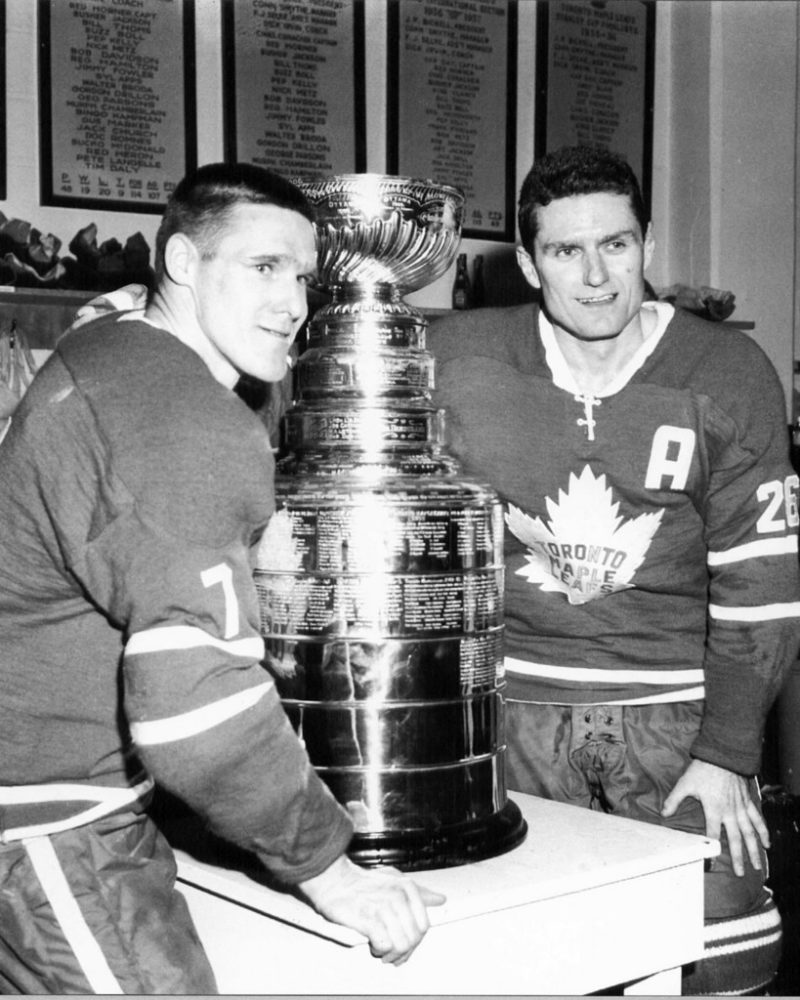 In fact, it was known that Tim Horton had no penchant for violence, he just did not play that way. Still, he was tough as nails and would not back down from his check. Whenever a scrum broke out, he was famous for wrapping guys (sometimes more than one) in a bear hug, one he would not let go until things had calmed down.
It's said the Horton often regretted how many penalties he took as a young player due to what he felt was a quick temper. He is fourth on the Leafs' all-time penalty minute list with 1,349, but that is more due to the fact he played 1,185 games as a Leaf (second only to George Armstrong), and he posted 458 points. He was still an active NHL player for the Buffalo Sabres when he died as the result of a car crash in 1974.
3. Tie Domi (1989-90, 1994-06)
Tie Domi is a name that evokes a wide range of responses from hockey fans. Some will remember his sucker-punch on Ulf Samuelsson, the incident when a fan in Philly fell into the penalty box after Domi squirted water at him, or the horrific elbow Domi leveled on Scott Niedermayer in the playoffs. At times even fans in Toronto wondered why Domi was kept around, and why he got so much playing time.
Domi was one of the better heavyweights in the NHL during his career. Drafted by Toronto in the second round in 1989 and traded the following summer, Domi made his name as a New York Ranger in an ongoing series of fights with Bob Probert, and later as a member of the Winnipeg Jets in the early 1990s. He was reacquired by the Leafs in 1995.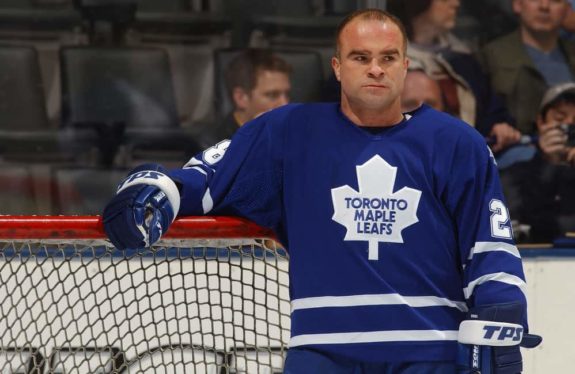 Tie was a Leaf for the next 10 seasons and was the acknowledged enforcer on a team that included tough customers like Wendel Clark, Kris King, Shayne Corson, Darcy Tucker, Gary Roberts and Wade Belak. In his time in Toronto, he garnered 2,265 penalty minutes, the franchise record. He also set a franchise record with 365 minutes in 1997-98.
But lest one think Domi had little to offer, he did manage to score 84 goals (8 game winners) and 196 points in his time as a Leaf. He scored more than 10 goals three times, and had career highs in goals (15) and points (29) in 2002-03. Controversial as some of his antics were, Domi provided an element of toughness that helped the Leafs of the late 1990s and early 2000s find success.
2. Wendel Clark (1985-94, 1995-98, 1999-00)
Admittedly, for those outside Toronto, Wendel Clark, the first overall draft choice in 1985, was a decent NHL player; not a star, certainly not a superstar. But for Leafs fans, Clark was the right player at the right time, and he'd become a legend in blue & white.
Clark entered the NHL with a crashing, banging, hard-hitting style, combined with offensive ability and a great shot. He scored 34 goals in his rookie season and added 227 PIM, all in his first season as a wing after being converted from defenceman (which he played in junior). He quickly showed he was not going to back down from anyone, taking on the NHL's heavyweights.
Wendel Clark was a fan favourite. Three times he topped 30 goals, and in 1993-94 he scored 46. Injuries factored in early, beginning with a back injury that occurred in 1987, limiting him to only one full NHL season during his career. But that did not stop Clark from continuing to be a big-hit, high-impact forward. His fights and penalty minutes decreased as he aged, but he still could level players with a bodycheck. And he still could throw punches – one of the most memorable incidents being in the 1993 Western Conference Finals.
It was the combination of ability and toughness that made Clark the perfect (and really only) choice for the captaincy of the Leafs in the early 1990s. He led by example — going to the dirty areas, throwing hits and taking on all comers. In 608 games as a Leaf, Clark combined 260 goals and 441 points with 1,535 penalty minutes, third in franchise history.
1. Tiger Williams (1974-80)
The NHL's all-time career penalty minute leader spent the first 440 games of his career in a Maple Leafs uniform.
Tiger Williams was drafted in the second round in 1974 by the Maple Leafs, and played a game similar to later Leaf Wendel Clark. He could hit, he could fight, and he could provide offense. Tiger would play half a season in the minors before making the Maple Leafs for good. In only 42 games, he scored 10 goals and 29 points, adding 187 PIM — shades of things to come.
Williams was not simply an enforcer to protect guys like Darryl Sittler and Lanny McDonald. In fact, Sittler and McDonald were capable of protecting themselves in many situations. True, Tiger was there to take on the true heavyweights like Dave Schultz and Jerry Korab and the like, but in four full seasons with Toronto, he scored no fewer than 18 goals or 39 points and twice counted over 300 penalty minutes. He didn't back down from scraps, though he wasn't necessarily the best fighter (in this video, he loses a tough one to Terry O'Reilly).
He was a fan favourite not only for his fisticuffs, but he would ride his stick down the ice after a goal, twirling an imaginary lasso in the air, much to the dislike of the opposing team.
In 1979-80 he was on his way to his most productive season yet – 22 goals and 40 points in only 55 games – when he was traded to Vancouver. Tiger would find great success with the Canucks and eventually finished his career with 3,966 penalty minutes (the equivalent of over 66 regulation NHL games). In 407 Toronto games, he scored 109 times, had 241 points and 1,670 minutes in penalties. Many remember him as 1/3 of one of the best first lines the Leafs ever had.
** written by former THW contributor Mark Ascione and originally published on Aug. 21, 2012.