There's no place like home for the Dallas Stars, who are 10-4-0 at the American Airlines Center this season. They struggled mightily away from Dallas last season, posting a disappointing 12-24-5 road record, and are 6-9-1 as visitors so far in 2017-18.
The Stars left town after practice Sunday, heading east on a tough four-game tour of the Metropolitan Division. They hope to end their three-game losing skid Monday night in New York, where they'll face the Rangers at Madison Square Garden. The visiting Stars are 5-3-0 in their last eight games at MSG, and there's a simple explanation for their success at "The World's Most Famous Arena": they love playing there.
Spezza Thrives on MSG "Buzz"
"MSG is pretty electric and feels special to be playing there," said Stars center Jason Spezza. "It's kind of the same with Montreal, there's always a little bit of a buzz."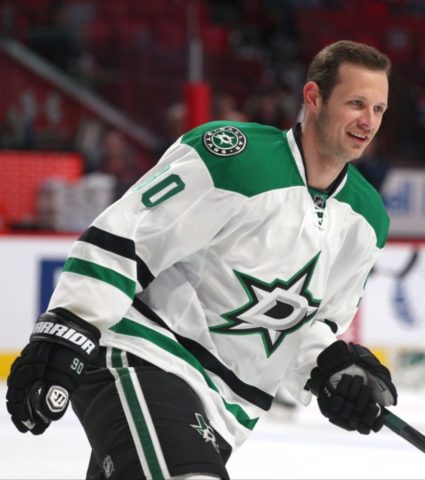 The veteran forward, who named Madison Square Garden and Montreal's Bell Centre as his favorite road arenas, was asked whether visiting players feed off the atmosphere in those venues.
"Yeah, I think you get a little more jacked up," said Spezza. "You get heckled a little bit, there's a buzz around the rink…I like it when the fans are a little bit on top of you and those two rinks, the fans are on top of you a little bit more, so it makes it a little more hostile environment, makes it fun to play.
Clearly, Spezza enjoys playing the Garden: He's put up 5-5-10 in his last six games there and leads all Stars in career goals, assists and points at MSG, with 13-20-33 in 38 contests.
Seguin Likes It Loud
Stars center Tyler Seguin echoed his teammate's comments.
"I like MSG, I like Chicago, I like Montreal…that's probably my top three," said Seguin. "It's just the atmosphere. I like loud places. MSG is more about the history, Chicago and Montreal the atmosphere. The fans are great and it's always very loud. Whether you're at home or the visiting team, you still get excited with how loud it is."
Surprisingly, the super Star has just one career goal in 19 games against the Rangers, and that came when he was with the Boston Bruins. The only other team Seguin's scored one goal against? The Vegas Golden Knights (he's never scored on the Anaheim Ducks, but we'll get into that another time).
The Stars' need to end their losing streak adds pressure to this road trip. With that in mind, Seguin was asked why it's harder for teams in general (not just the Stars) to win on the road. He pondered the question before answering.
"It's generally comfortable at home," said Seguin. "You just have so much knowledge of things that have gone right and wrong at home that you just kind of trigger it and it doesn't matter who you're playing, and on the road…The fans, the momentum, it's harder to grab because there's 20,000 people on one team's side, and it always makes it trickier to win on the road. You have to really simplify on the road to have success."
Bishop Loves Broadway
Count The World's Tallest Goalie as another fan of The World's Most Famous Arena.
"Yeah, Madison Square Garden. Probably that and Chicago are my two favorite places on the road," said Stars netminder Ben Bishop. "New York, it's kind of like, 'Broadway!' You kind of feel like you're on a stage. It's a neat arena, because it's got a lot of history to it and good atmosphere. They've played a lot of pretty significant games in that arena, so you have a lot of competitive juices [flowing] when you think about it."
Kari Lehtonen will start for the Stars against the Rangers, so Bishop will be a well-paid and well-padded spectator at MSG Monday night.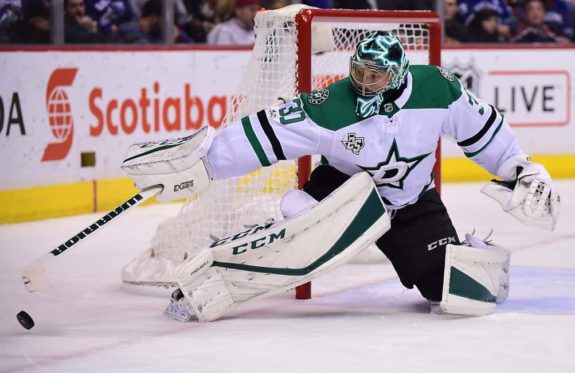 Big Ben was also asked about home versus road games. Maybe it's because Bishop's a goalie, and goalies see the game differently, but he doesn't see a difference between home and road contests.
"I don't think it really is [different]. I mean, maybe just the home confines, your own crowd, but…it's the same game," said Bishop. "There's really nothing different, so it shouldn't be any easier or harder. It's the same game; you get the last change [as the home team], but that's about it. I don't think it's necessarily harder. I don't think it's mental, it's just a matter of going out there and doing it."
Hitchcock's Diplomatic Disclosure
After talking to the players, I was curious as to whether Stars head coach Ken Hitchcock had a favorite road arena. Hitch contemplated the question for a few moments before answering.
"I'm more partial to the older ones because they had character and they weren't cookie-cutter," said the coach. "But some of the new ones that have a 'wow factor,' like the arena in Edmonton's got a 'wow factor' that's incredible. For me, it's more the arenas that have kept their stature and their style and their grace, even though they're older arenas."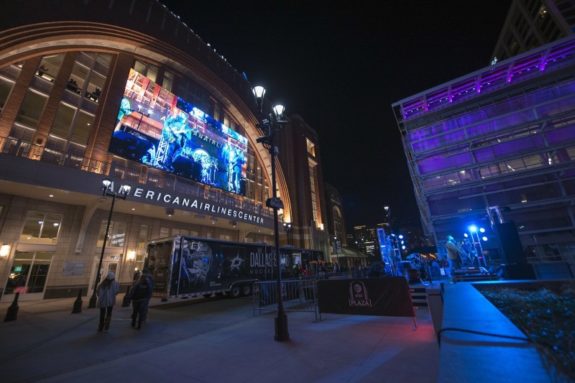 Hitchcock continued, working in a plug for the Stars' home arena while sprinkling compliments around the league as smoothly as any politician.
"To me, there's no better looking arena than American Airlines [Center], because they've kept that arena in immaculate shape for us, which is really nice to see," said Hitch. "It's 15 years old and it looks brand new. It's the same as the arena in Philadelphia. Those are the ones that really, really impress me, the way that they look despite being 20 years old. But looking at the new ones that are coming out now, like the one in Edmonton has a lot of conveniences that are really fan-friendly, like Detroit, everybody talks about how great Detroit is for the fans. Those are the ones."
One thing is clear: If the whole hockey thing doesn't work out, Ken Hitchcock has a bright future in politics.
Matt blogged about all things hockey at On Goal Analysis/The OGA Blogs from 2008-2014 and has written several travel articles for The Dallas Morning News. He began covering the Dallas Stars and Florida Panthers for The Hockey Writers in August 2015. Matt is also writing a biography of "Tex" Rickard, the Texas cowboy who founded the New York Rangers and the Madison Square Garden Corporation.