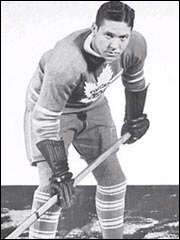 TML Captains is a series that profiles the men who 'wore the C' for one of the NHL's charter franchises. Previously featured were Bert Corbeau, Hap Day and Charlie Conacher.
George Reginald 'Red' Horner
#2, 11 , 15 Defenceman
b: 28 May 1909 Lynden, ON
d: 27 Apr 2005 Toronto, ON
Toronto Maple Leafs 1928-40
Acquired: Signed as free agent, December 22, 1928.
Lost: Retired 1940.
Toronto totals: 490 Games, 42 goals, 110 assists, 152 points, 1254 PIM
Captain: 1938-40
Born in a hamlet west of Hamilton, Ontario, George Reginald Horner would grow up to be an NHL policeman, Stanley Cup winner and Hockey Hall of Fame inductee. But if not for a job in his half-brother's grocery store, he may never have made it.
Red had moved to Toronto and was working as a delivery boy, and Mrs. Frank Selke was one of his regular deliveries. He'd been playing lots of hockey, and he asked Mrs. Selke if her husband's team, the Marlboros, might give him a tryout. She gave young Red the information on where to be. He didn't impress immediately, but eventually got his chance, and played well enough that in time, Selke made him captain of the Marlboro Juniors. He played for the Memorial Cup in 1928, along with future Leaf teammates Charlie 'The Big Bomber' Conacher, Harvey 'Busher' Jackson and Alex 'Mine Boy' Levinsky.
Red began the 1928-29 season with the Marlboros, but Conn Smythe had been tipped to some players by Selke. Horner was not only playing for the Marlies, but he was now working at the stock exchange and playing in a league for the brokers. Smythe caught sight of Horner, and liking what he saw, made an offer straightaway to get Red into his lineup for Saturday night, December 22, 1928… despite that Red had already played games on Friday night and Saturday afternoon!
In only his second NHL game, Red suffered a broken hand courtesy a Nels Stewart slash, but he'd play in 22 games, with no points but 30 penalty minutes in 1928-29. The next season, Red would have 96 PIM in 33 games to go with 9 points. Conn Smythe loved having tough players on his team, but Horner rejected the notion that he was pushed into the role. With his large frame and heavy hits, he simply became the policeman. With Levinsky, Day and Clancy, and behind the Kid Line, Horner doled out hit after hit, and was an integral part of the Stanley Cup-winning team of 1931-32.
In 1932-33, Red led the league in penalty minutes for the first time with 144, 17 more than 2nd place Ching Johnson. The next season, Red had 146 PIM, a whopping 59 minutes more than second place. He led again in 1934-35, and in 1935-36, he posted a league record 167 minutes (more than double second place Al Shields' 81), and led in 1936-37. In 1937-38, Red had his best offensive output and placed second in penalty minutes, but would be the league leader again in his final 2 seasons.
But Red Horner figures in two of hockey's historic moments between the Leafs and the Bruins.
The first took place on March 15, 1932. In those days, a minor penalty was served in full, even by goalies. When Toronto goaler Lorne Chabot got a penalty, the Leafs had to put someone in net, and up first was Horner. Red had never played net, and he quickly allowed a goal by Marty Barry. Horner was pulled for Levinsky, who also allowed Barry a goal. Toronto then put Clancy in to finish the 2 minutes, and he allowed another marker to George Owen. The Bruins won 6-2, having scored 3 within 2 minutes, and 6 total on 4 goalies in the game.
On December 12, 1933, Horner was central to one of hockey's unfortunate incidents. In Boston, the Leafs were playing well, in particular shutting down Bruin great Eddie Shore. Horner knocked Shore to the ice at one point, and turned to join the play up ice. Shore, seeking vengeance, mistook Ace Bailey as the culprit, and flipped him, causing Bailey to land head-first on the ice. Immediately it was apparent Bailey was seriously injured, and Horner went back, grabbed Shore and decked him (Shore was knocked out when his head hit the ice). The result of the incident was that Bailey never played hockey again (and was lucky to have lived), and in 1934 both Shore and Horner played in the first all-star game, a benefit for Bailey and his family.
As the decade of the 1930s wound down, changes were happening. Many of the Leaf greats were gone, including previous captains Day and Conacher. Red, a veteran at 28, was made captain of a young team with many future stars. Ironically, he succeeded Charlie Conacher, the man who succeeded him as captain of the Marlies a decade earlier. Red said he considered being captain the greatest honour of his hockey career.
Red retired in 1940. He was the single season penalty minute leader 7 times – no one else has led the NHL in PIM more than 4 times. He also led the playoffs in penalty minutes twice. His 167 penalty minutes was the NHL's single season record from 1935-36 until surpassed by Lou Fontinato's 202 in 1955-56. He retired as the league's career penalty minute leader, a title he held until passed by former Leaf Gus Mortson in 1957. Ironically, Red began a 2 year stint as an NHL linesman after retiring as a player. He left hockey altogether to start working in the coal industry, where he forged a long and successful business career, eventually becoming owner and president of Canada Coal Company.
Horner was elected to the Hockey Hall of Fame in 1965. No doubt, Red could play the game. He won a Stanley Cup. He had 11 goals and 21 points in 1933-34, and had a 24 point season in 1937-38 (not bad numbers for a defenceman in that era). Yet, playing with Hap Day and King Clancy for the bulk of his career, Red wasn't even considered the best defender on his own team. Some speculated that Red made the Hall based on his penalty minute records and perhaps the influence of Smythe and maybe Selke. That said, Horner is connected to some of the great stories and events of the NHL of the 1930s, one of the heroes of those old-time Leafs.
A link to the glorious past, Horner was present when Doug Gilmour was named captain in 1994. Red was also featured during the 65th Anniversary of Maple Leaf Gardens, at the final game and closing ceremonies in 1999, and at the opening of the Air Canada Centre. Red held the distinction of being the oldest living Hockey Hall of Fame member, oldest living former Maple Leaf captain, and possibly oldest living former NHL player until he passed away at age 95.
Awards (with Toronto)
Stanley Cup: 1931-32 (player – 1)
NHL Regular Season PIM Leader: 1932-33, 1933-34, 1934-35, 1935-36, 1936-37, 1938-39, 1939-40 (7)
Named to Toronto Maple Leafs Top 25 Players List, 2001
Inducted to Hockey Hall of Fame in the Player Category, 1965
Information for this article was complied from sources including http://www.legendsofhockey.net, http://mapleleafslegends.blogspot.ca/2006/06/red-horner.html and http://www.hockey-reference.com. Note, many sources claim Horner as PIM leader in 8 consecutive seasons, though hockey-reference.com notes Horner as 2nd in 1937-38.