TML Captains is a series that profiles the men who 'wore the C' for one of the NHL's charter franchises. Previously featured were Bert Corbeau and Hap Day.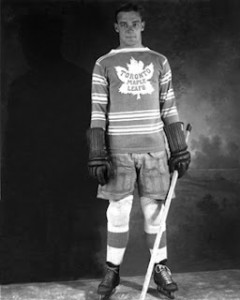 Charles William 'The Big Bomber' Conacher, Jr.
#6, 9, Right Wing
b: 20 Dec 1909 Toronto, ON
d: 30 Dec 1967 Toronto, ON
Toronto Maple Leafs 1929-38
Acquired: Signed as free agent, October 7, 1929.
Lost: Traded to Detroit for cash (on condition Detroit could re-sign player to contract the following season), October 12, 1938.
Re-acquired: Returned from Detroit, July 1, 1939.
Lost: Traded to NY Americans for future considerations (cash), September 22, 1939.
Toronto totals: 326 Games, 200 goals, 124 assists, 324 points, 411 PIM
Captain: 1937-38
During the 1930s, Charlie Conacher was perhaps the preeminent power forward in the NHL, and one of the stars of the Maple Leafs.
Born one of 10 children of a poor Toronto family, Charlie would be one of the biggest stars of the NHL by the mid-1930s, and the Conacher name would be one of the most recognized in Canadian sport in the first half of the 20th century. Brother Lionel 'The Big Train' was a Grey Cup champion (1921), baseball champion (International League 1926), 2-time Stanley Cup winner (1933-34, 1934-35), and named Canada's Athlete of the Half-Century (1950). Brother Roy won an Art Ross Trophy (1948-49) and also won 2 Stanley Cups (1938-39, 1940-41). But Charlie was perhaps the greatest hockey player of the 3.
Not a naturally gifted skater, Charlie worked hard at it until he got himself recruited by the Toronto Marlboros as an 18 year old. In his 2 junior seasons, Conacher and the Marlies competed for the Memorial Cup, losing the first, but winning in 1929. Over the 2 tournaments, Charlie played in 26 games, and registered an astonishing 54 points (43 of them goals).
By now, Charlie was near 20 and almost grown into his 6'1″, 200lb frame, and a sure-bet to make the NHL. He made his debut on November 14, 1929, scoring on his first shift. Newspapers noted he "made a splendid impression in his pro debut and was one of the best men on the ice." Conn Smythe started Charlie out on a line with 'Gentleman Joe' Primeau and Harold 'Baldy' Cotton, but by the end of 1929, Cotton was replaced by Conacher's former Marlboros teammate Harvey 'Busher' Jackson. It was the birth of one of the NHL's most famous trios, 'The Kid Line'.
In that first season together, Conacher was third in team scoring, putting up 20 goals despite missing 6 games with injury. The Leafs missed the playoffs that season, but the next year, the Leafs qualified, partly on the strength of Charlie's league leading 31 goals (he finished 3rd in points behind Morenz and Goodfellow), while Primeau lead the league with 32 assists. It was the first of 5 times Conacher would be the NHL's leading goal-getter. Again, Charlie missed 7 of 44 games with injuries, something that would be common in his career. In fact, The Big Bomber was never able to play every game, only twice coming within 1 game of a full season.
Of course, 1931-32 represents the high point for Conacher and the Leafs. The team started slowly, going 1-4-3 in their new home, Maple Leaf Gardens. But, by the end, they'd placed 3rd overall behind Canadiens and Rangers. Conacher scored 34, tied with Bill Cook for the league lead. Conacher missed time with a broken hand that year, and may well have won the scoring title if he hadn't. Noteworthy that season, on January 19, Charlie scored 5 goals against Roy Worters and the New York Americans to be the first Leaf to accomplish that feat. As it was, Busher Jackson scored a league-leading 53 points, Primeau finished 2nd with 50, and Conacher ended up 4th with 48 points, 1 behind Howie Morenz. The Leafs, led by the Kid Line, Hap Day and Frank Finnegan, were able to eliminate the Blackhawks and Maroons to meet the Rangers in the Finals. Scoring 18 goals against former Leaf John Ross Roach in 3 games, Toronto swept the New Yorkers and captured the Stanley Cup. Charlie led the team with 8 points. To cap the year, Conacher was named to the 2nd All-Star Team (joined by King Clancy on the 2nd Team, while Jackson was named to the 1st Team).
The Leafs were unable to win the Cup again during that era, though Conacher appeared in 4 more Stanley Cup Finals as a Maple Leaf. Individually, the Bomber was able to lead the NHL in scoring twice. In 1933-34, his 52 points were 6 better than teammate Primeau. In 1934-35, he posted 57 points, an incredible 10 more than second place Syd Howe. But, Charlie's crash-and-bang style as an early power forward led to numerous injuries. He missed large chunks of seasons with wrist and shoulder injuries, playing only 34 games over 2 seasons between 1936 and 1938. Conacher served as captain for only 1 season, his last as a Leaf, succeeding Hap Day after Day had been sent to the New York Americans. The Maple Leafs were in transition, as Primeau, Clancy and Ace Bailey had retired over a period of a couple years. Before the 1938-39 season, Conacher was sold to Detroit.
With Detroit, Charlie was able to play in 40 games, but scored only 8 goals and 23 points. The Wings eliminated Montreal in the quarterfinals, but fell to the Leafs in the following playoff round. Unable to reach a contract extension with Detroit, his rights went back to the Leafs, and he was moved on to the New York Americans, joined by former linemate Busher Jackson. In 2 seasons with New York, Charlie managed 17 goals and 51 points before finally retiring to coach.
In 1941, the Bomber took over the Oshawa Generals junior team of the OHA during an era of dominance for the team (OHA Champions from 1938-1944). After Memorial Cup losses in 1942 and 1943, Conacher was able to coach his Generals to a Memorial Cup win in 1944. Following that, Conacher coached the Chicago Blackhawks for 3 years from 1947-1950, to a combined 56-84-22 in 162 games.
Charlie Conacher was one of the early 'big forward' type of players, known for his size and strength, as well as a powerful shot, and a reputation for toughness. He was inducted into the Hockey Hall of Fame in 1961, in a class that included Rocket Richard, Milt Schmidt, Syl Apps and Hap Day. Lionel (1994) and Roy (1998) were also inducted, the only trio of brothers so honoured.
Charlie died of throat cancer in 1967 at the young age of 58. From 1968 until 1984, the Charlie Conacher Humanitarian Award (or Charlie Conacher Memorial Trophy) was given to an NHL player who made "outstanding contribution to humanitarian or community service projects". It featured an annual benefit dinner that raised money for the Charlie Conacher Research Fund for Cancer. The award was not presented by the NHL, though it was a forerunner to the King Clancy Memorial Trophy.
Awards (with Toronto)
Stanley Cup: 1931-32 (1)
NHL First Team All-Star: 1933-34, 1934-35, 1935-36 (3)
NHL Second Team All-Star: 1931-32, 1932-33 (2)
NHL Regular Season Points Leader: 1933-34, 1934-35 (2)
NHL Regular Season Goals Leader: 1930-31, 1931-32, 1933-34, 1934-35, 1935-36 (5)
Named to Toronto Maple Leafs Top 25 Players List, 2001
Honoured Number '9', February 28, 1998
Inducted to Hockey Hall of Fame in the Player Category, 1961
Information for this article was complied from sources including Jason Kurylo's Toronto Maple Leafs captains – 1927-1938, http://www.legendsofhockey.net and http://www.hockey-reference.com