Any hockey fan looking to kick Maple Leaf nation while they're down – and let's be honest, there are lots of us – can point to Toronto's current ownership of the NHL's longest Stanley Cup drought. It's been 44 years since the Buds held a parade down Yonge Street, making them and their ardent fans easy targets for jabs, jokes and factual information about the Phil Kessel trade. Want some proof? Check out the Uncyclopedia entry.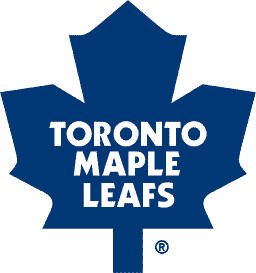 Most of us forget that they've hoisted the Cup eleven times, second of course to the dirty rotten stinkin' Montreal Canadiens, whose rafters boast 24 bleu, blanc et rouge Stanley Cup banners. Considering the franchise's long history – after financial dissolution of the Arenas (1917) and St Patricks (1927), the Maple Leafs have been in continuous operation since February of 1927 – it is perhaps surprising how much of their success came in short bursts, and how few Cups they have won over the remaining 75 years of their history. You see, nine of their eleven Cups came during the 1940s and 1960s. As the Maple Leafs, they've only won twice more: once in 1932, and again in 1951. Still, fans have a deep, fascinating history to draw upon, even if (and let's be honest, when) the modern-day club doesn't deliver the goods.
This article looks at the first decade of Maple Leaf captains, from team inception through the 1937-38 season.
By Jason Kurylo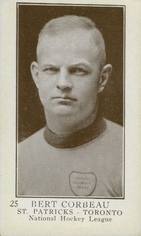 Albert "Bert" Corbeau, #2, 1927. Other than being the first-ever captain of the Toronto Maple Leafs, Bert Corbeau has the distinction of being a member of the Montreal Canadiens first Cup title team in 1916. In accepting a position with the 1927 TML (remember, Toronto franchises had different management and team names prior to this time), Corbeau also became the first player in history to have both the Canadiens and Maple Leafs on his resumé. To top it off, the year before becoming Buds captain, he became the first NHL player to record 100 penalty minutes in a single season, notching 121 PIM as a member of the Toronto St Pats. Not surprising, really, as the 5'11", 200-pound defenseman was one of the biggest guys on the ice in those days. After his retirement from pro hockey, Albert Corbeau worked in management of a steel mill in the small town of Midland, Ontario. His crew of 45 men worked hard pumping out military materials during the Second World War; he offered to reward them with an evening on his boat for a fishing (& drinking) trip. Corbeau and 24 others were killed when his yacht, the Wawinet, listed and capsized in Georgian Bay, near his hometown of Penetanguishene. Corbeau was 48 years old at the time of his death. A set of 1923 trading cards, including the highly rare Corbeau issue pictured here, was auctioned for over $116,000 US in 2008.
Clarence Henry "Hap" Day, #3, #4, & #14, 1927-1937. Hap Day was born in Midland, Ontario – yes, ironically, the same Midland where his teammate Bert Corbeau would work (and perish) after pro hockey. Day played all but one of his professional hockey seasons in Toronto, including ten as Maple Leaf captain. This was no hayseed on skates – he had a degree in pharmaceuticals (I was unable to substantiate this, but there are several mentions online of Day running a pharmacy – one report says an illegal one – out of Maple Leaf Gardens. If anyone has confirmation of this, please let me know.) Day is most famous in Hogtown for his seven Stanley Cup championships – one as captain, in 1932; five as Head Coach, all in the 1940s; and one as Assistant Manager, in 1962. In all, a pretty good 30-year span. It certainly didn't hurt that Day was good friends with team owner Conn Smythe. Hap Day was one of the inaugural inductees into the Hockey Hall of Fame, going in as a player in 1961. His #4 jersey was honoured (but not retired) by the Maple Leafs in 2006, 16 years after his passing.
Charles William "The Big Bomber" Conacher, Sr., #6, & #9, 1937-1938. Charlie Conacher played his first nine NHL seasons with the Maple Leafs, during which time he led the NHL in goals five times and as overall points leader twice. Conacher was part of the infamous Kid Line, with Harvey "Busher" Jackson and Joe Primeau. He was a big part of the Maple Leafs winning the Stanley Cup in 1932, scoring a league-high six playoff goals in just seven games played. The Leafs also rode the Kid Line to three Stanley Cup runner-up finishes in 1933, 1935 and 1936. As captain, Conacher led the Leafs to yet another Cup final in 1938, and yet another loss – this time to the Chicago Black Hawks. The Leafs sold the superstar winger to the Detroit Red Wings for a reported fee of $16,000, which today of course wouldn't pay for a week's worth of physiotherapy on Darryl Boyce's nose. Conacher would serve as captain of the New York Americans for the last two years of his NHL career before retiring at the ripe old age of 30; he had a notable coaching career, and was an inaugural inductee into the Hockey Hall of Fame in 1961. Throughout his life, Conacher was known for loyalty to his team and to his community. When he died of throat cancer in 1967, the Charlie Conacher Humanitarian Award was instituted, given to the NHL player demonstrating outstanding contribution to humanitarian or community service. It was awarded from 1968 to 1984, and was a forerunner for the current King Clancy Memorial Trophy and the NHL Foundation Player Award. Conacher's #9 jersey was honoured (but not retired) by the Toronto Maple Leafs in 1998.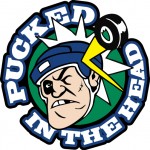 If you like this article, check out Jason's other work on The Hockey Writers, or skip over to his website, Pucked in the Head.