Be sure to stop by THW's "Book Room" page dedicated to book reviews.
Stumbling On Wins: Two Economists Expose the Pitfalls on the Road to Victory in Professional Sports
By David J. Berri, Martin B. Schmidt
Hardcover, 300 pages
Published October 24th 2009 by FT Press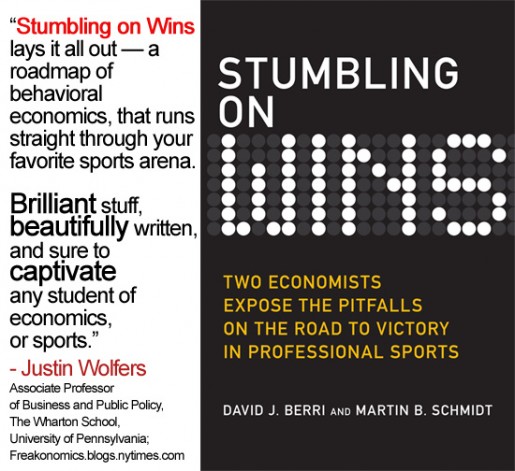 It's admittedly difficult to sum up this book better than this statement:
"'Moneyball' should have been called 'MoneyBaseball.' Stumbling on Wins covers everything else." — Darren Rovell, CNBC
Michael Lewis' classic Moneyball helped bring complex sports statistical analysis to the limelight. While baseball remains at center stage amongst major league sports and stats analysis, other sports including hockey have also seen somewhat of a revolution in terms of how in depth the breakdown of stats and events can get.
Beyond the stats, economics has also invaded major league sports. HockeyNomics was one such book to skim the surface of blending hockey, advanced statistical analysis and economics. As I noted in my book review of that book: "HockeyNomics explores various questions not just based on opinion, but based on unique statistical analysis. In the process, the reader is often left to draw his own conclusion from the data presented. In each exploration, however, Norman has achieved what I believe to be his main goal – to challenge the reader to think outside the box and realize the daily box scores and scoring leaders far from tell us the whole story."
You know the times they are a changin' when traditionally ran teams like the Calgary Flames are now led by innovative personnel such as GM Jay Feaster, who hired Chris Snow as Director of Statistical and Video Analysis. As THW's own Mike Colligan reported on Forbes Sports Money:
"Snow's job title wouldn't raise eyebrows in the average Major League Baseball front office, an environment overrun by stat gurus, Wall Street bankers and 'sabermetricians'.  Books such as The Extra 2% and the Michael Lewis classic Moneyball document the radical shift that's taken place in baseball in recent years, turning America's pastime into a complex web of acronyms and statistics.

But most fans still see hockey as a game of flow managed by former players making decisions based on instinct and decades of experience. Chris Snow has seen first-hand how quickly that culture can change."
Back to the task at hand – Stumbling On Wins is yet another intriguing entry in the realm of sports statistical analysis, as well as sports behavioural economics. Admittedly, I did not agree with several of the conclusions drawn by the authors, especially pertaining to hockey. However, I was in fact pleasantly surprised to see the NHL referred to at all in a sports economics book that also reviewed subject matter from all of the major North American sports. As well, I think the authors accomplished much of what they set out to do – generate thought-provoking concepts for the thinking sports fan.
Spoiler Alert
The following points highlight a sampling of some of the information presented in the book that resonated with me. Please note I've only provided some key points and have purposely not elaborated in depth as I encourage you to read the book to gain further insight.
Chapter 1, Page 6: "People in sport often claim they can simply watch a player during a game and "know" if he is good or bad. The seminal work of George Miller, though, has shown that the human mind can only track about seven items at one time. In sports, though, a multitude of events are happening throughout the contest."
Chapter 2, Page 13: "The New York Rangers of the NHL paid its players more than anyone else from 2000-01 to 2007-08. Despite this spending, 19 other teams achieved better results on the ice."
Chapter2, Page 24: According to (Legendary Boston Celtics Coach Red) Auerbach, a role player is someone who 'willingly undertakes a thankless job that has to be done in order to make the whole package fly.'
Chapter 3: The authors' quest to find percent variation of stats explained by a player's last season performance across various sports turns out to be an interesting adventure indeed.
Chapter 3: The authors also question the hockey goalie as the most important position in sports. The gentlemen at Sabremetrics Research, though, find fault with the authors' methods and conclusions.
Chapter 5: The authors highlight there is little empirical evidence to suggest reverse order drafting impacts the parity of a sports league.
Chapter 6: There is a fine line in statistical and economic analysis as too much information has actually been shown to be detrimental to quality of decisions.
Chapter 8: The authors take a look at the effect of an athlete's age and various skills.
What Others Are Saying
"If you're a general manager in basketball, baseball, football or hockey, going about your business the same old way things have always been done, this book is that clock radio in your hotel room. You didn't even set an alarm, but there it is, annoyingly blaring to life. Aghast, you don't know how it turned on, nor how to turn it off. You just want it to go away. But guess what, unless you can figure out how it works, it's not going to shut up."  – Henry Abbott, ESPN
From FT Press, the book's publisher:
Don't they want to win? Every sports fan asks that question. And no wonder! Teams have an immense amount of detailed, quantifiable information to draw upon. They have powerful incentives for making good decisions. Everyone sees the results of their choices, and the consequences for failure are severe. And yet, they keep making the same mistakes over and over again…mistakes you'd think they'd learn how to avoid!

 

Now, two leading sports economists reveal those mistakes in basketball, baseball, football, and hockey—and explain why sports decision-makers never seem to learn their lessons. You'll learn which statistics are linked to wins and which aren't…and which statistics can predict the future and which can't (information that just might help you dominate your next fantasy league!).

 

The next quantum leap beyond Moneyball, this book offers powerful new insights into all human decision-making. Because if multimillion dollar sports teams are getting it wrong this badly, how do you know you're not?
Do better coaches really win more? Phil Jackson versus everyone else
The "hot hand " and other figments of the imagination Enduring myths of on-court and on-field performance
How old is too old? Are teams playing too many athletes who are past their prime?
Are black quarterbacks underpaid? The curious cases of Donovan McNabb and Brett Favre
THW's Cam Charron recent look at advanced hockey statistics provides a good introduction to the subject for readers.
***
Christopher Ralph is THW's Senior Prospect and Draft analyst
*Follow ChrisRalphTHW on Twitter as he infiltrates, dissects and analyzes all happenings of hockey prospects and the NHL entry draft.
Chris is THW's senior draft/prospect analyst and a Managing Editor. Watch for "The Next Ones" Prospect Profile series, exclusive rankings, mock drafts, as well as the annual THW NHL Entry Draft Guide. Follow @ChrisRalphYQ on Twitter as he infiltrates, dissects and analyzes all happenings of hockey prospects and the NHL entry draft. Email: cralph[at]thehockeywriters[dot]com