We'll be adding to this page of our hockey book reviews whenever we add a new one, along with a convenient link to Amazon (the book title is the link) – so that you can order a copy – a great gift idea for any hockey fan with a birthday coming up. If you have a photo of yourself with your best hockey books why not send it to us and if you want to let us know what your favorite hockey book is then let us know in the comments section down below.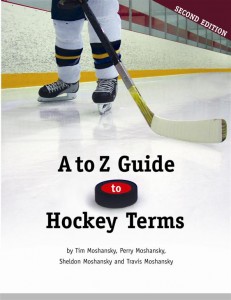 A to Z Guide to Hockey Terms 2nd Edition
Do you remember what it was like when you were new to hockey? How hard was the hockey language for you to pick up? Many hockey fans grew up with hockey and learned the language of the sport along with everything else in life; however, with the expansion of the National Hockey Leauge (and the appeal of the Winter Classic) hockey is bringing in a new demographic of first time fans. Great to bring in the fresh fans but what is being done to keep them when they may not know what is meant when announcers says "five hole"?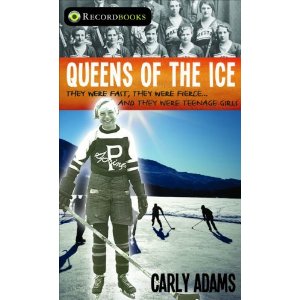 Queens of the Ice: They were fast, they were fierce, they were teenage girls (Recordbooks)
Review by Rebecca Dobrinski

Many adult readers overlook books geared toward juvenile readers as basic, written in simple language, or just a story with no depth.  Unfortunately, reviewers often take the same attitude and only review mass market, adult books.  However, overlooking Carly Adams's Queens of the Ice is a HUGE mistake for hockey fans.
Adams treated her main audience, readers aged 12 and up, to the exciting and compelling story of the Preston Rivulettes girls hockey team.  The Rivulettes were founded by a girls softball team whose players were looking for a participatory sport to fill the long winters between seasons.  Most of the girls on the team had grown up playing pond hockey along side the neighborhood boys.  They approached a local sportswriter, who also happened to be female and familiar with existing leagues for women's hockey, and founded the Rivulettes in 1931.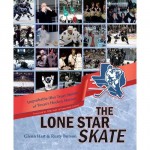 The Lone Star Skate: Improbable (But True) Stories of Texas's Hockey Heroes
Review by Rebecca Dobrinski
The stories provided an insight into the men who influenced Texas hockey.  One example is how Terry Ruskowski's professional hockey career began in Texas with the Houston Aeros. This later took him on a journey throughout the U.S. and Canada, eventually to playing for Herb Brooks and the Minnesota North Stars, and finally back to Texas as coach of the minor league Laredo Bucks.  Another is the story of how Brett Hull arrived in Dallas and how the "missing piece" helped the team subsequently hoist the Stanley Cup.
In comparison with the press release, a number of other stories from Lone Star Skate deserve noting:
Colleen Howe's contribution to hockey – both for her family and for her love of the game;
Terry Ruskowski almost did not play hockey because he was afraid to fight (41);
Jim Lites's innate abilities as a sports executive, including serving two teams in two sports simultaneously;
Details on the Dineen's long family hockey pedigree, including Bill Dineen's granddaughter;
The lasting legacies of Lites and Rick Kozuback in selling hockey in non-traditional markets;
John Torchetti's journey playing in the minor leagues and eventually coaching in the NHL; and
Co-author Glenn Hart's experiences with minor league hockey in Houston and Laredo.
continue to Rebecca's Full Review…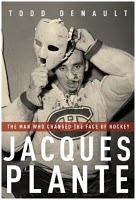 Jacques Plante: The Man Who Changed the Face of Hockey
Book Review by Jeff Little
Goaltenders tend to make fascinating subjects for biographical treatment.  Whether autobiographical (as in Ken Dryden's masterful work in The Game) or penned by others, there is something compelling about the saga of the goalie's existence.  This surely holds true for  Todd Denault's Jacques Plante:  The Man Who Changed the Face of Hockey (McClelland & Stuart 2009)
Part of the attraction, no doubt,  comes from that mix of quirkiness, arrogance and almost academic insight that goaltenders tend to display.  For roughly half of each game, goalies have little to do except take in the spectacle of the game.  They are the only players who see virtually the entire ice surface all the time, and from virtually the same perspective — breeding an analytical view of the game.  To be effective, they need a certain swagger…continue to the rest of Jeff's review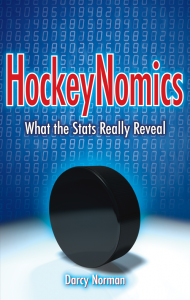 HockeyNomics: What the Stats Really Reveal
First there was Freakonomics. Then there was Super Freakonomics. Now there's HockeyNomics! Economics ("the science of dealing with the allocation of scarce resources) has now invaded hockey.
Has author Darcy Norman discovered an e=mc2 like equation that uncovers all the secrets that a casual read of the commonly presented hockey statistics does not reveal?
Not exactly – but Norman delves into the world of hockey statistics like no hockey book has done before. It is an interesting spin and thought-provoking dissection of hockey numbers. He attempts to take hockey fans to a place similar to where the much acclaimed Moneyball: The Art of Winning an Unfair Game took baseball fans.
HockeyNomics explores various questions not just based on opinion, but based on unique statistical analysis. In the process, the reader is often left to draw his own conclusion from the data presented. In each exploration, however, Norman has achieved what I believe to be his main goal – to challenge the reader to think outside the box and realize the daily box scores and scoring leaders far from tell us the whole story. continue to Chris' full review and a nice comment left by the Author, Mr. Norman…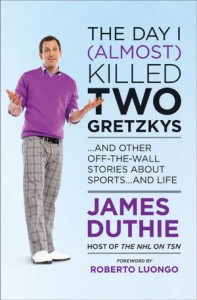 The Day I (Almost) Killed Two Gretzkys: And Other Off-the-Wall Stories About Sports…and Life
by James Duthie
Duthie's humorous hockey/ sports comedy  offering belongs right up there on the hockey library shelf with such legendary books as The Game by Ken Dryden and Searching For Bobby Orr by Stephen Brunt. Wait a minute – then why is it in my bathroom magazine rack!?!
On a serious note, Duthie, in my humble opinion, may have even exceeded what he set out to accomplish. I have not laughed out loud so many times while reading a book in a long, long time. I'm talking close to Leafs' Stanley Cup drought long (Okay, maybe that's a harsh exaggeration).
James also incorporates several well placed touching stories involving two-legged and four-legged family members.
Continue to the rest of Chris Ralph's review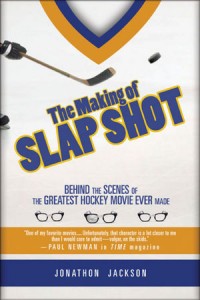 The Making of Slapshot by Jonathon Jackson

Review by Rebecca Dobrinski
The depth of Jackson's research shows in the many interviews and anecdotes he provided throughout the narrative. Taking on such a project must have been a bit daunting as many fans – both players and spectators alike – adore the film and often recite bits of dialogue, collect memorabilia, attend Hanson Brothers appearances, and watch the movie over and over again. Not only a fan favorite, the movie's stars fondly remembered filming. Paul Newman once told Time magazine that it was one of his favorite movies, and Michael Ontkean contributed a foreword for the book. Continue to Rebecca's full review…

 

 

 

The Penalty Killing: A Martin Carter Mystery

John Sandford meets Stephen Brunt. Hockey meets thriller mystery.

My review quote is actually featured on the publisher's website (McClelland and Stewart) for this novel:

"McKinley breaks away into a unique and enthralling new genre – the hockey thriller! This fast paced novel encompasses an innovative story line, beautifully created settings, and brilliantly developed characters – a literary hat trick!"
—Christopher Ralph, TheHockeyWriters.com