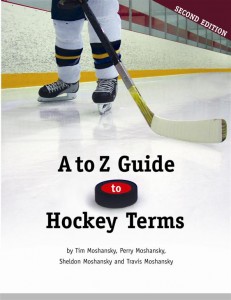 A to Z Guide to Hockey Terms
by Tim Moshansky, Peter Moshansky, Sheldon Moshansky, and Travis Moshansky
Do you remember what it was like when you were new to hockey? How hard was the hockey language for you to pick up? Many hockey fans grew up with hockey and learned the language of the sport along with everything else in life; however, with the expansion of the National Hockey Leauge (and the appeal of the Winter Classic) hockey is bringing in a new demographic of first time fans. Great to bring in the fresh fans but what is being done to keep them when they may not know what is meant when announcers says "five hole"?
Good thing for these fans – the second edition of A to Z Guide to Hockey Terms is here. The book is filed with terms ranging from "five hole" to the names of the difference divisions and the trophy names.
This book not only covers the terms in an alphabetical format for easy look up it also has a section called "Penalties at a glance" where they break down the different penalties and have pictures for what many of the infractions look like on the ice along with the referee signal for them. All of the Stanley Cup winners and the Olympic outcomes for Mens Ice Hockey are listed in the book along with other interesting facts about hockey.
This version of A to Z Guide to Hockey Terms covers everything that could be need to be known and then some for the novice hockey fan of any age. Highly recommend this book to anyone that is just getting into the sport of hockey or even for a coffee table for those that may be inclined to pick it up. It is not only great for adults and kids it is perfect for a parent whom has a child interested in hockey. The books size makes it perfect for putting in your pocket, tossing it in your bag or the take the top spot on any book pile on your coffee table.
Other reviews on the book include:
"I think we need to start selling this book down here." – Phil Esposito, XM Radio – Tampa Bay, Florida.
"The A to Z Guide is the perfect companion for new hockey fans and for those who just forgot a phrase or two. It's the ideal book to pass to the friend who asks a question while you're watching the power play." – Jim Hughson, Play-by-play Announcer CBC Hockey Night in Canada.