Christopher Ralph is THW's prospect and draft analyst, and does the occasional book review.

Book Review: The Day I (Almost) Killed Two Gretzkys
by James Duthie (TSN)
Duthie's humorous hockey/ sports comedy  offering belongs right up there on the hockey library shelf with such legendary books as The Game by Ken Dryden and Searching For Bobby Orr by Stephen Brunt. Wait a minute – then why is it in my bathroom magazine rack!?!
On a serious note, Duthie, in my humble opinion, may have even exceeded what he set out to accomplish. I have not laughed out loud so many times while reading a book in a long, long time. I'm talking close to Leafs' Stanley Cup drought long (Okay, maybe that's a harsh exaggeration).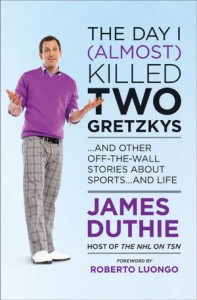 James also incorporates several well placed touching stories involving two-legged and four-legged family members.
While he may not contend with Dryden and Brunt for the best hockey novel of all time, Duthie might just be in contention for most humorous sports book of recent times.  We'll let him off with the goofy golf attire on the cover.
Typically, I would provide an excerpt of some of my favourite quotes, but in this case I do not want to provide any spoilers and will simply list a few of my favourite chapters:
– Chapter 2: 10 Things You Didn't Know About Sid The Kid – Duthie had me hook, line and sinker after reading this one.
– Chapter 13: Middle Standings Syndrome
– Chapters 34 & 35: Remembering Wheels Part 1 & 2
– Chapter 52: Premature Evaluation: An Embarrassing Male (and Female) Problem
– Chapter 55: Duchene and Hodgson: Boyhood Pals Now A World Apart – Of course, the prospect fanatic in me loved this one.
– Chapter 61: NHL Standings Should Be Pointless
– Chapter 75: This Dog's Life – anyone who owns or has owned a dog will relate to this brilliant piece.
Pick up the book now and share your favourite chapters.
As Joe Pelletier sums it up:
"Absolutely anyone can enjoy this book, even if you are not the biggest hockey fan. Of course, big hockey fans will enjoy it even that much more.

Absolutely everyone is raving about James Duthie's The Day I (Almost) Killed Two Gretzkys. It is the most humorous and entertaining hockey book in some time. I almost guarantee you will agree with that assessment.  So do yourself a favour and buy this book today."
From the publisher Wiley:
James Duthie is one of North America's most recognized hockey media personalities, as well as one of the most respected and personable commentators on the game, and one of the most prolific. Best known as the host of all TSN's NHL hockey broadcasts on The NHL on TSN and for his coverage of the World Junior Championships, James also has a strong following for his work in print, on TSN.ca and in the Ottawa Citizen. He has been writing columns about hockey, sport in general, and his own twisted view of the world for over a decade. This book is the first and only collection of some of his most popular and most controversial columns, as well as several brand new pieces never previously published.
James Duthie is the most-read feature columnist on TSN.ca and is known for his off-the-wall, often humorous, take on the people and issues that dominate Canada's game. In The Day I (Almost) Killed Two Gretzkys, he brings his famous sense of humour, deep hockey knowledge, and his passion for the game to hockey fans and readers everywhere-no matter what team you cheer for.
The subject matter is all over the hockey map. Some chapters are about the NHL, some are about being a hockey parent, some are about hockey as it relates to life. Many are snapshots of a moment in time-Sidney Crosby's first Stanley Cup final, Canada's gold medal win at the Olympics in 2002, September 11th, a son's first game as goalie. Others roam elsewhere around the sports world, musing on basketball, tennis, golf, baseball, football, and more.
Each story is unique. Many will make you laugh. Some will make you cry. All of them will remind you of why you're a fan of the best game you can name.
Sample Chapter:
Wiley is offering a free sample on their website. Read that and you're hooked!
The Star recently went One-on-One with Duthie. Here's an excerpt:
Which of the 75 columns in the book is your favourite?

The ones about my kids. They were the most personal for me. The hardest to write was the one about my dog. I'm a baby and I was crying when I wrote that.

What was your most memorable moment?

The Vancouver Olympics, every minute of it.

What did it feel like to win a Gemini over Ron MacLean last year?

I think he withdrew because he ran out of room to store his. He has 7,421 of them. He hangs his clothes off them.

If you could erase something from your career, what would it be?

Anything involving the monkey. Those tapes will curse my family for generations to come.

What's your greatest fear?

That I'll end up on the cover of some book in a purple sweater and plaid pants. Oh wait. Crap.
*Follow The Hockey Spy on Twitter as I infiltrate, dissect and analyze happenings of hockey prospects and the NHL entry draft.
This document is the intellectual property of Christopher Ralph and cannot be used or duplicated in any way without expressed written consent. Any use of this document without the expressed written consent of Christopher Ralph will result in public exposure and legal prosecution.
Chris is THW's senior draft/prospect analyst and a Managing Editor. Watch for "The Next Ones" Prospect Profile series, exclusive rankings, mock drafts, as well as the annual THW NHL Entry Draft Guide. Follow @ChrisRalphYQ on Twitter as he infiltrates, dissects and analyzes all happenings of hockey prospects and the NHL entry draft. Email: cralph[at]thehockeywriters[dot]com